National
Dunkin' Donuts removes controversial sign at Baltimore restaurant after social media backlash
"The franchisee determined her approach was inappropriate."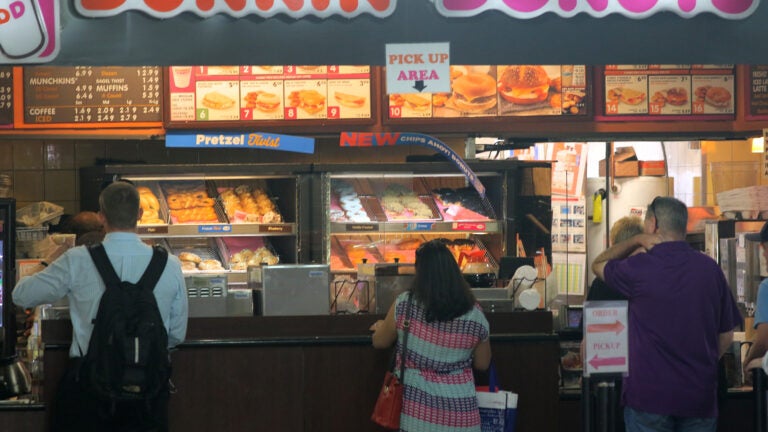 Perhaps Starbucks isn't the only coffee chain with employees who could use some anti-bias training.
Dunkin' Donuts says a controversial cash-register sign at one of the Canton-based company's locations in Baltimore has been removed after it was called out by people on social media.
The sign was first spotted Monday morning by Gillian Morley, a news producer for WBAL-TV, the local NBC News affiliate in Baltimore. It directed customers at the West 41st Street restaurant to report any employees heard "shouting in a language other than English." The store's general manager offered customers a coupon for free coffee and a pastry in return.
This sign is being displayed at a @dunkindonuts in Baltimore. General manager posted a sign asking customers to report employees not speaking English. Even offering a reward. #shocking pic.twitter.com/1kUr0lcYuY

— Gillian Morley (@GillianMorley_) June 18, 2018
WBAL-TV reported Monday that they called the number listed on the sign and reached a man who said he was a former general manager at the store and had put up a similar sign in the past.
However, Morley's photo of the sign resulted in a online uproar as national news outlets picked up the story and social media users criticized the sign as xenophobic. Some even threatened boycotts.
The next @Starbucks
Last l heard WE don't have a national language and a constitutional right to freedom of speech

Now a company can request employees speak English in front of customers

However this gives customers the means to get someone fired if dont like their accent

— Dana S.???✌?? (@danas41962) June 18, 2018
when should we expect the "Buy One Donut Get One Free…If You're White" promotion? and will it be a national thing or just this store?

— truth balloon (@truth_balloon) June 18, 2018
@dunkindonuts you need to stop this or prepare to be boycotted

— サントス (@mr_sandtoes) June 18, 2018
@dunkindonuts ??? Please address this issue ASAP. #GrabYourWallet #BoycottDunkinDonuts

— TakeAKnee ?#BoycottNRA? (@lifeisfluff_44) June 18, 2018
According to the U.S. Census Bureau, approximately 9 percent of Baltimore-area residents speak a language other than English in their homes. Nationally, that rate is more than 21 percent.
In a statement posted Tuesday morning on Twitter, Dunkin' Donuts said the sign was posted by the franchise's general manager "based on her own personal judgment to ensure standards are being met." However, the franchisee "determined her approach was inappropriate and confirmed the sign has been removed," the company said.
Dunkin' Brands has stated in the past that it is committed to "creating an inclusive workplace" for its employees and "building a stronger and more diverse workforce through inclusion." The company, which is 100 percent franchised, also partnered with the NAACP in 2016 on a diversity in franchising initiative.