National
2 mothers left their homes for help. Then they drowned in a sheriff's van.
"Something feels wrong about this."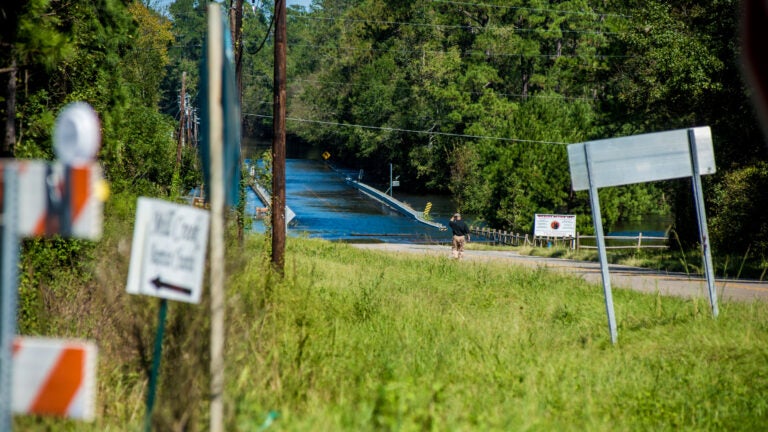 MULLINS, S.C. — Nicolette Green had decided to get better. The medication she was taking to treat her schizophrenia had calmed her and cleared her head. On Tuesday morning, her oldest daughter, Rose, with whom she had spent the weekend waiting out Hurricane Florence, drove her to her regular counseling session.
A new therapist saw Green, 43, that day. And within a half-hour of evaluating her, he wanted her committed, said Donnela Green-Johnson, Green's sister.
After hours of filling out paperwork, Green said goodbye to her daughter. She told Rose that this was a good thing, that she would be OK, that they would soon all be a happy family again, watching movies together at home.
Then Rose watched, troubled, as sheriff's deputies patted her mother down and put her in a van to take her to a hospital almost two hours away. Rose, 19, recalled the deputies having handcuffs out when they frisked her mother, though she did not know if they put them on.
Sometime that evening, the van, carrying Green and Wendy Newton, another woman being transported to a mental health facility, was overtaken by the flooding waters of the Pee Dee River. The two sheriff's deputies in the van managed to get out, said Sheriff Phillip Thompson of Horry County in a Wednesday afternoon news conference. The women did not.
By the time emergency workers arrived by boat and found the deputies on the van's roof, it was too dark to dive. The van, with Green and Newton inside, remained in the waters by Highway 76 overnight. It was still there Wednesday afternoon.
For the families of the two dead women, there was one big question: How could the state take someone in, ostensibly to make her better, to protect her even from herself — and then let her drown by the side of a highway?
"Why the hell would they leave a safe, dry area to go to God knows what?" asked Allison Newton, Wendy Newton's daughter. "Something feels wrong about this."
Officials Wednesday said the South Carolina Law Enforcement Division and the sheriff's department were conducting investigations. The two deputies — Joshua Bishop, who has been on the force for six years, and Stephen Flood, who has been on the force for 10 — have been put on administrative leave.
"They got out and tried to get the ladies out," Thompson said. He was not sure how long they tried — possibly 45 minutes. They may have struggled because of the way the van was positioned against the guardrail or because of the pressure of the water on the doors.
The women were not being evacuated from floodwaters. They were both being taken from hospitals, where they had come voluntarily, to mental health facilities, where they had been committed. At the news conference, Thompson said that his department had been responding to a court order to transport the women. On Wednesday, family members said they had heard nothing about any orders.
It is routine, and required under state law, for law enforcement to transport people who are involuntarily committed and who are determined by a physician "as posing an imminent risk of harm to him or herself by virtue of mental illness," according to a statement from the state Department of Mental Health. It was unclear to the families whether the women had expressed an intent to harm themselves or anyone else.
The sheriff did not think the women were in restraints when they drowned, as early reports indicated. Restraining patients was not typical, he said, "if they're not combative or having issues, and I understand they were not." But he could not say for sure.
The deputies also apparently drove onto a road that was blocked off because of flooding. The sheriff could not account for why they would have done that.
On Tuesday morning, Wendy Newton, 45, told her mother she could tell she was about to have what she called "a spell," according to Newton's daughter Allison. Newton asked to be taken to McLeod Hospital in Loris, South Carolina. An ambulance soon arrived to pick her up.
This was not unusual. Newton, a mother of three who lived in coastal North Carolina, had wrestled for the last dozen years with severe mental illness, Allison said. She had been in hospitals at times, but the family always knew where she was, or if she was being moved somewhere else.
They heard nothing Tuesday night. Late Wednesday morning, Allison's sister Abigail called the hospital to check in.
It was only then that the family learned that Newton had drowned. They were not told much and turned to the news for details. They heard on news reports, for instance, that Newton may have died in handcuffs.
"Why would they chain her and another lady to the back of a truck?" Allison asked. "Why didn't they tell us she was being transported? Why were they going through floodwaters knowing how dangerous it's been?"
"That's my mother," she said.
The other woman, Green, had struggled with mental health issues since her teenage years.
Nikki, as she was called, grew up in central Pennsylvania. When her parents retired, they moved south for the weather, to a house in Myrtle Beach, about a mile in from the shore.
The family all stayed together, moving as a unit. Green had physical ailments, too, some of which led to seizures, making it hard to stay at a job. She loved working with children but worried that she could be holding a child when a seizure struck. She did not want to drive, either, given the dangers to her and others if she were to have a seizure behind the wheel.
Green had married and divorced, and she had four children — two girls, Rose and Erica, and two boys, Gad, who is now in kindergarten, and Otto, who died three years ago of bone cancer. He was 7 years old.
Everyone lived in the house in Myrtle Beach: Green, her parents and her children, all taking care of one another. "It was sort of symbiotic I guess," Green-Johnson said.
When Hurricane Florence came, they split up: Erica, 17, took her grandfather far inland, so he would not lose the electricity necessary for his oxygen machine; Gad and his grandmother joined Donnela at her house; Rose and Nikki stayed together. The medication she had recently started taking for her schizophrenia seemed to be working — "opened her eyes," Green-Johnson said — making that time all the richer.
"They had a hurricane party kind of thing there, the two of them," she said. "They were really reconnecting, getting much closer than they had been."
On Sunday, after the storm had passed, the family had all been reunited. On Monday, things were back to normal. On Tuesday, Green had her counseling appointment. And that night, Green's sister heard on the news about a van, lost in the floodwaters.