National
6.4-magnitude earthquake strikes Southern California
A USGS official said people reported feeling the quake as far away as Phoenix and Las Vegas.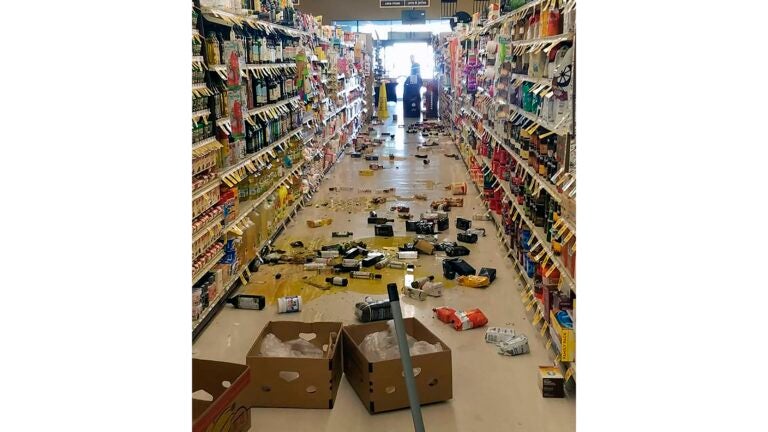 California was struck by its largest tremor in over two decades on Thursday as a 6.4-magnitude earthquake struck a remote region in the southeastern part of the state.
The U.S. Geological Survey pinpointed the epicenter near Ridgecrest, Calif., in a remote region about 150 miles northeast of Los Angeles between the Sequoia National Forest and the Mojave Desert.
SEE IT: Video camera inside Ridgecrest home captures moment 6.4 earthquake hithttps://t.co/CRiFTdooen pic.twitter.com/q1TMr1rZwk

— KRON4 News (@kron4news) July 4, 2019
The quake was the strongest to hit the state since the 6.7-magnitude Northridge Earthquake that struck Los Angeles in 1994 and killed nearly 60 people, according to USGS geophysicist Paul Caruso, but the remote location spared the state a similar catastrophe.
"If it was near a large populated city, it would cause significant damage and casualties," Caruso said.
Emergency responders in the counties closest to the epicenter scrambled on the July 4 holiday to address reports of damage from the quake.
Kern County, which includes Ridgecrest, had no reported injuries or deaths so far, Supervisor Mick Gleason told CNN. He said that "people are scared, people are concerned, people are confused" and that there had been some reports of power outages.
Cracks formed in roadways between Trona and Ridgecrest, where at 6.4 magnitude earthquake struck today. (credit: Megan Valentine via CBS News) https://t.co/UN9CCSEn60 pic.twitter.com/46jwp6V7qJ

— CBS Los Angeles (@CBSLA) July 4, 2019
The Kern County Fire Department announced it was evacuating the Ridgecrest Regional Hospital was being evacuated and that the department was responding to nearly two dozen incidents, ranging from medical assistance to structure fires, in and around the city of Ridgecrest, Calif. Assessments of critical infrastructure and highway passes would be conducted, they said.
Gleason told CNN that the hospital was being evacuated as a precaution, and because of "some issues with the structure."
Jodi Miller, a spokeswoman for the San Bernardino County Sheriff's Department, told The Washington Post the department has not received any reports of damaged buildings, but that the earthquake caused a 12-inch crack in Highway 178 and the state transportation department had been notified. The quake also set off a number of house alarms, Miller said.
The Los Angeles Police Department tweeted that "at this time, there are not any reports of serious damage to City infrastructure, nor have any injuries been reported" in the city.
Caruso of the USGS said people reported feeling the quake as far away as Phoenix and Las Vegas. In Los Angeles, social media users posted images of swaying chandeliers and sloshing pools to demonstrate the earth's movement.
Thursday's disturbance was a "strike and slip" quake, in which two sides of a fault slide past each other and generate horizontal movement. It was not on the San Andreas Fault, but on one of a large system of faults associated with it, Caruso explained.
Like most California earthquakes, this quake was shallow, only 8.7 kilometers (5.4 miles) below the surface. Smaller aftershocks were expected to last for weeks.