National News
'Tone down your gayness': Police sergeant is awarded $20 million in discrimination case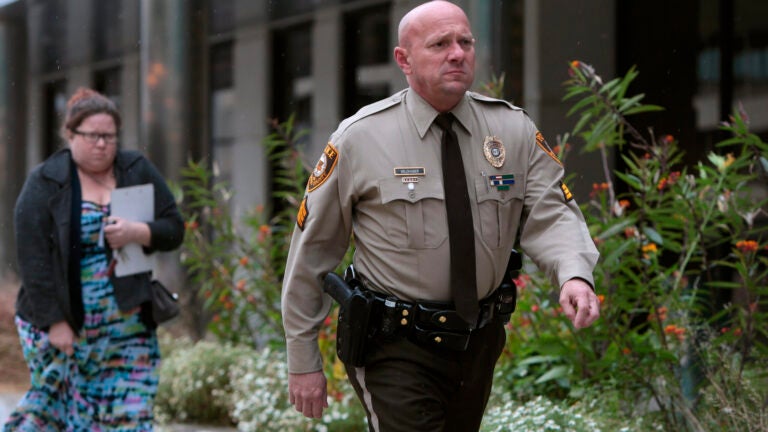 A jury in St. Louis has awarded a gay police sergeant nearly $20 million in a discrimination case involving claims that the department failed to promote him based on sex stereotyping and retaliated against him for filing a lawsuit.
The sergeant, Keith Wildhaber, 47, said that he was told to "tone down" his sexuality while working for the St. Louis County Police Department and that he was transferred to another precinct after he filed a discrimination complaint.
The county executive released a statement Monday promising leadership changes to the police board, which oversees the police chief.
"Our police department must be a place where every community member and every officer is respected and treated with dignity," Dr. Sam Page, the county executive, said on Twitter. "Employment decisions in the department must be made on merit and who is best for the job."
— County Executive Sam Page (@DrSamPage) October 27, 2019
The lawsuit was sparked by a conversation in February 2014 between Wildhaber and a member of the St. Louis County Board of Police Commissioners who owned a restaurant. Wildhaber had applied for a lieutenant position with the police department at the time.
While at the restaurant, the owner, John Saracino, told Wildhaber that he was aware that the sergeant had applied for a promotion.
"The command staff has a problem with your sexuality," Saracino said, according to Wildhaber. "If you ever want to see a white shirt," — meaning a promotion — "you should tone down your gayness."
Court documents show that an assessment of Wildhaber, who had more than 15 years of experience on the force, landed him in the top three of 26 candidates, but he did not get the job. Over the course of 5 1/2 years, he was turned down for 23 promotions, the lawsuit claims.
In April 2016, Wildhaber filed a discrimination complaint with the Equal Employment Opportunity Commission and the Missouri Commission on Human Rights. One month later, he was transferred to another precinct around 27 miles from his home, where he was assigned to work an overnight shift, according to court documents. He then filed a second charge of retaliation.
During the weeklong trial at the St. Louis County Circuit Court last week, Chief Jon Belmar testified that issues unrelated to Wildhaber's sexuality prevented his promotion, including tipping off the target of an FBI investigation and failing to submit official reports, according to The St. Louis Post Dispatch.
Belmar said that he had not punished Wildhaber for being gay nor quashed his advancement and that he had been unaware of the transfer, which the county's lawyer attributed to other reasons. The St. Louis County Police Department declined to comment Monday.
On Friday, the jury capped the proceedings with three hours of deliberations before awarding Wildhaber $1.9 million in actual damages and $10 million in punitive damages on the discrimination allegation. The jury also awarded Wildhaber $999,000 in actual damages and $7 million in punitive damages for the retaliation allegations.
"We wanted to send a message," the jury foreman told reporters, according to The Post-Dispatch. "If you discriminate, you are going to pay a big price."
Four jurors told The Post-Dispatch that they were affected by testimony from the widow of a former police officer, who said police Capt. Guy Means had called Wildhaber "fruity" at an event in 2015 and said that he would never be promoted because he was "way too out there with his gayness, and he needed to tone it down if he wanted a white shirt."
Means testified Thursday that he did not know the widow. But Friday, the widow produced a photo showing them together, according to The Post-Dispatch.
"The county should be ashamed," Wildhaber's attorney, Russell Riggan, said during his closing argument to the jury. "Our community deserves better."
Riggan said Wildhaber was not available for comment. Attempts to reach Wildhaber on Monday were unsuccessful.
County Counselor Beth Orwick said that her office was reviewing its legal options and would do "what is in the best interest of the citizens of St. Louis County."
The St. Louis County Police Union said in a statement Monday that it was "extremely embarrassed" by the reported actions of some of its senior commanders.
"We look forward to the healing process that can begin to take place now that this has been heard in open court," the union said.