National
Peloton's cringe-y 'Grace in Boston' ad got everyone talking. Its CEO is silent.
Peloton CEO John Foley did not laugh off the negative reaction to the fitness company's holiday commercial, a 30-second spot that drew intense criticism and caused Peloton stock to drop 9% in one day — in fact, he did not mention it at all.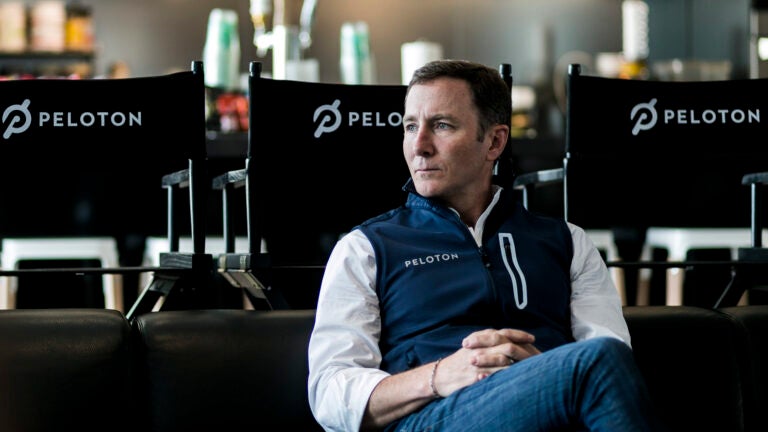 During a talk in New York on Monday, John Foley, the chief executive of Peloton, did not laugh off the negative reaction to the fitness company's holiday commercial, a 30-second spot that drew intense criticism and caused Peloton stock to drop 9% in one day. Neither did he apologize or defend it. In fact, Foley did not mention it at all.
During his 40-minute appearance at a Manhattan conference hosted by the financial firm UBS, Foley discussed profitability and international expansion. The closest he got to discussing the commercial — which has been derided as sexist, classist, dystopian and tone deaf — was talking about the high prices of the company's equipment.
"We have a fun challenge, and we're going to solve it as marketers, because the reality is that it is an incredible value, and we're changing lives, and we're allowing people to get more fit and get more healthy and get those endorphins and be better versions of themselves and all this existential stuff that we're excited about at the top of Maslow's hierarchy of needs," he said, referring to the 1943 theory by psychologist Abraham Maslow.
"But we need to communicate that better," Foley continued, in what seemed a tacit acknowledgment that the commercial may have hurt the company.
After his session, he refused to answer reporters' questions about the ad, saying only, "It was in the news last week."
The broad strokes of the commercial, called "The Gift That Gives Back," have become cringe canon. A svelte mother, played by actress Monica Ruiz, receives a Peloton stationary bike from her husband for Christmas. She spends the next year filming herself in her luxurious home as she approaches the contraption or pedals like mad, often appearing anxious, perhaps terrified. She turns the footage into a video for her spouse and declares that she "didn't realize how much this would change me."
Viewed more than 7 million times on YouTube, the ad drew the wrath of social media and generated a viral parody video by comedian Eva Victor. On Friday, Aviation American Gin, a brand owned in part by "Deadpool" star Ryan Reynolds, released a response ad featuring a deadpan Ruiz as a woman who seeks the consolation of good friends and spirits after having apparently endured a crisis. "Saturday Night Live" made multiple references to the Peloton commercial over the weekend, with "Weekend Update" co-anchor Colin Jost joking, "At least they decided against using the slogan 'Peloton: You'd better keep it tighter than the babysitter.'"
The intense reaction took the company by surprise. Peloton said in a statement last week that it was "disappointed in how some have misinterpreted this commercial." Sean Hunter, the actor who played Ruiz's spouse, told Psychology Today that he was worried about potential repercussions to his career. Ruiz, who declined to comment, put out a statement Saturday, saying she "was shocked and overwhelmed by the attention this week (especially the negative)."
The advertising agency behind "The Gift That Gives Back" is Mekanism, a San Francisco shop that had also created campaigns for Ben & Jerry's, HBO and Uber. Mekanism did not respond to requests for comment.
The ad was the talk of the Ad Council's 66th Annual Public Service Award Dinner last week, a black-tie event known in the industry as "ad prom." Many of the guests said Peloton should have done more to make sure the commercial was interpreted not as a call to lose weight but as an invitation to gain strength.
In an interview on Sunday, Reynolds said he had heard about the Peloton commercial last Tuesday, when his business partner, George Dewey, sent him a 2:34 p.m. text about the backlash. Reynolds and Dewey run Maximum Effort Productions, an entertainment and marketing company that has gained a reputation for advertising stunts, including a mock Twitter war between Reynolds and his fellow superhero-movie star Hugh Jackman.
Reynolds and Dewey decided to respond to the Peloton ad with a promotion of the gin company, knowing they had to work quickly, before the social media furor had died down.
"Ads are generally disposable pieces of content," Reynolds said. "If you're going to do something like this, you have to jump on the zeitgeist-y moment as it happens."
On Wednesday morning, Reynolds and Dewey contacted Ruiz. They shot the gin commercial, called "The Gift That Doesn't Give Back," for less than $100,000 in several hours on Friday and released it that night, as Reynolds was boarding a flight to Brazil. In the ad, Ruiz sits at a bar between two friends, gazing blankly ahead, as if stunned or traumatized. An awkward silence follows.
"You're safe here," one friend says.
"To new beginnings," Ruiz responds, before guzzling one gin cocktail and accepting another from her concerned pal.
Reynolds said he had sympathy for Ruiz's plight as collateral damage in the backlash to the Peloton commercial.
"As an actor, I can certainly relate to creating a piece of content or being part of something that's not well received, and how alienating that can feel," he said. "We had immense respect for any reservations she might have had. We don't want to make the situation any worse for her."