National
Here's who Boston.com readers predict will win the presidential election
Nearly 5,000 readers responded.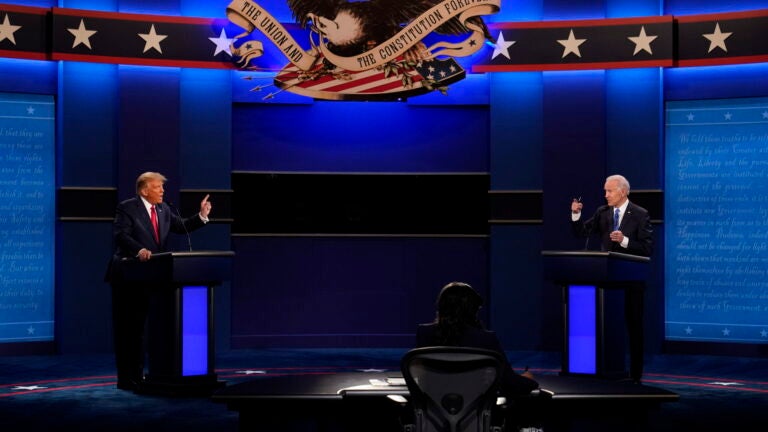 On Tuesday, millions of voters will head to the polls, joining the over 97 million Americans who already voted early, and cast their choice in one of the most divisive presidential elections in recent memory. On the ballot in front them is Democratic candidate former Vice President and Republican incumbent President Donald Trump.
For so many, their choice is clear. In a recent poll, a majority of more than 15,000 readers, when asked if the final presidential debate changed their minds, said no. Throughout the election cycle, we asked readers what they thought of the candidates, their debate and town hall performances, and how they saw the election playing out. We also asked readers how they intended to spend their election night evening, many responses of which included a lot of drinking.
While experts say we might not know the results of the election on Tuesday night, due to a larger volume of mail-in ballots states must count, Boston.com readers already chose a winner and shared what they thought the outcome will be.
It's the question everyone will refresh Twitter for: So, who won?
Out of 4,765 responses, 53.5% said Democratic challenger Joe Biden will win the presidency over Donald Trump at 46.5%.
The slight lead predicted by readers echoed national polls that showed Biden ahead of Trump on the eve of the election. Many readers suggested the election results will be contested, particularly if Trump loses, and if he refuses to concede. Others said they think the results will be definitive, but they think civil unrest may follow. 165 responses mentioned "contested" while 132 mentioned "definitive." Several also commented that a "silent majority" may show up in Trump's favor.
Here's a roundup of how readers said the election will play out.
Responses have been lightly edited and condensed for clarity.
"Biden will win overwhelmingly because the American people are good and decent and will reject Trump's small-minded, bitter, self-serving attacks on the people and democratic institutions of our great nation."
"I believe the polls are wrong, this election will play much like the last one. President Trump will contest the results if he loses, Biden won't, but expect members of the Congress to contest it."
"I think traditionally Republican states will stay Trump, but the Midwest will go back to Biden, leaving Trump with a ceiling that's not enough to win. I think Trump will be in the low to mid 200s with EC votes, and Biden's margin of victory will be enough for them to call the race the day after election day. No courts involved, but I predict a level of national bitterness that we haven't seen in my lifetime."
"We will not know the results for at least three days, possibly more. And the lame duck session, supposing Trump loses, will be painful—filled with excuses, complaining, and name calling [by] the current Commander-In-Chief."
"Contested election, decided by 6-3 conservative SCOTUS."
"Young people will vote in higher percentages than they did four years ago — and that favors Biden. Suburban women will vote overwhelmingly for Biden — as they voted overwhelmingly for Democrats in 2018. And even the elderly will vote for Biden — because Trump's failure to tackle the coronavirus pandemic puts their lives at risk — which is a big shift from four years ago."
"I think the results will be contested like Bush/Gore."
"I think it will be close and I honestly wouldn't have been able to choose up until the way Trump handled the [COVID-19] pandemic. I would never vote for him in a million years, but I was nervous he could've squeaked out a victory up until a couple months ago. I think he's unraveling and making a fool of himself in the most crucial time of the election."
"Like in 2016, polls are inaccurate and outdated. Many Trump supporters would not admit it to a pollster. Seeing that many states are tight, I expect the enthusiasm and turnout to move Trump's way, similar to 2016. It will be close though. And in an ironic twist of fate, it will be Biden/Democrats who do not accept the election results and this will drag out for 1-2 weeks until all state results are certified."
"Polling shows Biden the heavy favorite. Even if turnout swings in favor of Trump as it did in 2016, it's still a significant win for Biden. Given the positive turnout already and the motivation driving young people to the polls, we have a significant chance to see some change in office."
"Trump will not go easily, but justice will prevail."
"President Donald Trump will be re-elected. He is a clown as a person but as a president he may be the best we ever had. 4more."
"Donald Trump will win with a considerable majority in the electoral college to the point that the courts nor a recount will be necessary to determine the victor."
"I think it will be a decisive win because all the third-party and undecided voters, whether or not they voted for Trump in 2016, will see the results of his four years and cast their vote for Biden, not wanting to "waste" their vote again."
"If DJT wins, then it will be due to some shenanigans."
"Silent Trump supporters will prevail. Most, myself included am scared to support Trump publicly out of fear of being attacked or life ruined for not complying with left wing mob."
"I believe Joe Biden will unite the country and help build back better from the virus's destruction. He trusts experts and listens to others views without degrading them."
"I think there will be some unrest after the voting process ends. I do not think it will reach levels of extreme violence, but there will be some, I am afraid."
One reader thanked 2020: "Trump will win because my luck sucks this year. Thanks 2020!"
Another voter said that they would move to the moon if Biden wins. (Last week, NASA did announce they discovered water there.)
Do you agree with predictions listed? Let us know in the comments below. We'll be following election results closely and finding out whether or not that reader will have to buy a ticket to the moon.
Get Boston.com's browser alerts:
Enable breaking news notifications straight to your internet browser.