National
2 passengers and a dog slide out of moving plane at LaGuardia
It was not clear what charges, if any, they might face.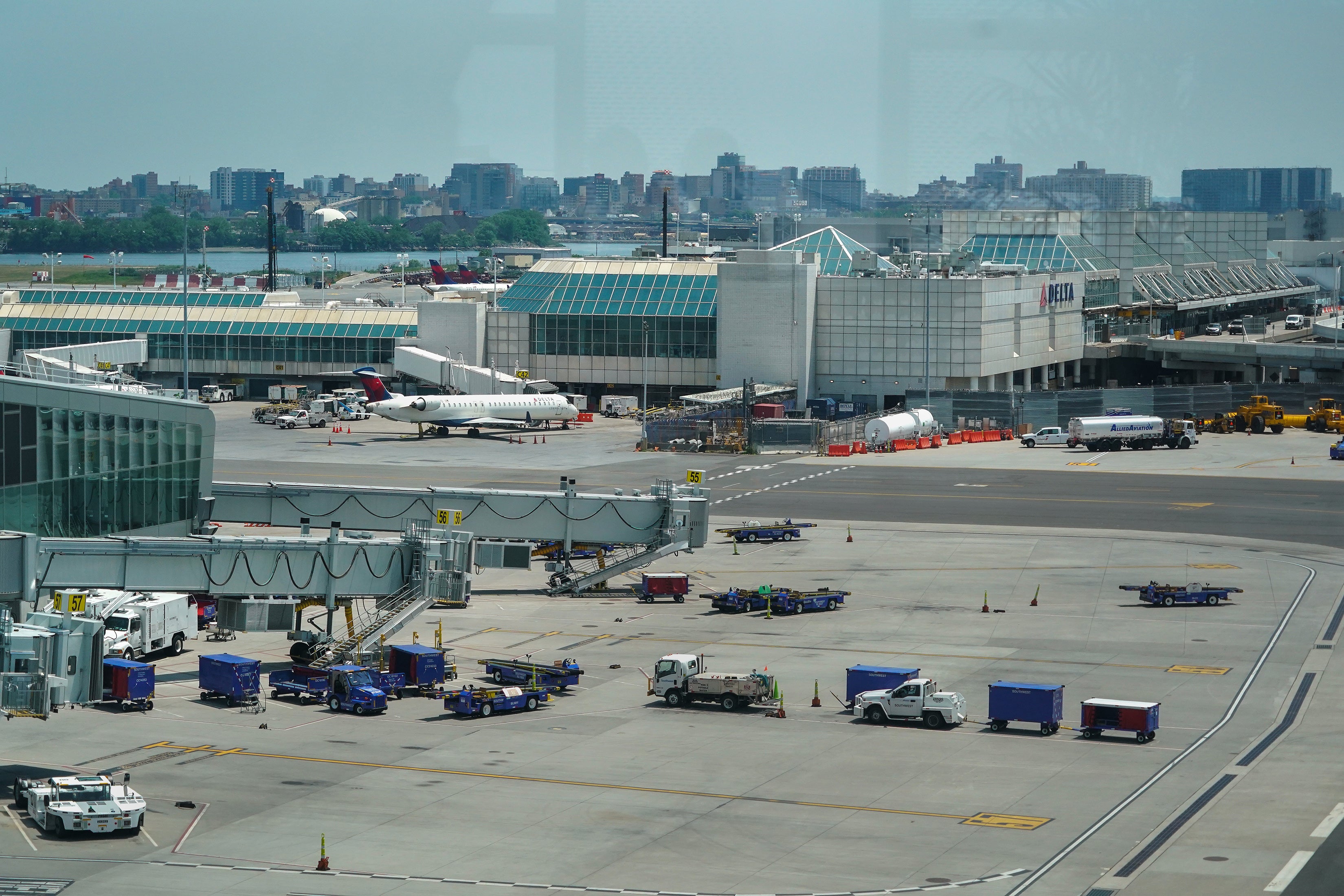 NEW YORK — Brian Plummer was sitting toward the back of a Delta Air Lines flight readying to depart LaGuardia Airport on Monday when, he said, he noticed a man and a woman with a large service dog nearby.
The Atlanta-bound plane was not completely full, Plummer said, and the couple changed seats several times.
The man and woman never did settle in, and as Flight 462 began to taxi out to a runway, the man stood up, ignoring a flight attendant's order to sit, saying that he had post-traumatic stress disorder, Plummer said.
A short time later, Plummer said, he felt the plane shudder to a stop. It was not immediately clear to him why, but the flight crew eventually told the passengers what had happened.
The man had forced open a cabin door, activating an emergency slide, and then he, his female companion and their dog slid their way out of the plane, officials said.
The couple was in custody; it was not clear what charges, if any, they might face, or whether they might be prohibited from flying with Delta in the future.
This was not the first time a panicky passenger has pulled such a maneuver at a New York-area airport, but neither Delta, the FAA nor the Port Authority of New York and New Jersey, which operates LaGuardia, could say Monday just how unusual it was for someone to make such an escape.
"This doesn't happen every day at the airport," said Lenis Valens, an authority spokeswoman.
Plummer said he had noticed the man standing after the plane left the gate. "They seemed really nice," Plummer said of the couple.
The man told a flight attendant that he could not sit down because of his post-traumatic stress disorder, Plummer said.
"If I sit down, I'll freak out," the man said, Plummer recalled.
The flight attendant again asked the man to take his seat, and again he refused, Plummer said. Instead, he began to walk toward the front of the plane, getting far enough that Plummer lost sight of him.
The plane, which had been scheduled to depart shortly before 10 a.m., returned to the gate, where the remaining passengers "deplaned normally and were accommodated on alternate flights," a Delta spokeswoman said.
No one was injured in the episode, the authorities said. It was not immediately clear where the service dog was.
Get Boston.com's browser alerts:
Enable breaking news notifications straight to your internet browser.