National
Despite other factors, police caused Floyd's death, medical examiner says
Under questioning from Jerry W. Blackwell, Baker acknowledged that the "heart disease, fentanyl intoxication and recent methamphetamine use" that he had listed as contributing factors were not "direct causes" of Floyd's death.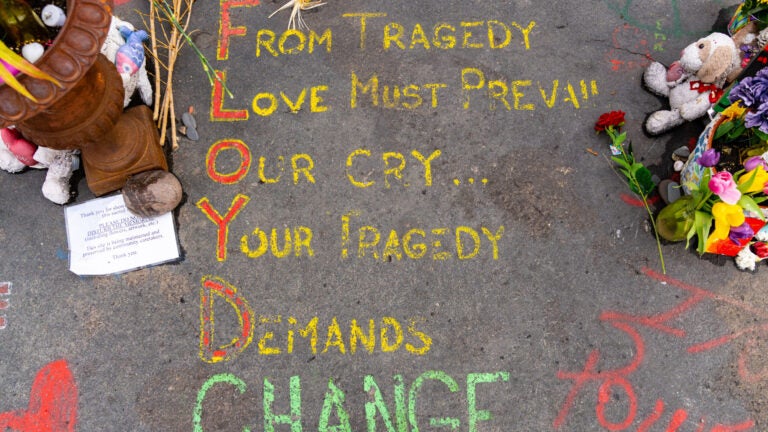 MINNEAPOLIS — In a trial where many key figures have spent hours on the stand, the prosecution whipped through one of their most anticipated witnesses, the doctor who performed George Floyd's official autopsy, in a mere 50 minutes Friday.
The reasons for their haste became clear as the witness, Dr. Andrew Baker, the Hennepin County medical examiner, refrained from placing the sole blame for Floyd's death on the police as he testified in the trial of Derek Chauvin, a former officer charged in Floyd's death.
In his testimony, Baker said police restraint was the main cause of Floyd's death, but he also cited drug use and heart disease as contributing factors, saying that Floyd died "in the context of" the actions taken by three police officers as they pinned Floyd to the street for more than nine minutes.
"In my opinion, the law enforcement subdual, restraint and the neck compression was just more than Mr. Floyd could take by virtue of those heart conditions," he said.
The prosecution's other medical experts have testified that the pressure that officers put on Floyd's neck and back, not his underlying conditions, caused his death.
In most murder cases, the local medical examiner who performed the autopsy is a star prosecution witness, the most authoritative voice on the victim's cause of death. But in the trial of Chauvin, prosecutors have regarded Baker as perhaps their most problematic witness — and possibly one who could help the defense raise reasonable doubt in the minds of jurors.
Throughout the investigation Baker has made statements that the prosecutors regarded as minimizing the impact of Chauvin's use of force. He has said that if Floyd's body had been found at home, his death could have been attributed to a drug overdose, and that he was unable to say whether Floyd would have died were it not for his encounter with the police.
Chauvin's lawyer, Eric J. Nelson, seemed to score some points for the argument that he had been advancing throughout the trial, that Floyd's poor health, drug use and resistance to arrest led to his death.
During Nelson's cross-examination, Baker acknowledged that he saw no physical signs of asphyxiation; that Floyd had a level of fentanyl in his system that could have been called an overdose in other circumstances; and that his heart condition, combined with the exertion of struggling with the police, played a role in his death.
Floyd had an enlarged heart for his size, Baker said. It required more oxygen to continue pumping blood throughout the body, especially during a high-intensity situation like the one Floyd experienced when being pinned to the asphalt for more than nine minutes. "Those events are going to cause stress hormones to pour out into your body, specifically things like adrenaline," Baker said. "And what that adrenaline is going to do is it's going to ask your heart to beat faster. It's going to ask your body for more oxygen so that you can get through that altercation."
At other times, Nelson used his cross-examination to push back on Baker's findings. Nelson urged him to elaborate on the fact that he found no bruises on Floyd's back, and that the level of fentanyl found in Floyd's system could have been fatal for some people. But throughout the cross-examination, Baker appeared to be uneasy with Nelson's line of questioning.
On the issue of bruising, Baker said that death by asphyxiation — or the deprivation of oxygen — does not necessarily cause bruising. On drug use, Baker said the level of fentanyl found in Floyd's system could be fatal in other circumstances but that, in Floyd's case, it was a less likely cause of death than other factors.
The prosecution had the last word with Baker.
Under questioning from Jerry W. Blackwell, Baker acknowledged that the "heart disease, fentanyl intoxication and recent methamphetamine use" that he had listed as contributing factors were not "direct causes" of Floyd's death.
"I would still classify it as a homicide today," he said.
To convict Chauvin of murder, the jury needs to find that his restraint of Floyd was a "substantial causal factor" to his death, even if there were other factors.
Baker's past statements made it clear why the prosecution wanted to sandwich him between other expert witnesses, including a forensic pathologist who helped train Baker and has performed thousands of autopsies.
The pathologist, Dr. Lindsey C. Thomas, said she agreed with Baker's finding that the cause of death was "cardiopulmonary arrest complicating law enforcement's subdual, restraint, and neck compression." But she added that bystander video clearly showed that Floyd died of asphyxia, or lack of oxygen.
Baker's phrasing caused some confusion in the months after it was issued, and Thomas agreed with a defense suggestion that "complicating" could mean different things to different experts. But Thomas said that in this case, she found it to mean that Floyd's heart had stopped because of the police officers' actions.
"Mr. Floyd was in a position, because of the subdual, restraint and compression, where he was unable to get enough oxygen in to maintain his body functions," Thomas testified.
Crucially, Thomas said she believed that Floyd would have lived if Chauvin had not pinned him with his knees — a direct rebuttal of past statements attributed to Baker that he could not say if that would have been the case. "There's no evidence to suggest he would have died that night, except for the interactions with law enforcement," she said.
During the testimony of Thomas and Baker, jurors were shown autopsy photos of Floyd, although they were not seen by the public — presumably because Judge Peter A. Cahill thought they were too gruesome to be shown on television.
Baker said he did not watch the widely circulated video of Floyd struggling with police officers until after he performed his autopsy, saying he did not want it to bias his findings.
The state tried to diminish the importance of Baker's autopsy findings as only a starting point in determining the ultimate cause of death. Thomas explained that Baker's findings did not preclude asphyxia as a manner of death, since the signs of asphyxia are often undetectable in autopsies.
Nelson asked her and other witnesses if Floyd could have died from an overdose or a health condition if the police officers' use of force were stripped away.
That earned a rebuke from Blackwell, who then said to Thomas — before being cut off by the judge after an objection from Nelson — that such questioning would be like asking Mrs. Lincoln if her husband would have died if it were not for John Wilkes Booth.
Get Boston.com's browser alerts:
Enable breaking news notifications straight to your internet browser.