National
SpaceX launches 4 astronauts for NASA
Docking at the space station was scheduled for Saturday morning. It would then take a couple of hours of checking to make sure there are no air leaks before the hatches open and the Crew-2 astronauts disembark.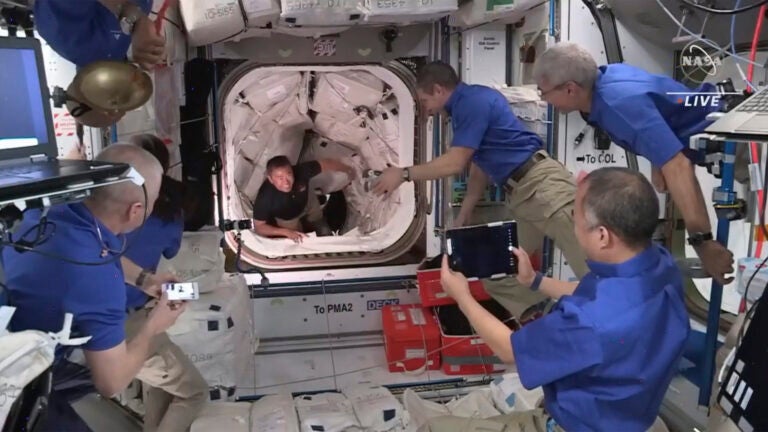 The first two launches of NASA astronauts by Elon Musk's rocket company, SpaceX, worked like a charm.
The third worked like a charm too — a string of successes over the past year that is making human spaceflight look routine, as NASA and Musk's company intend it to.
At 5:49 a.m. Eastern on Friday, a SpaceX Falcon 9 rocket carrying a Crew Dragon capsule with four astronauts aboard lifted off from Kennedy Space Center in Florida. The countdown had proceeded smoothly through the early morning and even ran ahead of schedule at times.
At a news conference after the launch, Musk said that the launching of people on SpaceX rockets remained "very, very intense." He added: "I suppose it does get a little bit easier. But it's still extremely intense."
NASA's acting administrator, Steve Jurczyk, said the capability SpaceX had added to NASA would be important for accelerating science research and technology development in space.
"It really is important for getting a regular cadence of crew to the station and back," he said.
The mission, Crew-2, is taking the astronauts — Shane Kimbrough and Megan McArthur of NASA; Akihiko Hoshide of JAXA, the Japanese space agency; and Thomas Pesquet of the European Space Agency — to the International Space Station.
As with most SpaceX launches, the booster stage of the Falcon 9 rocket landed safely, on a floating platform in the Atlantic, so it can be launched again.
During their 23-some hours in flight, the astronauts were to change out of their spacesuits, eat a meal or two, rest and provide updates to mission control.
Docking at the space station was scheduled for Saturday morning. It would then take a couple of hours of checking to make sure there are no air leaks before the hatches open and the Crew-2 astronauts disembark.
The four astronauts will be living in orbit for six months, conducting science experiments and maintaining the space station. One large task for the astronauts in the coming months is the installation of new solar arrays on the space station.
Crew-2 is a continuation of a successful effort by NASA to turn over to the private sector the business of taking people to low-Earth orbit.
SpaceX conducted a demonstration mission with two NASA astronauts, Bob Behnken and Doug Hurley, a year ago. The capsule, named Endeavour, and the two men then splashed down in the Atlantic Ocean in August.
In November, SpaceX launched what NASA called the first routine operational mission, Crew-1, four astronauts onboard. Those astronauts, still aboard the station, are scheduled to return to Earth next week.
Today's launch was the second operational mission. The Crew-2 astronauts are traveling in the same Endeavour capsule used for the demonstration last year. The Falcon 9 rocket booster on Friday's launch was also used. It had previously launched the Crew-1 mission.
The trouble-free launch of the Crew-2 mission comes as there is some turbulence about the future of the space station. In recent days, Russian officials have said they are considering ending their participation with the International Space Station in 2025, which is when operations are currently set to end.
But U.S. officials are looking to extend the station's life to 2028 or maybe 2030. They so far do not seem concerned. The Russian news agency TASS reported that Dmitry Rogozin, the head of the Russian space agency, said that the exit would be gradual.
Russian officials said they would work toward building a new Russian space station, although they did not say how the country's underfunded space program could sustain one. With the Crew Dragon becoming operational, the Russian space program lost one of its main sources of revenue: NASA buying seats on the Soyuz rockets.
NASA is negotiating an agreement with Russia in which NASA astronauts would continue to ride on the Soyuz in exchange for Russian astronauts going to space in SpaceX and Boeing capsules. In that arrangement, no money would be exchanged, but it would help ensure that astronauts would be familiar with all of the equipment.
During the news conference, Musk was asked about SpaceX's next big project for NASA: building the lander to take astronauts back to the surface of the moon. Last week, NASA awarded SpaceX a $2.9 billion contract to adapt a giant rocket called Starship that it has been developing for trips to Mars and use it to land on the moon.
"It's a great honor to be chosen by NASA to return to the moon," Musk said.
He then expressed his hopes for building a permanent base on the moon, and then a city on Mars. Musk has often asserted that spreading to other worlds would be an insurance policy for the long-term survival of humanity. "We don't want to be one of those single-planet species," he said.
Currently, the schedule for the lunar program, Artemis, has astronauts landing on the moon in 2024, a timetable originally set by President Donald Trump that is widely regarded as unlikely, especially as Congress has not provided as much money for the development of lunar landers as NASA has requested. The space agency had hoped to award contracts to two companies to develop two different landers.
Musk noted that he had been "somewhat optimistic" about SpaceX schedules in the past. (Development of SpaceX rockets and spacecraft have generally taken about twice as long as Musk's predictions.) But he then added that Starship could be ready to carry people in a couple of years.
"Obviously, we need to like not be making craters," he said, and laughed. "Otherwise, it's like, 'Hop in, we're going to Mars — nope, not quite!'"
SpaceX has been launching a series of prototypes from its site in southern Texas, near Brownsville. It is trying to perfect a technique whereby Starship very gently belly flops, using air resistance as a brake and then tipping upward just before landing. The last four flights have ended in fiery crashes, although one did manage to land in a single piece before exploding a few minutes later.
"The thing that's really important to revolutionize space is a rapidly reusable rocket," he said. "That is the gateway to the heavens."
Still, Musk said, the 2024 target was achievable despite the technical challenges.
"We're going to build a lot of rockets, and then we're going to probably smash a bunch of them," Musk said. "But I think it will happen. I think 2024, it seems likely."
Get Boston.com's browser alerts:
Enable breaking news notifications straight to your internet browser.