John Kerry
John Kerry, under fire from GOP, denies discussing 'covert' Israeli strikes in Syria with Iranian official
"This never happened — either when I was Secretary of State or since."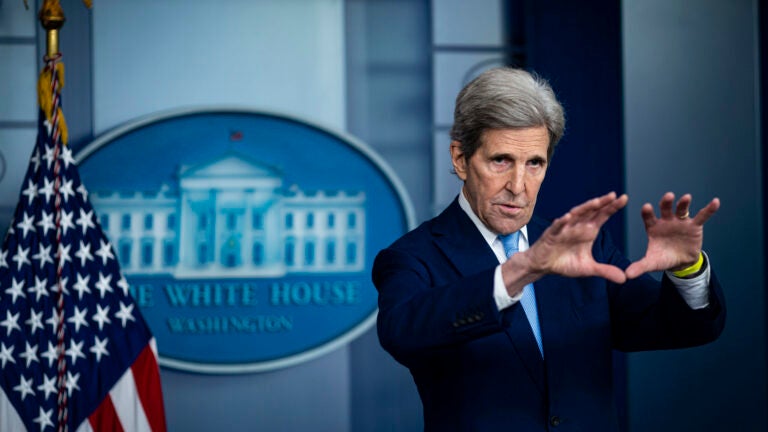 John Kerry, a former secretary of state and longtime U.S. senator from Massachusetts, said Monday that he had never discussed covert Israeli airstrikes in Syria with Iran's foreign minister, Mohammad Javad Zarif, contrary to Zarif's claim in a leaked conversation.
Zarif and Kerry spoke constantly when the two were negotiating the 2015 Iran nuclear deal. The Iranian foreign minister said in the recording, reported by The New York Times on Sunday, that Kerry had informed him that Israel had attacked Iranian interests in Syria at least 200 times.
The claim sparked a furor Monday among conservatives who accused Kerry, who was secretary of state in the Obama administration and now serves as President Joe Biden's climate envoy, of betraying Israeli secrets.
But in a tweet Monday evening, Kerry denied the assertion and pointed to reports long in the public domain about Israeli strikes on Iranian assets in Syria.
"I can tell you that this story and these allegations are unequivocally false. This never happened — either when I was Secretary of State or since," Kerry wrote.
Kerry's denial came after multiple attacks from prominent Republicans. Sen. Ted Cruz, R-Texas, said that, if real, the remarks would amount to "catastrophic and disqualifying recklessness."
Sen. Dan Sullivan, R-Alaska, a former State Department official under President George W. Bush, called in a speech on the Senate floor for Kerry to resign, saying he was "astonished" that Kerry "would reveal the secrets of one of our most important and enduring allies in the region to an avowed enemy, the largest state sponsor of terrorism."
And Nikki Haley, who served as United Nations ambassador in the Trump administration, wrote on Twitter that the claim was "disgusting" and accused Kerry of "tipping off Iran."
But it was not clear that the alleged disclosure would have revealed any secrets.
Israel has made little effort to deny years of strikes attributed to it by Syria's government, news outlets and nongovernmental organizations tracking the Syrian conflict, whose chaos Iran has sought to use to establish a foothold that could threaten Israeli security.
A New York Times article from 2019 included similar information on the number of Israeli strikes. And Kerry's tweet cited a Washington Post reporter's tweet of a 2018 Reuters article, sourced to a senior Israeli official, reporting that Israel had mounted 200 attacks on Iranian assets in Syria.
The recording in question captures Zarif speaking for hours to an interviewer producing an oral history of the current Iranian administration.
"Kerry has to tell me that Israel has attacked you 200 times in Syria?" says Zarif, who complains in the recording that Iran's military has long kept him in the dark on crucial matters. "You did not know?" the interviewer asks twice. Both times, Zarif replies, "No, no."
In the recording, Zarif does not specify when Kerry was supposed to have made the comment.
A State Department official noted Monday that Kerry had a record of supporting Israel's security and that many of the Republicans outraged by Zarif's remarks had said previously that his words could not be trusted.
Earlier in the day, the State Department spokesman, Ned Price, told reporters at a daily briefing that he would not comment on "purportedly leaked material" and could not "vouch for the authenticity of it or the accuracy of it," or what motives might be behind its emergence.
Price did not specifically address whether Kerry had made such comments to Zarif, but implied that they would not have constituted an improper disclosure.
"I would just make the broad point that if you go back and look at press reporting from the time, this certainly was not secret," Price said. "And governments that were involved were speaking to this publicly, on the record."
Get Boston.com's browser alerts:
Enable breaking news notifications straight to your internet browser.