National
Only a few hundred California condors live in the wild, but about 20 teamed up to trash one woman's deck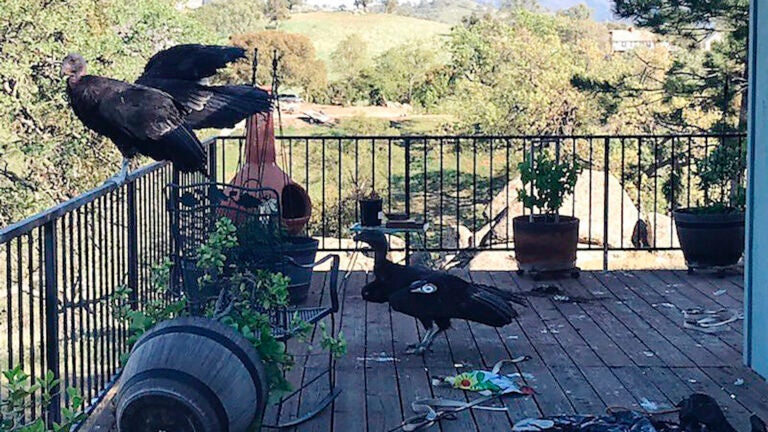 Since she first moved to a rocky hilltop north of Los Angeles, Cinda Mickols had grown used to the occasional sight of California condors in the distance.
In pairs or groups of three, the endangered birds – recognizable by their massive, 10-foot wingspan – would glide through the air or perch on faraway trees as she gazed out at the Tehachapi Mountains.
On Monday, however, she arrived home to find that a massive flock of the condors had descended upon – and trashed – her own property. Of all 160 birds left in the state, an "extraordinary" one in ten were congregating atop her roof or on her wooden deck, which is now covered in white excrement as thick as concrete.
"I've never seen this number at one time. That's what was so startling," Mickols, 68, told The Washington Post. "It wows me . . . and it smells."
Despite her best efforts to evict the winged intruders, the vultures have refused to leave her property this week, in an uneasy turf war that marks an unusual episode for North America's largest flying bird.
"It looks like there was a party," Michael Fry, a scientist at the U.S. Fish and Wildlife Service, told The Post.
Fry, who has led conservation efforts for the California condor, said the birds "are very gregarious. They will feed communally, they tussle with each other. They might even play tug of war over a carcass . . . But I don't know what they were all doing on her deck."
Neither, it seems, did Mickols. When she first spotted them on Monday, the 5′3″ retiree grabbed her cane and began shaking it at the birds, yelling at them to shoo from the railings of her wooden deck.
Over the weekend ~15 California condors descended on my moms house and absolutely trashed her deck. They still haven't left. It sucks but also this is unheard of, there's only 160 of these birds flying free in the state and a flock of them decided to start a war with my mom 😭 pic.twitter.com/bZyHsN58Bk

— Seana Lyn (@SeanaLyn) May 5, 2021
Because the condors are endangered – and enormous – she has tried to keep her distance. "I can't actually touch them, nor would I," she said.
In the meantime, Mickols has also struggled to rid her newly-refurbished deck of condor poop, without much success. While she has washed down the wood once already, there are "white things" everywhere – and the continued presence of the vultures does not appear to be helping.
After a few bold condors returned from roosting on nearby trees to her roof on Wednesday morning, she gave them a "morning shower" with a hose, she said.
Good morning to everyone especially my mom who gave these two condors on her roof a "shower" this morning with a hose. Now they're back chilling with the rest of the flock on her tree. Watching. Waiting. Doing condor things pic.twitter.com/dU9NPcsFGd

— Seana Lyn (@SeanaLyn) May 6, 2021
Fry, a former avian sciences professor at the University of California-Davis, said the incident could perhaps be explained as a result of the critically endangered species' trajectory from captivity to the wild – an unusually happy conservation story.
Although the birds once glided across the continent, human encroachment rapidly dwindled their population, The Post has reported. Many California condors died of lead poisoning after swallowing pellets or bullets lodged by hunters in the carcasses of their favorite prey, and by the late 1960s, only a few dozen birds remained.
That's when scientists – including Fry – captured the wild population to tag them with colorful tags, he said. With numbers shrinking even more, a team of researchers again rounded up them up in 1982 to breed them and then release them back into the wild.
That process hit some obstacles. In the 1990s, so few adult condors had ever existed in the wild that juveniles struggled to learn how they should act in their native mountain terrain, Fry said. In one notorious incident, half a dozen young condors were found playing tug of war with a sheepskin rug on a back porch in Santa Barbara, he recalled.
While the California condor population has grown exponentially since then, "it seems to me that was exactly what has happened here in Ms. Mickols' backyard," he said.
Of five condors she was able to identify with the colored tags, all were between 4 and 6 years old – in other words, right at the cusp of adulthood – and four were hatched in captivity. Given that her house is in the last remnants of condor territory and on a hilltop, it's an "almost predictable" spot for them to roost. (They tend to prefer spots at the top of mountains, where they can more easily access favorable wind patterns.)
She does think this is pretty amazing but also the worst. They don't have to leave her property but leave the house alone. They keep hanging out on her roof and railings messing with stuff and pooping everywhere. Trees are fine but not the house please 🙏 pic.twitter.com/QhE9XVERZF

— Seana Lyn (@SeanaLyn) May 5, 2021
That's part of the appeal for Mickols, who says she appreciates the "extraordinary" birds – as long as they steer clear of pooping on her home.
"I want to respect them and to observe them from a distance," she said. "They're beautiful when they're flying. They're beautiful when they're perched on trees. I don't want them on my deck or my house."
Get Boston.com's browser alerts:
Enable breaking news notifications straight to your internet browser.