National
Harvard grad student describes devastation in Florida condo collapse
"It's a situation that you cannot even describe in words."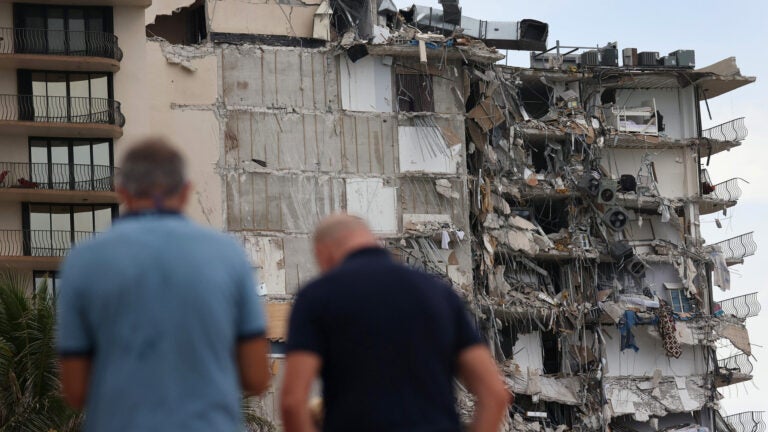 A Harvard University grad student described the scene of the 12-story condo building collapse in the early hours of June 24.
Anastasia Mechan, 31, is staying with her family for a few weeks, who live just two blocks from the structure in Surfside, Florida. She told WBZ that the collapse woke her family with a violent shake.
"So my mother was like, 'It's impossible for this to be an earthquake,'" she said. "So my mother went out and my sister went out and they saw the smoke all the way through the streets."
The collapse has killed at least one person and nearly 100 were still unaccounted for late Thursday evening. Dozens of survivors have been rescued, and the search for more continues.
"I don't even know how to describe it," she told The Boston Globe. "It was like a scene from a World War II movie."
Mechan told WBZ the smoke was so expansive she thought it was a fire. After she learned about the collapse, she walked the beach to see what happened.
"And you can see sofas hanging, balconies hanging, clothes hanging. It's really disturbing. It's a situation that you cannot even describe in words," she said. "The building is standing still, the leftovers. And we don't know at what moment the building is going to collapse. And if it collapses on top of what's already collapsed, then how do we rescue the people that we hope are alive?"
Earlier on Thursday, Surfside Mayor Charles Burkett warned that the death toll was likely to rise, noting that the building manager told him the tower was quite full at the time of the collapse. Since it's also a seasonal residence, the exact number of people in the building is unclear.
"The building is literally pancaked," Burkett said. "That is heartbreaking because it doesn't mean, to me, that we are going to be as successful as we wanted to be in finding people alive."
Material from the Associated Press was used in this report.
Newsletter Signup
Stay up to date on all the latest news from Boston.com