National
Biden Administration plans wind farms along nearly the entire US coastline
The administration recently approved the nation's first commercial offshore wind farm off the coast of Martha's Vineyard.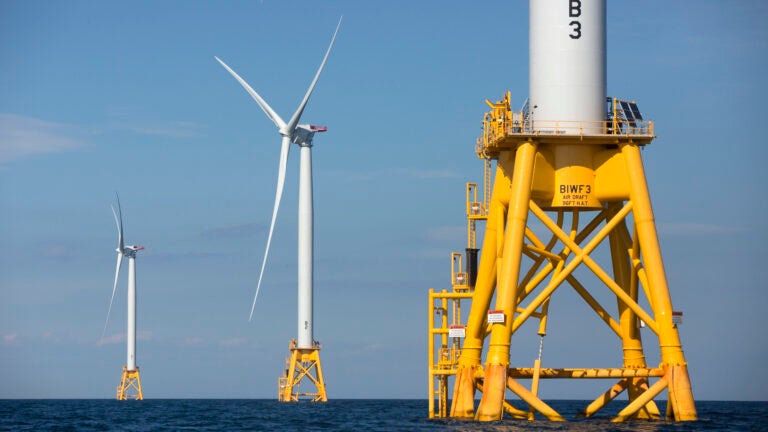 WASHINGTON — The Biden administration on Wednesday announced a plan to develop large-scale wind farms along nearly the entire coastline of the United States, the first long-term strategy from the government to produce electricity from offshore turbines.
Speaking at a wind power industry conference in Boston, Interior Secretary Deb Haaland said that her agency will begin to identify, demarcate and hope to eventually lease federal waters in the Gulf of Mexico, Gulf of Maine, and off the coasts of the mid-Atlantic states, North Carolina and South Carolina, California and Oregon, to wind power developers by 2025.
The announcement came months after the Biden administration approved the nation's first commercial offshore wind farm off the coast of Martha's Vineyard in Massachusetts and began reviewing a dozen other potential offshore wind projects along the East Coast. On the West Coast, the administration has approved opening up two areas off the shores of central and Northern California for commercial wind power development.
Taken together, the actions represent the most forceful push by the federal government to promote offshore wind development.
President Joe Biden has pledged to cut the nation's fossil fuel emissions 50% from 2005 levels by 2030 by designing policies to promote the use of electric vehicles and clean energy such as wind and solar power. In particular, the administration has pledged to build 30,000 megawatts of offshore wind in the United States by 2030.
There is no guarantee that companies will lease space in the federal waters and build wind farms. Once the offshore areas are identified, they will be subject to lengthy federal, state and local reviews. If the potential sites could harm endangered species, conflict with military activity, damage underwater archaeological sites or harm local industries, the government could deem them unsuitable for leasing.
As they have in response to other offshore wind farms, commercial fishing groups and coastal landowners will likely try to stop the projects.
"To be making these announcements, and making them in ways that are very political, without looking at what that means, what area, when we still don't know what the effects are going to be of these projects is really problematic," said Anne Hawkins, executive director of the Responsible Offshore Development Alliance, a coalition of fishing groups.
This article originally appeared in The New York Times.