National
Why is everyone quitting, and how do I know whether it's time to leave my job?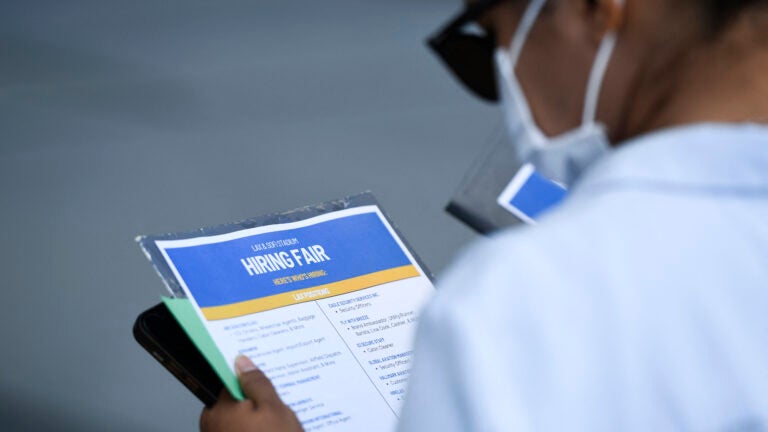 More people than ever are leaving their jobs.
They seem to come from every industry and span generations. Some are following through on long-deferred plans to leave, no longer willing or able to wait out the pandemic. Others are burned out from too many long shifts, late nights and unspent vacation days. And many say the public health crisis forced them to reassess their jobs and priorities.
Whatever the cause, the rush of resignations is accelerating: A record 4.3 million people – about 2.9% of the nation's workforce – quit in August, according to Labor Department data released Tuesday. In September, the nation's jobless rate fell to a pandemic low of 4.8%, but the decline was largely driven by people leaving the labor force. What's more, Gallup data show, nearly half of American workers are actively searching for new opportunities.
Here's what you need to know about The Great Resignation – and what to consider before joining in.
Who is driving the The Great Resignation?
An exodus of workers from retail, warehouse, restaurant and bar, health care and social assistance jobs have pushed quits to record levels, according to data released this week by the Bureau of Labor Statistics.
The pandemic's burdens have persisted as government support has dried up, and the fallout is breaking down gender and socioeconomic fault lines: 309,000 women older than 20 dropped out of the workforce in September, meaning they quit or stopped looking for jobs. In contrast, 182,000 men were added, Labor Department data showed.
Women have borne the brunt of the job losses since the pandemic began, research from the Brookings Institution shows. Overrepresented in low-wage service jobs, they have been caught in the crossfire between increased child-care demands (thanks to the delta variant's disruption of school reopening and lack of vaccines for kids). They also are more likely to be in positions that require in-person work, heightening their risks for coronavirus infection.
And while workers 25 and older with college degrees fully recovered from pandemic job losses back in May, Americans in a similar age group without degrees remain 4.6 million jobs below pre-pandemic levels.
"The movement of people back to the labor force has paused," Brad McMillan, chief investment officer for Commonwealth Financial Network, said in commentary this week. "The biggest problem is not that growth has slowed; it is that people are still scared to go back to work."
Why are so many workers leaving?
Workers are quitting at or near record levels in nearly every sector tracked by the Bureau of Labor Statistics, going back to 2001. But the pains are most acute among low-wage workers, who economists say are revolting against years of poor pay and stressful conditions. Many are now less willing to endure inconvenient hours and low compensation and are quitting at this stage in the pandemic to find better opportunities elsewhere.
Nearly 40% of workers that quit in August worked in restaurants and hotels. Quits also are soaring among manufacturing and warehouse workers, who are straining under the pressures of surging demand and crunched supply chains.
Some have taken to TikTok to with their grievances, posting videos under the #QuitMyJob hashtag that often call out toxic workplaces. One notable example occurred last fall, when Shana Blackwell broadcast her resignation from a Texas Walmart (over the store's intercom), saying she was pushed to the brink by what she called the store's "toxic, sexist and racist" environment. The video has racked up millions of views.
Walmart told the HuffPost that it had taken Blackwell's concerns seriously and had made "corrective actions" after an investigation of her complaints but declined to disclose whether any disciplinary actions were taken.
Salaried workers also are at their wits-end, tired of the tension between employer's pushes to return to the office and the uncertainty surrounding vaccine mandates. Nearly half of executives recently surveyed by the Society for Human Resource Management said their companies have seen elevated turnover in the past six months.
Flexibility in when and where workers do their jobs now outweighs compensation as a concern for many workers, Grant Thornton's recent "State of Work in America" survey found, with half of the respondents saying they would give up a salary increase for more flexibility. Burnout remains a top reason employees seek other opportunities.
And a surge of savings thanks to government stimulus, booming stock markets and fewer spending options in the pandemic could mean that some households have more funds to sustain them in the interim.
What does this mean for the economy?
The surge of quits is colliding with an existing labor shortage, which means that employers are under more pressure to hold onto their employees. At the end of August, there were more than 10.4 million unfilled jobs in the U.S. workforce, according to data released Tuesday by the Labor Department.
It also exacerbates uncertainties for companies: Small-business owners have grown "pessimistic" about future economic conditions, according to the National Federation of Independent Business' September survey. Some 51% of business owners reported having openings that couldn't be filled, a record high for the third month in a row.
"Organizations right now are very open-minded about saying, 'What can we do to retain employees?'" said Anthony Klotz, a Texas A&M professor who studies why people resign.
The battle for talent has spurred some companies to raise wages and offer sign-on bonuses and other deal sweeteners to attract new hires. In May, for the first time, the national average hourly pay for nonmanagers at restaurants and bars topped $15. Costco, Amazon, CVS and Walgreens all have hourly minimums of $15 or higher. And over the summer, Walmart, Target and Amazon all announced that they would begin offering free college tuition and textbooks to employees.
It remains unclear how this reassessment of work will play out going forward. For now, people are still hesitant to take the first jobs available to them, if they don't believe they're good jobs. And they are not reluctant to quit a situation they don't like.
How do I know whether it's time to leave?
The mass departures are being driven by a combination of factors, including the sense by many Americans that there's more opportunity and better pay elsewhere.
But employees might be in position to mend or remake their roles from within, a process known as jobcrafting that has been studied for years. As researchers Justin Berg, Jane Dutton and Amy Wrzesniewski put it in a 2007 paper published by the University of Michigan Ross School of Business, "Job designs are not fixed; they can be adapted over time to accommodate employees' unique and ever-changing backgrounds, motives, and preferences." They contend jobcrafting can lead to more engaged and efficient workers, which ultimately benefits companies.
So before quitting, job experts say, workers may want to consider such options as: Can I move to a different team or department? Is there a way I can take on fewer or more interesting tasks, or shift some responsibilities? Is there something my employer could provide – more money, a promotion, more time off – that would give the role more meaning?
Given the current labor climate, employees have stronger cards when pressing for change. If managers don't engage, that might be all the answer you need.
How do I exit gracefully?
A by-the-book resignation usually starts with a simple email or in-person meeting. It can be short, but should include a straightforward statement that you're leaving and why. Most companies expect at least two weeks' notice, but timing varies by situation. You may need to walk away sooner, for example, if the work environment is toxic or feels unsafe. In other cases, employees and managers might work out a longer window to ease the workplace transition.
It is best not to bad-mouth your employer on the way out, job experts say, and generally little is to be gained by doing so.
Klotz notes that the power balance shifts as soon as the decision is made to resign. At that point, "you don't need them anymore, and weird things happen when people get that rush of power. Often our true selves really come out, which is why people burn bridges and things like that."
He urged caution when using that power and suggested looking for ways to minimize the disruption your departure might cause.
Even if the position didn't meet expectations, there may be aspects for which you can express gratitude. If the job was difficult, for example, note what you learned from overcoming those challenges? A simple "thank you" can go a long way toward easing your departure.
If you want to go above and beyond to keep a positive relationship with your (soon to be former) employer, consider making yourself available to offer advice even after you leave. Doing so may be a sacrifice on your part, but it allows you to keep the door open for better opportunities there in the future.