National
Pablo Escobar's 'cocaine hippos' are legally people, U.S. court rules
The Animal Legal Defense Fund <meta charset="utf-8">called the ruling by a judge a "critical milestone".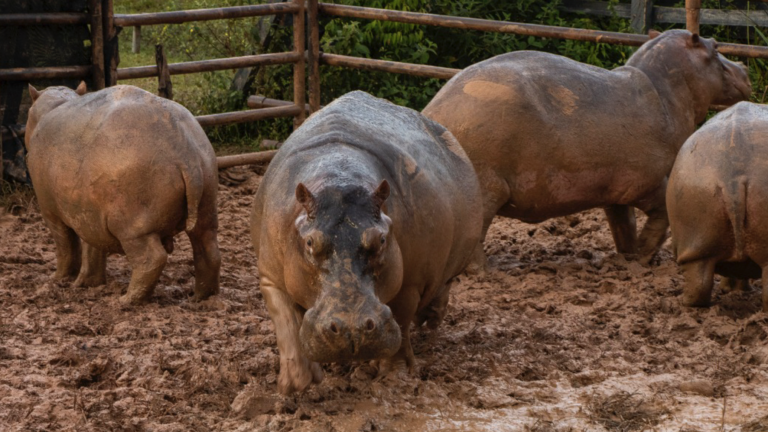 Some 100 hippos descending from a herd smuggled into Colombia by the notorious drug kingpin Pablo Escobar are now recognized as "interested persons" following a federal court decision this month that is believed to be the first such ruling of its kind in the United States.
The Animal Legal Defense Fund, which sought the interested persons designation for the "cocaine hippos," called the ruling by a judge in the U.S. District Court for the Southern District of Ohio a "critical milestone" in its larger effort to have the American legal system recognize "enforceable rights" to which animals are entitled.
Escobar smuggled several hippos onto his estate in the 1980s, but their wild spawn now roam the wetlands north of Bogotá, the largest invasive species on the planet. Colombia had considered culling them, but Luis Domingo Gómez Maldonado, an animal rights lawyer, filed a lawsuit in that country in July 2020 seeking to prevent their killings.
Colombian authorities have since said they will instead sterilize the herd with a chemical contraceptive called GonaCon that was developed by the U.S. Agriculture Department. The United States has donated dozens of doses of the chemical, currently used to sterilize animals such as horses and deer, to Colombia.
Now, Gómez's Colombia lawsuit is seeking to instead have the "cocaine hippos" treated with another contraceptive that has been used on their species. GonaCon has not previously been tested for hippo sterilization.
ALDF staff attorney Ariel Flint said that the federal court's order is "narrow," in that its purpose is to allow two U.S. wildlife experts to be deposed in support of the legal proceedings in Colombia.
But their testimony is "critical in ensuring that the hippos are sterilized in a humane way, and in proving that sterilization is an effective option for any hippos that may yet be euthanized," he wrote in an email to The Washington Post.
In the 1980s, Escobar brought four hippos to his Colombia estate, Hacienda Nápoles, to add to his private collection of exotic animals, which also included ostriches, giraffes and elephants. After his death in 1993, the hippos were left to their devices, living along the Magdalena River and ballooning to the current population of as many as 120.
The biggest community of hippos outside their native Africa, these semiaquatic mammals prospered in the absence of natural predators in South America. Favorable weather in the region may have induced them to reproduce at a younger age, researchers say.
Legal experts note that the U.S. court order has no direct impact in Colombia, and it remains to be seen what influence the ruling might have.
Gómez, the Colombian lawyer, has praised his country's jurisprudential attitude toward nonhuman animals. Colombian courts characterize them as "sentient beings" entitled to some rights, legal academic Macarena Montes Franceschini wrote in the Journal of Animal Ethics.
In 2018, a Colombia court also granted legal personhood status to part of the Amazon rainforest in a landmark decision that urged the government to put an end to the region's deforestation crisis.
Boston.com Today
Get news delivered to your inbox each morning.