National
Rep. Adam Kinzinger, outspoken GOP critic of Trump and his grip on the party, announces he won't seek reelection
Trump gleefully welcomed the news of Kinzinger's retirement, declaring in a statement, "2 down, 8 to go!"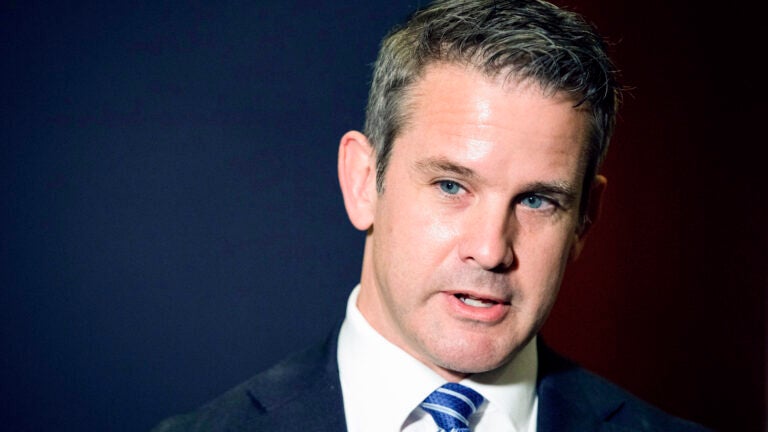 WASHINGTON – Rep. Adam Kinzinger, R-Ill., a vocal critic of former president Donald Trump, announced Friday that he will not run for re-election in 2022, arguing that there is "little to no desire to bridge our differences" in Congress.
Kinzinger, who has served in Congress for six terms, was one of 10 House Republicans who voted to impeach the former president after the Jan. 6 attack on the Capitol by a pro-Trump mob. Along with Rep. Liz Cheney, R-Wyo., he is one of two Republicans sitting on the select committee tasked with investigating the attack.
Kinzinger's announcement came shortly after the Democratic-led Illinois legislature redrew his congressional district, forcing him into a race against Republican Rep. Darin LaHood.
The planned exits of Kinzinger and Rep. Anthony Gonzalez, R-Ohio, as well as Trump's targeting of Cheney, have underscored the extent to which the former president has become the single most powerful force shaping the Republican Party.
All three voted to impeach Trump on the charge of incitement of insurrection in connection with the deadly Jan. 6 riot.
Trump gleefully welcomed the news of Kinzinger's retirement, declaring in a statement, "2 down, 8 to go!"
In a video announcing his decision Friday morning, Kinzinger, 43, said that he promised during his first campaign that "if I ever thought it was time to move on from Congress, I would. And that time is now."
"But let me be clear: My passion for this country has only grown," Kinzinger said. "My desire to make a difference is bigger than it's ever been. My disappointment in the leaders that don't lead is huge. The battlefield must be broader, and the truth needs to reach the American people across the whole country."
Kinzinger's announcement comes after Gonzalez said last month that he would not run again, citing the "toxic dynamics" inside the Republican Party.
It had been long been expected that Kinzinger's district in the western Chicago exurbs would be cut or merged when Illinois Democratic state lawmakers redrew the congressional maps.
The state lost a seat in Census reapportionment of congressional districts, and it seemed clear that would come at the expense of a Republican.
On Friday morning, Illinois Gov. J.B. Pritzker, a Democrat, signed into law the legislature's final map, which shifted Kinzinger into a district with LaHood.
Given his well-known disdain for Trump, Kinzinger would have struggled in a primary against LaHood, who is friendly to the Trump base.
In his video Friday announcing his decision, Kinzinger said he stands "in awe at the courage of the other nine members in the House who voted to impeach a president of their own party, knowing it could be detrimental to their political career."
He suggested that he intends to remain active on the political stage, although he did not reveal any details of his plans.
"It has also become increasingly obvious to me that in order to break the narrative, I cannot focus on both a re-election to Congress and a broader fight nationwide," Kinzinger said. "I want to make it clear: This isn't the end of my political future but the beginning."