National
SpaceX to launch NASA Crew-3 astronauts: How to watch
On Wednesday night, SpaceX will carry another crew of astronauts to the International Space Station for a stay of about six months.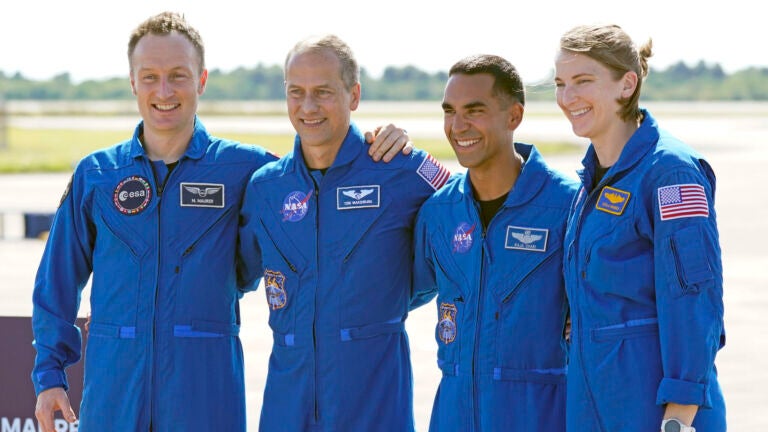 Exit the Crew Dragon. Enter another Crew Dragon.
On Wednesday night, SpaceX will carry another crew of astronauts to the International Space Station for a stay of about six months. Crew-3 is the name of the mission, and its astronauts will replace Crew-2, the quartet of NASA, European and Japanese astronauts who completed a water landing in the Gulf of Mexico on Monday night.
When is the launch, and how can I watch it?
Liftoff of SpaceX's Falcon 9 rocket, with the astronauts in the Crew Dragon sitting on top, is scheduled for 9:03 p.m. Eastern time Wednesday. NASA will host a livestream of the launch on NASA TV and its YouTube channel beginning at 4:45 p.m.
Weather around NASA's Kennedy Space Center in Florida, where Falcon 9 will launch, is 80% favorable, according to the U.S. Space Force's 45th Weather Squadron.
Why was Crew-3's earlier departure delayed?
Crew-3 was initially scheduled to launch on Halloween, but it was haunted by multiple delays.
The first delay on Oct. 31 was prompted by bad weather, and the next was over a "minor medical issue" concerning one of the astronauts. NASA declined to specify the nature of the issue — besides noting it was unrelated to COVID-19 — or indicate which astronaut it affected.
Faced with compounding delays, NASA opted to focus on returning the astronauts of Crew-2 to Earth from the space station before launching Crew-3. That prevented a simple handover in orbit between the two crews. Now the space station has just one NASA astronaut and two Russian astronauts on board, a small head count that makes maintenance of the space station difficult.
Who are the astronauts?
Three of the four astronauts on Crew-3 are flying to space for the first time.
— Raja Chari, the mission's commander, is 44 and will be the fifth astronaut of Indian descent to go to space. He was a test pilot and an Air Force colonel who flew combat missions in Iraq before joining NASA's astronaut corps in 2017.
— Matthias Maurer, Crew-3's mission specialist, is a German astronaut representing the European Space Agency. Maurer, 51, joined the European astronaut corps in 2015.
— Kayla Barron, 34, also joined NASA's astronaut corps in 2017. She was among the first group of women to serve on a Navy submarine. She and Chari are both members of NASA's Artemis astronaut corps — a cadre of 18 astronauts who are eligible to travel to or around the moon in the future.
— Tom Marshburn, 61, will set off on his third trek to orbit since joining NASA's astronaut corps in 2004. Marshburn has flown on two space vehicles in the past, serving as a crew member aboard NASA's Space Shuttle Endeavour in 2009 and on Russia's Soyuz spacecraft in 2013.
How will the astronauts get to the space station?
SpaceX's Crew Dragon is a gumdrop-shaped astronaut capsule that can seat up to seven people, but it has flown only four-person crews so far. The capsule launches to space atop SpaceX's Falcon 9 rocket, detaches from the booster once in orbit and uses a set of tiny onboard thrusters to gradually nudge itself toward a meetup with the International Space Station.
The flights typically take about 24 hours. Shortly after reaching space, Crew Dragon lifts open a top lid, resembling the tip of an eggshell, to expose its docking adapter. The spacecraft approaches the space station in a headfirst position and autonomously docks to one of the station's entry ports.
This article originally appeared in The New York Times.