Schools
Thousands of Afghan children, teenage refugees to enroll in U.S. schools
School district leaders in several areas of the country say they are ready for the influx and have long experience in welcoming refugees.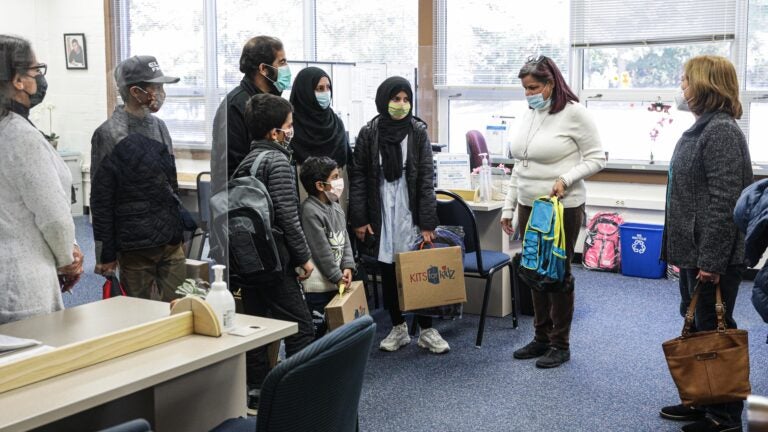 The first students in what is expected to be many thousands of Afghan refugees have begun arriving in the nation's schools, as educators and community groups around the country prepare to help with language classes, family support and trauma counseling.
Nearly 53,000 Afghan evacuees still remain on eight military installations around the country – almost half of them 18 or under. Some are learning English but formal education in bricks-and-mortar schools typically comes with resettlement.
In Virginia, nearly 180 students have enrolled this fall in the public schools of Fairfax County, while 50 refugee children in Texas have started classes in Austin and 65 in California have started in Fremont.
Thousands of others will follow them as they move off military bases and into communities across the country. Some families may look to settle near relatives or friends, while others seek the best opportunities for jobs and housing.
"In the next few months, you will see the vast majority of families leave the military bases, reach their final destinations and have their children enrolled in public schools," said Krish O'Mara Vignarajah, chief executive of Lutheran Immigration and Refugee Service.
School district leaders in several areas of the country say they are ready for the influx and have long experience in welcoming refugees. Some are working with resettlement agencies and community organizations to ease the transition.
On Friday in Fairfax County, Abdul Wahid Qanit and his family made their way to a school registration center in Dunn Loring – more than two months after they left Kabul. The journey took them to an Air Force base in New Mexico for 38 days. They have been in Virginia since mid-October.
"Now we are here, we are happy," said Aysha Qanit, 14, as she and her brothers waited for their parents to complete school system paperwork. "We are so excited – and a little nervous."
Elsewhere in Fairfax, some children had already started classes. At Dogwood Elementary in Reston, Afghan refugees this year are paired as much as possible with classmates who speak their language, said Principal Kate Beckner.
Her newcomers from Afghanistan have gaps in their education, she said, because their families faced threats for working with the Army. When they did attend school, the setting was outdoors and "not a positive place," she said. At first, "the kids were afraid to come to school" at Dogwood, she said.
But several weeks in, they are proud to have learned phrases in English. Every day, she said, they walk into the classroom calling out "Hi!" and "Good morning!"
At Annandale High, students came up with a buddy system to help newcomers adjust and navigate the school of 2,200 students. There is so much to get to know, said Sosan Barakzai, 15, who came to the United States from Afghanistan in fifth grade.
She and others who settled in the United States before the new arrivals say they would have liked to hear from students like themselves about how to follow class schedules and get around the school, how to ride the bus, which foods are halal, how course credits work, what is needed for graduation.
"Anything they have questions with, we want to make them feel comfortable," Barakzai said.
Refugee children often suffer from trauma and can have greater needs in language learning, family communication, academic intervention and social-emotional support. Their families often arrive with little in hand to stake out a new life, anxious about housing, jobs and food. They worry about relatives left behind.
"None of that is new to schools," said Kevin Welner, a professor at the University of Colorado at Boulder and director of the National Education Policy Center. "Soon after public schools began serving children in this country, there were waves of refugees that public schools were asked to educate and provide additional services for."
Still, funding is complex. Because of a lag in budget cycles, refugees arrive in school systems that have not yet been funded to serve them, said Bruce Baker, a professor in the Graduate School of Education at Rutgers University. Often educators scramble to adjust.
If refugees stay, they are counted with other students in funding formulas that vary by state. Schools may get extra resources for refugees who fall into certain categories – as English-language learners, students with special needs or children from low-income families. Sometimes grants or other supplements benefit refugees.
Julie Sugarman, a senior policy analyst at the Migration Policy Institute, a Washington D.C. think tank, said many schools do well, trying to give refugees all they need, but others lack sufficient resources or well-trained teachers. "There's still a ways to go for some," she said.
The U.S. Supreme Court long ago decided that children cannot be denied a free public education because of their immigration status.
But since the chaotic departure of the U.S. military from Afghanistan – with its wrenching images of crowds at the airport, desperate to leave – the public reaction has been strong. "It really does seem like people are excited and really want to help," Sugarman said.
In Virginia, a coalition of more than 100 volunteers – including some military veterans of Afghanistan – have banded together to help Afghan families get furniture, find apartments, travel to medical appointments and make new lives. They call themselves NoVA RAFT (Northern Virginia Resettling Afghan Families Together).
"We said, we know people are coming – a lot of them – so how can we get ready for them?" said Dan Altman, a co-founder who worked for more than a decade in the country, mostly for the U.S. Agency for International Development.
In Wisconsin, 17-year-old Kyle Luchsinger said he does not want the refugees to think the world has forgotten them.
He and eight other students at rural Ellsworth High School are raising money for school supplies for children at Fort McCoy, two hours away, where 11,600 Afghan refugees are housed. So far, they have collected $8,600, through a website and traditional donations; they plan to buy supplies wholesale and hope to deliver them in December.
They got the idea from social studies teacher Ryan Casper, who mentioned that the school had collected supplies for kids in Afghanistan while he served there with the Army.
"We kind of ran with it," said Payton Langer, 17. "We just wanted to help as much as possible."
Their teacher thinks of it as a favor returned.
"Many of these Afghan refugees were helping the U.S. or helping the military," said Casper, a lieutenant colonel in the Army Reserve. "It was a humanitarian gesture to do something to help their children while they are adjusting."
Some educators try to ease the way.
At Travis Heights Elementary in Austin, second-grade teacher Shayna Bright has a journal of collected words in Pashto and Dari, the languages of her Afghan students. The journal dates back to previous school years.
She has it out again.
"They get really excited, being able to teach me something," she said. "When they know I care about them as a person, not just a learner, they're more excited to be in the classroom with me and willing to be engaged. They feel included."
Of the 350 students from Afghanistan in the Austin Independent School District, 58 are refugees who have come this school year.
Salimah Shamsuddin, refugee family support coordinator, said the district foresaw the coming stream of refugees as the Taliban began to take over.
Her office went into high gear, holding staff trainings that focused on Afghan culture, ways to support students, and referrals of those with signs of trauma to culturally competent mental health providers.
It also helps, she said, that the school system has a refugee family support services office and an international high school program designed for students spending their first two years in the United States.
The refugee experience is all encompassing.
Shamsuddin recalls a teenager who had no idea what to choose in her Texas school cafeteria. So she did not eat – not until a parent support specialist noticed it and ultimately her father walked her through the cafeteria, encouraging her to try certain foods.
"Although our menus in school have gotten better, it's still so different from what they're used to, which is rice and kebabs and eggplant and lentils," Shamsuddin said.
At Templeton Elementary in Maryland, Principal Ebony Harris says her school also tunes in to the range of needs refugees have. Her student body includes more than 150 students from Afghanistan, including 40 refugees who have arrived since January.
The school in Prince George's County makes space when Muslim students want to pray during religious holidays and celebrates their culture – and others – in a school where 26 languages are spoken and 30 countries are represented.
But Harris and Assistant Principal Amy Robinson say refugees who evacuated as the U.S. military departed are not yet enrolled.
"We're just waiting to see when we're going to get more students," Harris said. "We know we're going to get them, but the question is when."
In California, the Fremont Unified School District, which has welcomed 65 Afghan refugees this school year, is working with community organizations to prepare for more.
The district has contracted for more language translation services. It has a program for newcomers. Its schools have room.
"We're trying to have as many tools available for the students, and it's really feeling like a community effort of people coming forward to support Fremont and incoming students," said Leticia Salinas, assistant superintendent of instructional services.
Interestingly, the coronavirus pandemic may have made it easier to accommodate newcomers because federal and state emergency relief funding to help schools return to in-person learning gives the district more staff to work with as refugees arrive.
Fremont has hired more counselors, psychologists and family liaisons.
"Two years ago, we perhaps would not have what we have now," said Salinas.
In the Sacramento City Unified School District, the extra funding has also made a difference.
Victoria Flores, director of student support and health services, said the journey to the United States can be traumatic but, beyond that, it is daunting to attend school in a place where the language and customs are unfamiliar.
"The one thing we have learned," she said, "is kind of just being open-arms – really assessing what are the needs, and just being open-minded and openhearted."