National
'Everything went black': The children caught in a Christmas parade tragedy
A child died on Tuesday, and scores of other children were injured when an SUV barreled through the parade on Sunday in Waukesha, Wisconsin.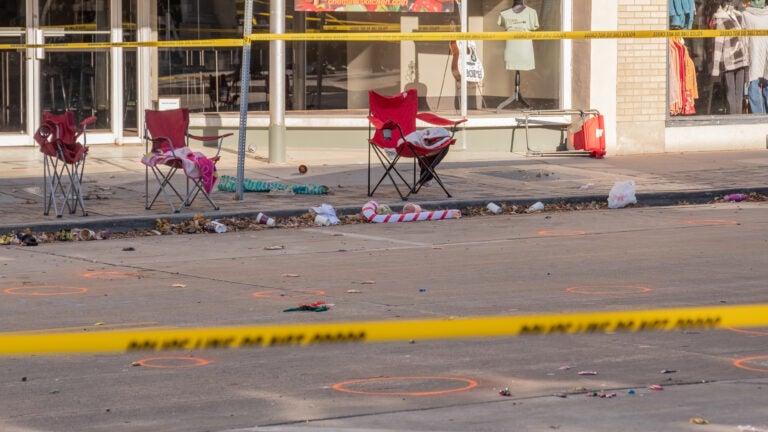 Yaretzi Becerra-Montes, 11, was home from the hospital Tuesday, struggling to walk and suffering from head injuries. She is only now beginning to remember being struck by the SUV that killed six people and injured more than 60 others as it raced through a Christmas parade in Waukesha, Wisconsin.
"I was dancing to this Hannah Montana song, 'Rockin' Around the Christmas Tree,' and then I was hit hard, and everything went black," she said. "When I woke up, everything felt like a dream."
Her friend, Jessalyn Torres, 11, who had been dancing behind her with the Waukesha Xtreme Dance Team, remained in the intensive care unit of a hospital, one of at least a half-dozen children in the dancing group to be badly injured at the parade on Sunday evening. One child needed leg surgery, according to relatives, and another had brain trauma injuries. Another child, witnesses said, was found curled up on the street, unconscious.
Torres' pelvis was broken, her skull fractured and her liver and kidneys lacerated, family members said. Just before she was intubated at the hospital, she asked her family to "tell them to glue my back and everything back together," her uncle, Ryan Kohnke, said.
On Tuesday evening, the family of Jackson Sparks, 8, said that the brain surgery he had undergone Sunday after the parade had failed to save him: He was the sixth person — and the only child — to die in the tragedy. "This afternoon, our dear Jackson has sadly succumbed to his injuries and passed away," Alyssa Albro, the child's cousin, shared on the family's GoFundMe page.
The grief in Waukesha had been concentrated on the loss of adults — five were killed Sunday, including four members of an amateur dance group that celebrated grandmothers. But the close-knit Milwaukee suburb also is reeling from the toll on children, scores of whom were hospitalized in the aftermath. Sparks' 12-year-old brother, Justin, also suffered a fractured skull, family friends said.
At least 18 patients from toddlers to teenagers, including three sets of siblings, were taken to Children's Wisconsin, part of a sprawling medical campus in Milwaukee. Most were still being treated Tuesday for issues ranging from facial abrasions and broken bones to brain injuries.
Facebook pages and GoFundMe appeals hinted at the damage: A multisport athlete at Waukesha South High School with "a broken femur, skull fracture, broken ribs, C4 vertebrae fracture, a bruised lung, and a pneumothorax (collapsed lung)." An 11-year-old girl with a fractured left leg and a head injury and in intensive care in a different hospital than her mother, who was hit, too. A saxophonist in the marching band at Waukesha South who has undergone two surgeries.
Chanda Hahn, 41, who had been dancing in the parade with her 13-year-old daughter, said that had their pompom routine not called for the whole group to "chassé" — or sidestep — to the left, they would have been struck by the SUV.
Afterward, she realized that the friend's house where she had left her car was near the spot where the SUV had been abandoned. Tire tracks were still visible where the driver had plowed across her friend's yard, scratching her car in the process.
"There was a child's glove," she said, "a black mitten. We believe it got stuck on the SUV."
"We're fine until we're not, you know?" said Lisa Salb, whose granddaughter performed with the Xtreme Dance Team. Salb said her granddaughter was not struck but that she will never forget her panicked search for the child on a street littered with small bodies.
"They were all wearing the same uniform and makeup, and we couldn't tell which was her," she said. "I would look at one and say a prayer, and then the next and say a prayer, and the next and the next."
In the Becerra-Montes household, Yaretzi, the fourth of five children, said she remembers the crash only vaguely. Her mother and sister, however, were watching from the sidewalk as she was hit.
"We have videos," said her sister Ketzally, 17. "He was going around 40 mph. He knocked her into the truck that was following behind, playing their music. We found her partly under it."
Yaretzi Becerra-Montes said she remembers being aware of a commotion behind her, and hearing "a big loud noise that I wondered whether it was gunshots."
"But then I thought, no, it's probably just fireworks," she said. "Because things like that don't happen in Waukesha."