National
From slavery to Jim Crow to George Floyd: Virginia universities face a long racial reckoning
Debates over history and racial inequity have boiled, simmered, and boiled anew in recent years.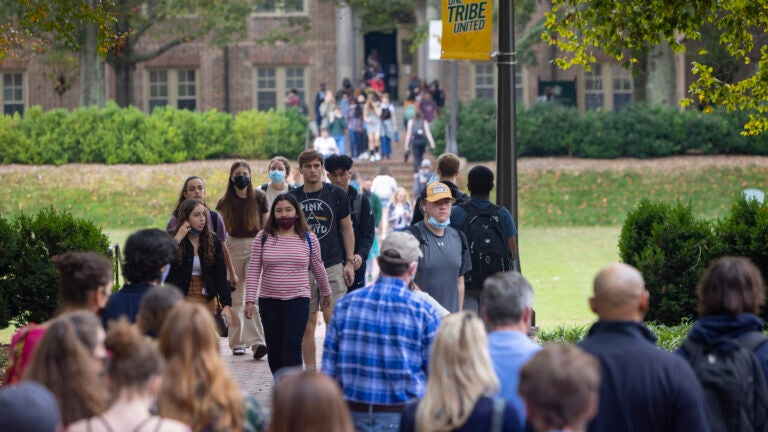 WILLIAMSBURG, Va. — The latest racial reckoning here began in earnest 13 years before the murder of George Floyd, when student leaders in 2007 demanded that the nation's second-oldest university examine its role in slavery and establish a memorial to the enslaved.
Now that memorial, shaped as a giant hearth, is rising on a corner of the William & Mary campus near Jamestown Road. Granite markers embedded in brick will commemorate at least 194 people of African descent enslaved at the school through the Civil War, including three who came with Thomas Jefferson during his time here as a student and member of the Board of Visitors.
Yet by all accounts, this reckoning will not end when the memorial is dedicated next year. If anything, scrutiny of William & Mary's record on race has intensified on matters ranging from the names of campus landmarks to the chronic underrepresentation of students and faculty of color.
That is true for colleges and universities across America, but in Virginia, a state central to the stories of American slavery, the Confederacy, and Jim Crow, the reckoning is felt almost everywhere. Debates over history and racial inequity have boiled, simmered, and boiled anew in recent years at Washington and Lee University, the University of Richmond, the University of Virginia, Virginia Military Institute, and others. They have even reached into community colleges. This year, a Virginia state board voted to rename five public two-year colleges in an effort to sever symbolic ties to enslavers and other white supremacists.
The killing of Floyd, a Black man, during a May 2020 arrest in Minneapolis outraged the nation, leading to many promises in higher education for concrete action to fight racism and make campuses more inclusive. The point is not only to swap signage, reshape landscapes, and come clean on the trauma and injustices of campus, state, and national history. It is also to make these schools feel like home, in the fullest sense, for all who work and study there.
"We've taken significant steps," said Michaela R. Hill, 21, president of the Black Student Organization at William & Mary. She cited the recent renaming of some buildings that previously honored figures linked to the Confederacy. "You have to understand how harmful it is for Black students to go to a school and study in a building named for somebody who wouldn't have wanted them in that space," she said.
Hill said more can be done to promote diversity and inclusion at a public university where the Black share of enrollment — about 7 percent — does not reflect the state. With that in mind, the senior from Chesapeake, Virginia, who is majoring in government, works as a campus tour guide. "I wanted students of color to see a face that looks like them," she said.
The latest census found that about 12 percent of Americans and 18 percent of Virginians identify as Black or African American.
At many schools in Virginia, federal data shows the Black share of enrollment in 2020 trailed those benchmarks: George Mason University (11 percent), Richmond (7 percent), the University of Virginia and VMI (both 6 percent), James Madison University and Virginia Tech (both 5 percent). The share at Washington and Lee was 4 percent.
A range of factors — social, geographic, economic, academic — influence whether and where students go to college. So do the feel and reputation of a campus. Many African Americans are drawn to historically Black colleges and universities, a sector that has gained wider attention in recent years. Other schools sometimes struggle to recruit Black students.
At Virginia Commonwealth University, in Richmond, the Black share of enrollment, 18 percent, mirrors the share in the state population. The public university has witnessed close-up the intensity of the racial justice movement in the past year and a half that swept Confederate monuments, including a gigantic statue of General Robert E. Lee, from the streetscape of a city that was once capital of the Confederacy.
The fervor touched the campus too. VCU's governing board voted in September 2020 to rename several buildings that had honored Confederate leaders, including the Jefferson Davis Memorial Chapel.
"George Floyd's death had a catalytic effect in terms of a sense of urgency to do it now, to create an environment where everyone can feel welcome," said Aashir Nasim, VCU's vice president of institutional equity, effectiveness, and success.
Nasim, who is Black, said the racial justice movement has confronted universities with fundamental questions about how knowledge is generated and who is considered an intellectual authority. People are challenging institutions, he said: "Do they actually care and support their students?"
Universities are also considering what and how they teach. VCU is encouraging more discussion about the history of medicine and health equity and ethics, part of an effort to make the curriculum more inclusive and relevant to the lives of students. Longwood University, in Farmville, Virginia, launched a minor in race and ethnic studies.
And there is a fresh spotlight on who is teaching. At Old Dominion University in Norfolk, the Black share of enrollment is 29 percent. But the Black share of tenured faculty is 5 percent. Scarcity of tenured African American professors is common among schools that are not historically Black institutions.
Some people assume "our student body is diverse, so we're 'good,' " said Narketta Sparkman-Key, director of faculty diversity and retention at Old Dominion. "That doesn't always mean we're inclusive — and doesn't mean we have faculty and staff of color."
After Floyd's death, she said, both white and Black colleagues bombarded her with ideas and questions: "What does faculty need to do, what does the institution need to do, what does higher education need to do?" Suddenly she felt like she wasn't the only one working for change.
"These are conversations that never, ever happened my whole time at ODU," said Sparkman-Key, who is Black and has been at the school since 2012. "It felt really, really good." The conversations planted seeds, she said, that are still growing. It will take time. She worries about the possibility of losing momentum as the discussion about Floyd recedes. "We're not OK," she said. "It's not over."
James Madison University, in the Shenandoah Valley, this year renamed three buildings that had honored Confederates. One of the three, now Gabbin Hall, honors a married African American couple who are longtime professors. But JMU faces major diversity challenges. About 2 percent of its tenured faculty is African American. The university last year formed a task force on racial equity. With more than 180 members, it is believed to be the largest task force in JMU history.
"It's messy, it's complicated, it takes time," the university's president, Jonathan R. Alger, said of the reckoning process. "People need to collectively take ownership of this work and take responsibility for it."
One thing JMU has ruled out, Alger said, is changing its name.
Founded in 1908, the school took on the name of the fourth U.S. president in 1938. Madison was an enslaver. Alger, who is white, said the university is committed to telling his full story, and he noted that a JMU dormitory in 2019 was named for an enslaved man, Paul Jennings, who was a Madison family servant. For all of Madison's faults and shortcomings, Alger said, "he was the 'father of the U.S. Constitution,' and frankly we wouldn't be having a lot of these conversations if it were not for the work he did."
At George Mason, Gregory Washington pointed out last year that he is the first Black president of a public university in Northern Virginia named for another American founder who articulated principles of liberty and justice even as he enslaved people. "[By] keeping Mason in our name, we keep both lessons of his life active in our own quests to form a more perfect union — and certainly a better university," Washington wrote in an August 2020 essay for NBC News.
Washington has made anti-racism and inclusivity a top priority, with a goal of making the university a national model. He pledged $5 million to universitywide efforts to change the culture. Black student leaders met with him recently to discuss concerns.
"We all went into it really tense: Are we going to have to put up a fight?" said Natalia Kanos, 21, a senior from Nigeria who is student body president. But the meeting went better than expected, she said, as Washington pledged as much transparency as possible. "What's different this year is students' voices being heard, and steps being taken," Kanos said.
For some schools, scrutiny over race has been searing. U-Va. has learned that repeatedly over the years in wrestling with its legacy as a public university founded by Jefferson and built and maintained in its first decades with slave labor. A memorial to thousands enslaved on the Charlottesville campus was dedicated in April.
At the University of Richmond, faculty and students mobilized last spring to protest a governing board decision to leave the surnames of an enslaver and a proponent of racial segregation and eugenics on two campus buildings. To quell the outcry, the board subsequently voted to suspend its decision, and the university is now weighing its naming policies.
VMI confronted allegations that Black cadets have long endured stark racism. Under pressure for rapid progress in its culture, the public military college in December removed its iconic statue of Confederate Gen. Stonewall Jackson.
Gov. Ralph Northam, a Democrat and a VMI graduate, pushed to investigate racism at his alma mater and is widely seen as a backer of racial reckoning at colleges and universities. Whether Republican Gov.-elect Glenn Youngkin, who takes office in January, will take a different view remains to be seen. His transition team said Youngkin wants to "restore excellence in education," among other broad goals.
As a candidate, Youngkin denounced "political agendas" in the classroom that he linked to "critical race theory." His rhetoric focused more on K-12 public schools than higher education. As governor, though, he will wield major influence at public colleges and universities through budget policy and appointments to governing boards.
Washington and Lee, VMI's neighbor in Lexington, has faced a series of intense debates over its association with Robert E. Lee. The school is named for the first U.S. president, George Washington, who gave it a crucial endowment gift, and for Lee, who after the Civil War was president of what was then known as Washington College. Both men were enslavers.
The Washington and Lee governing board opted in June to keep the university's name, rejecting arguments that it should drop Lee to give its brand a clean break from the Confederacy. The university decided instead to strip Lee's name from a campus chapel, and it is launching a center for the study of Southern race relations, culture, and politics. In August, the university hired its first associate provost for diversity, equity, and inclusion, and the board's rector pledged to push for a "more diverse community."
Brandon Hasbrouck, an assistant professor of law at Washington and Lee, said the name debate is not settled. "Many people on our campus would say, yes, it's very much a live issue," he said. Hasbrouck, who is Black, wants the university to cut ties to both namesakes, arguing that Washington is tainted, too. The name, he said, is "going to continue to be a barrier to recruit and retain Black and Brown students and faculty."
Beyond Virginia, such debates over history, names, and belonging are often an explosive subject in the nation's culture wars. On Monday the University System of Georgia's governing board rejected the recommendation of an advisory board to rename 75 buildings and colleges on campuses statewide that had honored people with ties to slavery, segregation, or other forms of oppression.
Here in Williamsburg, the school founded under a royal charter in 1693 as the College of William & Mary is accustomed to questions about entanglement with slavery and white supremacy.
In 2009, William & Mary's governing board acknowledged in a resolution that the school had "owned and exploited slave labor" from its founding until the Civil War. The resolution also launched the Lemon Project, named for a man the school enslaved, known only as Lemon. Its mission was to research the history of Black people in the campus community and promote understanding of the debt William & Mary owes to "the work and support of its diverse neighbors."
Twelve years later, the project continues. Its scholarship underlies the memorial to the enslaved called the Hearth. Lemon will be commemorated, with a marker linking him to the year 1780, the earliest date his name appears in records. So will 193 others, including many whose names are unknown.
"They won't be covered up again," said project director Jody Lynn Allen, an assistant professor of history, who is African American. "They were here, and they were important, and we are bringing them back to light."
The university's governing board apologized in 2018 for William & Mary's role in slavery and racial discrimination and pledged efforts to "remedy the lingering effects of past injustices."
Some say the university is not moving fast enough to minimize or eliminate symbolism on campus associated with white supremacy. "It's not a small problem that Black people don't feel comfortable at William & Mary," said Brian P. Woolfolk, a member of the governing board, who is African American. "But we kind of treat it that way."
William & Mary President Katherine A. Rowe, who took office in 2018, said the university is committed to equitable and inclusive learning environments — "so that everyone who comes here is really going to flourish." The university has embraced self-scrutiny, she said, as a moral imperative and a tool for transformation.
"The more discovery we make of the stories that we haven't told, the more we have the opportunity to unite around a sense of shared understanding of our history," she said.
Rowe, who is white, said the university is striving to diversify its students and faculty. Four percent of its tenured faculty in 2020 was African American, slightly more than the shares at both Harvard and Princeton universities (3.7 percent) but lower than the shares at U-Va. (4.6 percent) and the University of North Carolina at Chapel Hill (5.4 percent.)
Last year, William & Mary hired its first Black law dean, A. Benjamin Spencer. He is also the first African American dean to lead any William & Mary school. Spencer said the law school plans to offer a new full-tuition scholarship, named for the enslaved man Lemon, to as many as five incoming students a year with undergraduate degrees from historically Black colleges.
In April, the university renamed a residence hall for its first African American student, Hulon L. Willis Sr., who earned a master's degree in education in 1956. Previously, the building was named for Confederate Army officer William Booth Taliaferro.
Hulon L. Willis Jr., 67, of Chesterfield, Virginia, said he was shocked to get a call from Rowe telling him of the honor for his late father. The barrier he broke was not a frequent topic in the family. "He was a humble individual," Willis recalled. "It wasn't something he bragged about."
The younger Willis earned a bachelor's degree in 1977. When he left, Willis did not feel warmth toward his alma mater. Those were, he said, tough years to be a Black student at William & Mary. But he said the school has evolved — his daughter Mica graduated from there in 2013. "We're invested now," he said.
Questions about landmarks remain on a campus dotted with statuary and portraits of various figures from centuries of history dominated by white men. A statue of James Monroe, the fifth U.S. president, and an alumnus, was installed in 2015. It celebrates his life at college and in war, diplomacy, and politics without any mention that he enslaved people. The university plans to add markers to such sites with context about slavery and other matters, as well as QR codes to access more information via smartphones.
One tranquil spot outside a building that is home to the history and philosophy departments illuminates the tensions behind the issue: the Tyler Family Garden.
Dedicated in 2004, it features busts of John Tyler, the 10th U.S. president, who attended the university; his father, also John Tyler, a Virginia governor and graduate of William & Mary; and Lyon G. Tyler Sr., a son of the U.S. president, who led William & Mary in the late 19th and early 20th centuries.
President John Tyler was an enslaver who late in life supported the Confederacy. Lyon Tyler promoted racist and pro-Confederate mythology in a document known as the "Confederate Catechism." Until this year, Lyon Tyler's name was also attached to the history department as the result of a $5 million gift one of his sons, Harrison Ruffin Tyler, pledged to the university in 2001 to support history scholarship. Harrison Tyler also funded the family garden.
The governing board in April found the legacy of President John Tyler and Lyon Tyler so problematic that it stripped their surname from an academic building now known as Chancellors Hall. It also approved stripping Lyon Tyler's name from the history department and naming it instead after Harrison Tyler — a step that William Tyler, his son, requested, according to a statement issued through the university. Tuska Benes, chair of the history department, who is white, said the department is "very comfortable" recognizing Harrison Tyler's generosity.
But the garden and the Tyler busts remain.
University Rector John E. Littel, who leads the governing board and is white, defended the decisions on the Tyler matters. The history department endowment has funded important scholarship on subjects including race and slavery, he said, adding that Harrison Tyler is an alumnus who loves the university. "I think that we found a good middle ground," Littel said.
Michaela Hill, the tour guide and Black student leader, said she avoids sitting in the garden. The university's stance on the Tylers puzzles her. "What is the educational goal here?" she asked. "To keep the statues and rename the building?"