National
A mom told her son to back out of a fraternity-run boxing match. He died days after 'Fight Night.'
The Clark County coroner has determined his death was a homicide caused by blunt force trauma to the head.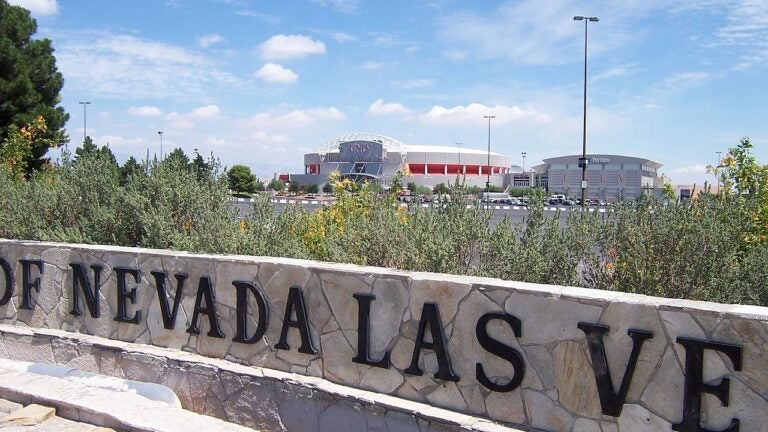 The announcer revved up the crowd with a "Let's get ready to rumble!" as Nathan Valencia and his opponent started pounding each other in the boxing ring.
At one point in the fraternity-run charity match, Valencia's opponent had him on the ropes before landing a left hook that nailed Valencia right in the face. The 20-year-old junior at the University of Nevada at Las Vegas rallied, however. He danced toward the center of the ring to escape and eventually finished the fight.
But about five minutes later, Valencia collapsed. Four days later, he was dead.
Now, a week after Valencia died, the Clark County coroner has determined his death was a homicide caused by blunt force trauma to the head (such a determination does not necessarily mean authorities believe a crime has been committed.) The Nevada State Athletic Commission, the organization that regulates boxing in the state, has opened an investigation. UNLV told The Washington Post in an email that it's actively reviewing what happened on Nov. 19 at "Fight Night," a charity event featuring fraternity and sorority fighters in some 10 amateur boxing matches, with proceeds going to Center Ring Boxing, a Las Vegas-based youth boxing organization.
Valencia's family members, with the help of lawyers, have started their own investigation, saying they will leave "no stone unturned" in their search for answers. They claim that investigation has already revealed that Kappa Sigma, the fraternity that hosted Fight Night, didn't take enough safety precautions and that UNLV knew about the "school sanctioned" annual event, which had been held for years.
Kappa Sigma did not respond to a request for comment from The Post. UNLV declined to comment on the university's ongoing review.
Valencia's family said their preliminary investigations revealed there were no professional referees overseeing the fight and no medical personnel on standby. Richard Steele, a Hall of Fame boxing referee, watched video of the Valencia fight. He told KLAS the referee overseeing the fight didn't appear to be a licensed professional. He wasn't standing in the correct position most of the time, Steele said, and didn't call the fight when Valencia turned his back to his opponent.
"Anytime I see a fighter turn away from the fight, the fight is over," according to Steele, who began his boxing career in the Marine Corps and has been involved in the sport for more than four decades.
Several people described the event as chaotic and disorganized. Ana Saia told KLAS she had to run around looking for gloves so her sorority sister could use them during her fight. The headgear competitors were wearing kept falling off and needed to be readjusted, she said. UNLV journalism student David Cruz shot video of several of the fights, including one that appears to show the referee drinking from a Modelo can. Cruz said the fighters were just going at each other without any technique or adherence to boxing rules meant to prevent injuries.
"It was just fighting. Like there was no, like, boxing involved in it. Everybody was hitting each other in the back of the heads," he told KLAS.
Even though they're not done trying to figure out what happened, Valencia's relatives said events like Kappa Sigma Fight Night shouldn't exist.
"College students should not be placed in a situation where they are pitted against each other for combat," the statement said. Family attorney Nick Lasso later told CNN that "the family wants to make sure this never happens again, that's the primary focus."
Valencia's mom, Cynthia, told CNN she was never keen on her son getting into the ring. When he first told her about the fight, she urged him to back out. But Valencia insisted. The event was for charity, which made him eager to participate.
She asked if he was taking precautions, like wearing headgear. Yes, he told her, of course.
"He was saying, 'Mom, you worry too much.'"
Boston.com Today
Get news delivered to your inbox each morning.