National
What we know about the Michigan high school shooting
Four students were killed and several others were left critically and seriously injured.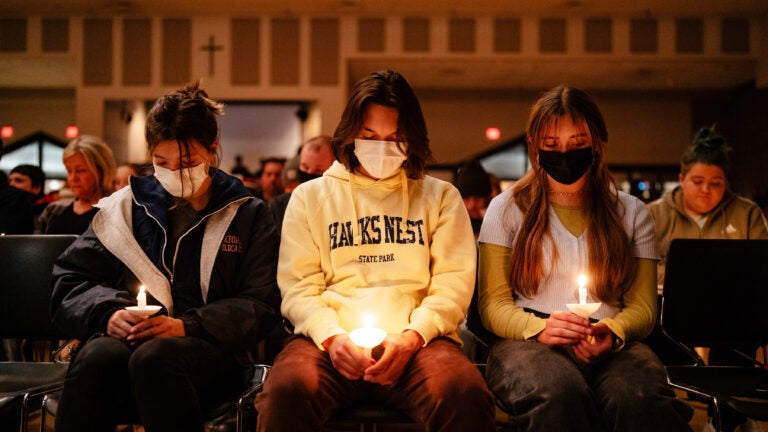 A gunman opened fire at Oxford High School in Michigan on Tuesday afternoon, shooting 11 people. Four students were killed and several others were left critically and seriously injured.
Ethan Crumbley, a 15-year-old male student, was later arrested in connection with the shooting and was being held at a juvenile jail, authorities said. He was charged Wednesday with one count of terrorism causing death and four counts of first-degree murder, which could lead to a life sentence if he is convicted.
The deadly gunfire in Oxford, in Oakland County — about 30 miles north of Detroit — added to a growing list of shootings on U.S. school grounds this year after a lull during the coronavirus pandemic, when many schools held classes remotely.
The shooting was the deadliest this year, according to Education Week, which tracks such shootings and reported that there had been 28 so far in 2021.
Many details, including a motive, remained unclear. Here's what we know.
What happened at the school?
At 12:51 p.m. Tuesday, authorities received the first of more than 100 calls to 911 about the shooting.
The suspect emerged from a bathroom and started firing at students in the hallway, authorities said Wednesday after viewing security camera footage of the attack.
When students at Oxford High School first heard the gunshots, they rushed for cover and used chairs to barricade themselves behind classroom doors. Within five minutes, authorities said, 11 people had been shot.
"I was just kind of sitting there shaking," said Dale Schmalenberg, 16, who said he was in calculus class when his teacher heard a gunshot and locked down the classroom. "I didn't really know how to respond."
The gunman fired about 30 shots with a semi-automatic handgun before being apprehended by deputies in the school hallway, authorities said.
Michael McCabe, the Oakland County undersheriff, said the suspect, who had been in class earlier Tuesday, "gave up without any problems."
Investigators were poring through many hours of security camera footage to track the suspect's actions, the county sheriff, Michael Bouchard, told reporters Wednesday, but his targets "appeared random." Investigators had not determined a possible motive for the shooting, which Bouchard described as "absolutely brutally cold hearted."
Bouchard said investigators had been told that the gunman pretended to be an officer in order to access barricaded classrooms. "We know by witnesses he was tugging on doors, and we know from physical evidence he shot through doors up and down more than one hallway," the sheriff said Wednesday.
Had there been no intervention, Bouchard said, "we might be, if it's possible, in a worse situation."
What was the aftermath?
After the shooting, students said they fled from the building. Some parents rushed to a nearby grocery store to reunite with their children.
Officials across the country expressed shock and issued statements of sadness and frustration, as residents of Oakland County announced a vigil and prepared for funerals.
Democratic leaders renewed their calls for more to be done to reduce gun violence.
"No one should be afraid to go to school," Gov. Gretchen Whitmer of Michigan said in a statement. Later, at a news conference, she added. "I think this is every parent's worst nightmare."
What do we know about the victims?
Authorities on Tuesday identified those killed as Hana St. Juliana, 14; Madisyn Baldwin, 17; and Tate Myre, 16, who died in a sheriff's squad car while on the way to a hospital. A fourth student, Justin Shilling, 17, died Wednesday morning at McLaren Oakland Hospital in Pontiac, Michigan.
"There was no time to wait," Bouchard said of the deputy who put Tate, who had recently won honors as a linebacker and tight end on his football team, into his car.
On Tuesday night, more than 25,000 people had signed a petition online to rename the school's stadium after Tate, who had recently earned an all-region award from the Michigan High School Football Coaches Association.
Six other injured students ranged in age from 14-17, officials said, including at least two who were in critical condition and another who was in serious condition.
They included a 15-year-old boy who had been shot in the head, a 17-year-old girl who had been hit in the chest and a 14-year-old girl who had been wounded in the chest and neck.
The wounded 14-year-old girl was on a ventilator Tuesday night. A hospital spokeswoman said Wednesday morning that the girl remained in critical condition but had no further updates.
"It's looking very tough for this young girl," Bouchard said.
The only adult who was injured, an unidentified 47-year-old teacher whose shoulder was grazed by a bullet, had been discharged from the hospital, he added.
What do we know about the suspect?
Few details are known about the arrested student, whom authorities have described as a 15-year-old sophomore at Oxford High School and a resident of Oxford Village, a suburb with a population of fewer than 3,500 people.
Karen D. McDonald, the Oakland County prosecutor, said she was also considering charges against the suspect's parents, who had a face-to-face meeting with school officials Tuesday — roughly three hours before the shooting — about the suspect's behavior in the classroom, according to Bouchard.
Bouchard said the suspect had also met with school officials about concerning behavior Monday, the day before the shooting. He declined to specify the nature of that behavior but said law enforcement agencies had not been notified.
During a video arraignment Wednesday afternoon, authorities told a judge that investigators had recovered two separate videos from the suspect's cellphone, which were made the night before the shooting. He talked about shooting and killing students the next day at Oxford High. A journal in his backpack also detailed his desire to shoot up the school, authorities said.
His lawyer entered a not guilty plea on his behalf.
When the boy's parents went to a sheriff's substation after the shooting, they declined to let investigators question their child, McCabe said. Officials served a search warrant Tuesday night at his family's house and investigators were examining the contents of his computer and phone, including social media posts. The family has hired an attorney, officials said.
"The person that's got the most insight into the motive is not talking," Bouchard said at the news briefing.
The 9 mm Sig Sauer handgun used in the shooting had been bought by the suspect's father four days earlier, according to Bouchard.
Authorities said that they did not believe that the student had planned the shooting with anyone else and that they were still investigating.
What charges does he face?
The suspect was charged as an adult Wednesday with one count of terrorism causing death and four counts of first-degree murder, which could lead to a life sentence if he is convicted.
Prosecutors said Wednesday that the suspect had planned the attack "well before the incident."
"I am absolutely sure after reviewing the evidence that it isn't even a close call," McDonald said. "It was absolutely premeditated."
McDonald said she decided to charge the suspect as an adult because of the severity of the crime and her belief that it was a planned attack.
Prosecutors were reviewing "a mountain of digital evidence" and were also considering charges against the boy's parents.
This article originally appeared in The New York Times.
Boston.com Today
Get news delivered to your inbox each morning.