National
A 13-year-old boy made and trafficked 'ghost guns,' authorities say, and then killed his sister with one
A 13-year-old weighing about 80 pounds was able to "make a weapon from start to finish," the sheriff said.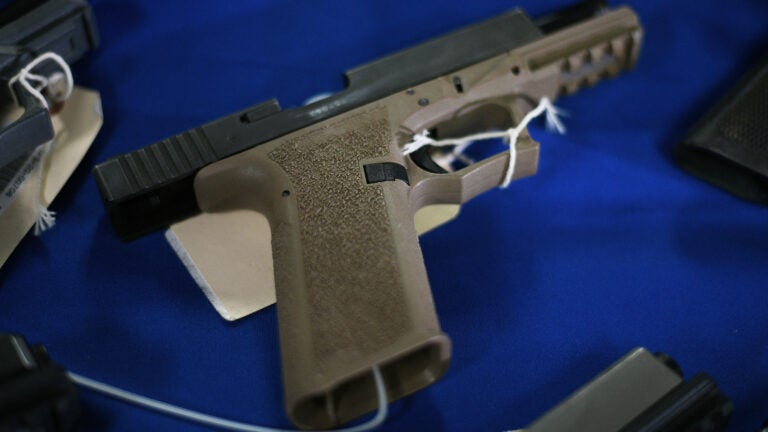 Enterprising and tech savvy, a 13-year-old boy had been making guns in his family's Georgia home and then selling them on the streets, the Douglas County sheriff said.
The boy was allegedly trafficking his "ghost guns" – kits that let customers assemble firearms without serial numbers – not only to buyers in his own area, but also those in neighboring Carroll County and Atlanta about 20 miles away.
A 13-year-old weighing about 80 pounds was able to "make a weapon from start to finish," Douglas County Sheriff Tim Pounds said at a Wednesday news conference.
On Nov. 27, the teenager was allegedly set to sell one of his wares to two men. But instead of buying the gun as agreed, the men robbed him and stole it, Pounds said.
So the 13-year-old pulled out another gun he'd made, aimed at the men as they left and fired, the sheriff added.
"But instead, he shot his sister," Pounds said.
Fourteen-year-old Kyra Scott died at a hospital after she was shot, he said. Kyra's older sister described the teen as "the kindest little girl you would've ever met" on a GoFundMe page raising money for her funeral.
Kyra's 13-year-old brother admitted to unintentionally shooting his older sister, Pounds said; he's been arrested and charged with murder. The Washington Post does not name juvenile defendants unless they are tried as adults.
Law enforcement officers also arrested one of the men they say robbed the boy – 19-year-old Yusef McArthur El – charging him with robbery and murder, according to a sheriff's office news release. Deputies are still looking for the second man involved in the alleged robbery.
Douglas County Sheriff's 1st Lt. Jon Mauney said his investigators are still trying to figure out how long the 13-year-old had been making guns and how many of the weapons are in circulation.
"I have a lot of unanswered questions," Mauney said at Wednesday's news conference.
Douglas County District Attorney Dalia Racine said her office will review the sheriff's investigation once it's completed and will determine what charges to bring and against whom.
Ghost guns, unregulated and nearly untraceable firearms with no serial numbers, are popping up at more crime scenes and officials say they're becoming a bigger problem. Law enforcement agencies recovered nearly 24,000 of them in the last five years, according to a May Justice Department news release. In 2016, they seized 1,750; last year that number had skyrocketed upward of 8,700.
On Monday, a ghost gun was used in a shooting at an Arizona high school in which a student was seriously injured, police in Phoenix said. The next day, an 18-year-old Washington D.C. Public Schools student entering a high school was arrested after police said an X-ray scan revealed he was carrying a ghost gun. On Wednesday, police in Brooklyn said a high school student there was busted with $30,000 cash and a loaded "polymer ghost gun."
The Los Angeles City Council voted on Tuesday to ban ghost guns after the police chief there reported the number of such firearms his officers had recovered spiked by about 400 percent since 2017. Los Angeles Police Department Chief Michel Moore linked that increase to a jump in homicides and other violent crimes.
"Ghost guns have been a 'significant influencer' in the surge of gun crime because they give criminals who aren't allowed access to firearms the ability to get weapons," according to Moore.
Last year, Carlos Canino, the special agent heading up the Bureau of Alcohol, Tobacco, Firearms and Explosives field office in Los Angeles, said his agents were finding ghost guns in 41 percent of their cases. He attributed the increase to technology that makes it easy for someone to legally order a kit online and then assemble the gun once it arrives on their doorstep.
"If you can go to one of these big-box stores and put that type of furniture together, if you're putting together your kids Christmas toys, you can make a homemade gun. It's that easy," the agent told KABC. "It all comes in one box with the tools you need to do it with."
Pounds – the sheriff in Georgia's Douglas County – said never in his 40-plus-year law enforcement career has he seen a case in which a 13-year-old was making his own guns and then trafficking them on the street. He called such gun running "a super big deal."
"There's no serial numbers. You can't trace that gun," Pounds said. " . . . It's a bad thing for law enforcement all over the world."
Boston.com Today
Get news delivered to your inbox each morning.