National
CNN hosts were threatened by man falsely insisting Trump won in 2020: 'Triggered over and over again by accurate news'
Robert Lemke, 36, from Bay Point, Calif., was sentenced to three years in prison after he pleaded guilty in October to threatening an unspecified journalist's New York-based family.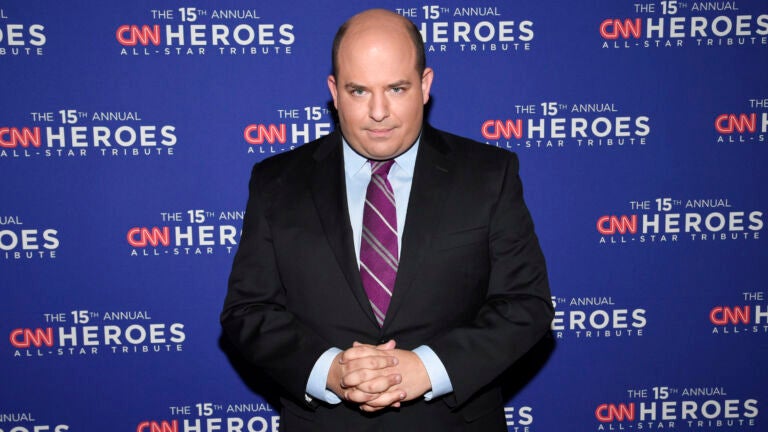 As Donald Trump began contesting the presidential election results in November 2020, CNN's chief media correspondent Brian Stelter received a text from a man describing Stelter's mother's home, "implying he was there."
It wasn't the only threatening message Stelter said he received from the man. The "Reliable Sources" host also got a voice mail telling him to "stop digging" and a text with a photo of his father's grave. Stelter detailed the threats Monday night after testifying at the sentencing hearing for Robert Lemke, a California man federal investigators say threatened about 50 people over their truthful "statements expressing that then-President Trump had lost the 2020 presidential election."
On Monday, Lemke, 36, from Bay Point, Calif., was sentenced to three years in prison after he pleaded guilty in October to threatening an unspecified journalist's New York-based family. His attorneys did not immediately respond to requests for comment on the sentence.
In a Dec. 7 letter to the judge, Lemke repeated false claims of "a large amount of fraud" in the 2020 election. (No widespread fraud has been uncovered.) In another letter on Dec. 16, Lemke wrote that he was "wholeheartedly regretful and remorseful for my actions."
"After the election, I was caught in a firestorm of rhetoric and emotions," he added. "I chose words that placed people in fear. If I could go back, I would change those words, and take more time to properly present my thoughts and intentions."
Stelter wrote on CNN.com after the hearing that it was "clear from the evidence that Lemke was triggered over and over again by accurate news reports about Trump losing."
"As he admitted in court on Monday, he thought he was a part of something bigger, a crusade to keep Trump in power," Stelter said. "The Big Lie led him to threaten brothers, and mothers, and fathers, and even kids."
Lemke is one of several people charged with threatening public figures in the wake of the 2020 presidential election. A Proud Boys supporter pleaded guilty in August to threatening Democratic Sen. Raphael G. Warnock of Georgia on social media in January. And a California man was arrested in January after federal investigators say he made pipe bombs in a plot to attack Democrats to keep Trump in power.
Lemke, according to the Justice Department, sent threatening messages to journalists, politicians and other victims between November 2020 and January 2021. As Trump supporters stormed the Capitol on Jan. 6, investigators say Lemke sent texts to a journalist's family member claiming the reporter's words were "putting you and your family at risk."
"We are nearby, armed and ready," the text message said, according to court documents. "Thousands of us are active/retired law enforcement, military, etc. That's how we do it."
That same day, the brother of an unnamed congressman representing New York received a similar message from Lemke.
"Stop telling lies; Biden did not win, he will not be president," the text said, according to court records. " . . . We have armed members near your home."
U.S. Attorney Damian Williams said in a statement Monday that Lemke had refused to accept the results of the 2020 presidential election.
"Rather than attempting to effect change through the lawful forms of expression that all of us Americans still enjoy, Lemke sought to quell freedom of expression, to intimidate and instill fear in others by threats of violence," he added. "Today, Robert Lemke was rightly sentenced to prison for his conduct."
Lemke used at least three phone numbers and different electronic accounts to mask his identity when threatening victims, federal investigators wrote. The day Joe Biden was declared the winner of the presidential election, Lemke wrote on his Facebook page that people should "Be ready for war," according to court documents.
He told followers to spread the message, records show, and to "keep an eye out for a variety of protests, and Stop The Steal Facebook groups for updates."
He was arrested in Bay Point, about 35 miles from San Francisco, on Jan. 26.
CNN anchor Don Lemon also spoke at Lemke's sentencing hearing as one of the dozens of people who'd received threatening messages. Lemon told the judge the messages he'd received targeted him and his fiancee.
"I am tired of looking over my shoulder. I am tired of being suspicious of even friendly faces in public," Lemon said, according to the New York Daily News. "I am tired of being called fake news."
Democratic Rep. John Garamendi of California also detailed the threatening messages he received. In court documents, Garamendi said the lives of his wife and children were threatened in a text message "listing them by name and home address."
"My phone number and the addresses of my family are not widely known, and the sender purported to be a part of a larger network of law enforcement officials who would carry out future attacks to overthrow the government," Garamendi said. " . . . Given the ability of the sender to gather sensitive security information about my family, we perceived this to be a credible threat to my children, grandchildren, wife, and myself."
The threats forced him and his family to "keep low profiles," he added, which affected his work as a lawmaker.
Another victim, whose name was redacted from court documents, wrote about the fear his family faced over the threatening messages.
"I could see it in my . . . daughter's eyes when she wondered whether the odd creak in the house was actually someone trying to get into our house to harm us," the victim wrote. "And she could see my fear, a fear that I couldn't protect them, that I couldn't keep them safe, in a world gone mad."
In addition to his time behind bars, Lemke was sentenced to three years of supervised release following prison.