Schools
Parent-activists, seeking control over education, are taking over school boards
"The idea that parents are experiencing less control than they ever have is just wrong ... But it's an effective message."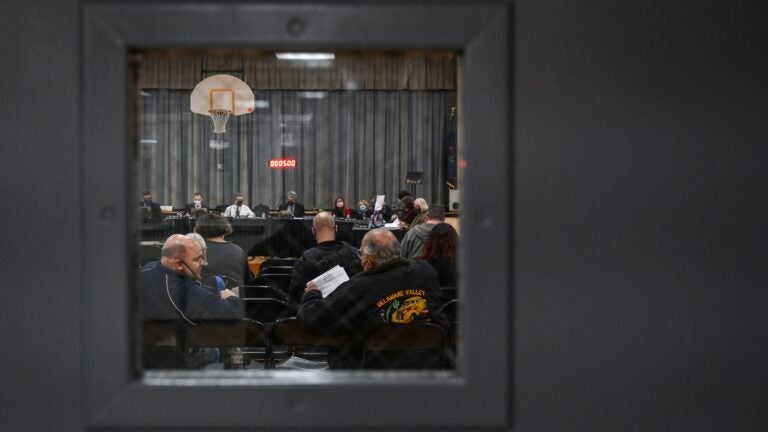 The end came unceremoniously for Superintendent Scott Baker.
At a contentious and chaotic school board meeting in Virginia's Spotsylvania County this month, members moved into an unplanned closed session and voted to fire Baker, who had served in the role for a decade. The board likely violated Virginia open meetings law, and it failed to identify an interim superintendent. But it offered an undeniable show of strength — proof that the Spotsylvania school system, like many others around the country, is entering a new era, under new power.
Four board members who describe themselves as advocates of parents' rights drove the decision, said Baron Braswell, a long-serving Spotsylvania board member who stepped down last year but has kept in touch with his former peers. That faction — which is difficult to characterize politically, Braswell said, falling somewhere between the tea party and libertarianism — now has a majority after last fall's elections, which saw a mother who campaigned partly on parents' rights win a seat.
She joined three other board members who share similar views, two of whom recently suggested the school district should burn books that Christian parents find objectionable. The dethroned superintendent, it was felt, had not left enough decision-making power to the families of some of his students, although Braswell said personal enmity also played a role.
The firing in Spotsylvania is a dramatic example of a parent-led takeover of school boards that is happening nationwide, with mothers and fathers seeking seats, recalls of sitting members or both. Although parents have long served on school boards, this crop of activists is campaigning to restructure American public education so that parents, whether or not they come from an educational background, can serve as final arbiters for a wide range of issues, from whether masks should be optional to what books are available in children's libraries.
The parent movement spans the political spectrum and reflects a grievance born during the pandemic — when parents queued for hours at school boards nationwide to share their concerns with upended schooling, often running over their allotted speaking time — that school officials are not listening to the people whose children they were supposed to serve.
"Parents have been boxed out; they've not been included. They've been shut off and shut down at school board meetings," said Clarice Schillinger, founder of a parent advocacy group, the Back to School PA PAC, who is now running for lieutenant governor of Pennsylvania. "So they said, 'Well, if you're not going to listen to me, I'm going to become the one [on the school board] who will listen.'"
A special rallying cry on the right — from parents who seem to have become energized during the turbulent era of Trump politics — is the growing call to banish "critical race theory," a college-level academic framework examining systemic racism whose name has become a catchall for school districts' diversity and equity initiatives and their attempts to rethink the teaching of race in American history.
The parent rights' movement, which began in earnest about half a year ago, is showing no signs of abating as parents who won their school board races take office in the new year and start proposing changes — while still others begin plotting future runs. Some candidates have been recruited top-down by national groups like Moms for Liberty, but much of the activism is being led at the local level by smaller networks of angry parents.
No comprehensive data captures the scope of this parent-led effort, but the groundswell appears to be massive: According to the political database website Ballotpedia, there were 91 recall attempts lodged against 235 school board members nationwide in 2021, a huge spike from the average of about 30 recall attempts every year since 2009.
A Washington Post review of websites and social media accounts identified more than 180 active parent groups in at least 34 states, the vast majority of them formed within the last two years to push for greater parental involvement in public-school education — and many of which fielded or supported candidates in last year's elections.
In a December video titled "School Board Bootcamp," the director of the right-leaning 1776 Project PAC, Ryan Girdusky, said his group supported more than 50 school board candidates across seven states last year, 42 of whom he said won their elections. In the same video, Schillinger of the Back to School PA PAC said her group promoted 210 parent candidates just in the state of Pennsylvania, 60% of whom won their races.
Although Schillinger is conservative and most of the PAC's funding came from one Republican donor, the PAC itself says it is bipartisan and "single-issue," willing to support anyone pushing for school opening.
While many of the groups identified by The Post clearly espouse conservative goals, the parent push for greater control over the classroom is attracting people of all political persuasions. Strong movements have sprung up in bastions of liberalism such as New York City, where a parent group dissatisfied with attempts to reform gifted tracking programs placed more than 60 candidates onto school boards this past fall, and San Francisco, where irate parents are pursuing the recall of three board members, in part, over a much-derided attempt to rename schools.
The push for parents' rights in education is a break from a more traditional public-school notion in which all residents of a county, not just parents, fund school systems, vote for school board members and hold school officials accountable, said Jack Schneider, associate professor of education at the University of Massachusetts at Lowell.
"The idea that parents are experiencing less control than they ever have is just wrong. It simply isn't the case. But it's an effective message," Schneider said. "I don't think that this is an earnest movement. I think it's a cynical movement and politicians are using it for their own gain."
Asked about their motivations for pushing parents' rights, a deeply conservative Texas pastor and a lifelong liberal and father in San Francisco gave answers more remarkable for their similarities than their differences.
God "has spoken to a number of parents who, during covid, became fully aware of what was being taught to their children," said Rick Scarborough, leader of Recover America, a Texas-based group that works to politically mobilize evangelical voters and is turning its attention to school board races. "They were just incensed."
"It was all of us being so focused on public schools during distance learning," said Patrick Wolff, executive director of Families for San Francisco, which has endorsed the local school board recall effort and published reports critical of the school system. "We'd not been paying attention, and now we are."
Breaking points
Amy Snead hit her breaking point two days before the start of this school year, when her Virginia district reversed a policy allowing parents to choose whether their children wore masks at school. They would now be compulsory.
Snead, a 40-year-old mother of four, had been unhappy with the school's handling of the pandemic for a while, especially with the Bedford County Public Schools' decision to cancel in-person sports for much of the pandemic. But after the mask flip-flop, she decided to start a chapter of Moms for Liberty, a national group that empowers conservative parents to seek change in their school systems, which she had heard about through a friend in Florida. "We wanted to make sure the voices of parents continued to be heard, but also recognized and listened to," she said.
Around the same time, she realized two members were up for reelection on the Bedford school board, and she discovered two fathers — Matthew Holbrook and Dwayne Nelms — who were willing to run and who shared "the values of our organization," Snead said. It was late in the campaign season, so Holbrook and Nelms would have to campaign as write-in candidates, historically a difficult path. And Snead knew nothing about school board elections: A stay-at-home mother for the past 15 years, with some experience in hotel management before that, she had no political or activism experience.
Nonetheless, she plunged in: The roughly 200 local members of Moms for Liberty – which grew through word of mouth and social media posts — started sharing a flood of information about the election on Facebook, as well as attending community events. They also headed to the polls as soon as early voting opened. There, they chatted for hours with voters about each of the candidates.
Similar scenes played out across the country last fall, with highly motivated and organized parents involving themselves at an intimate level with every step of the school board election process.
In Oregon, a parent group called Oregonians for Liberty in Education developed a voters' guide for local school board races across the state, said vice president Natalee Maxfield, although the guide — which the group posted on its website and sent out in email newsletters — included only candidates who "aligned with our organization's values."
In Pennsylvania, Schillinger's Back to School PA PAC distributed $700,000 to favored school board candidates — half a million of which was donated by one Republican father, Paul Martino, who said he gave the money because he was desperate to see schools open. The PAC also hosted trainings for its candidates, Schillinger said, on everything from running a campaign to the best method for circulating a petition.
"Many times I was also just a shoulder to cry on," Schillinger said. "It's pretty ugly out here in school board races. The fight is real."
And in New York City, a parent advocacy group called PLACE NYC, which formed in 2019 to advocate for advanced academics, identified and supported 94 candidates for 16 community education councils across the city, said PLACE NYC co-founder Yiatin Chu. (Community education councils are akin to county school boards in other states.) The election saw a record number of parents campaign for council positions, according to New York government data reported by Chalkbeat – up from about 1,000 in 2019 to 1,785 candidates in 2021.
"I think the parents that were motivated to run for office . . . felt that their point of view about what they wanted to see in education was not being elevated," Chu said, pointing especially to arguments about the city's gifted and talented programs. "We believe in a merit-based admissions system and that accelerated programs should be expanded, not canceled."
Ultimately, 64 PLACE NYC-supported candidates won seats on their councils, Chu said – and were the top vote-getters in 14 of the 16 contested council races. Deborah Alexander, one of those who won, also attributed her victory in part to a widespread sentiment among parents that they'd been excluded from important educational decisions. For example, she said, New York City public schools decided against offering a broad remote-learning option this academic year, leaving many parents who preferred virtual feeling angry and ignored.
In Virginia, Amy Snead's efforts with Bedford Moms for Liberty bore fruit, too.
The two write-in candidates she'd supported, Holbrook and Nelms, won their races. Now the board has a new majority — five of seven members — that can be counted on to vote in favor of greater parental involvement in education.
"For so many years, so many people just filled in whatever bubble [for school board] — these races had really fallen off people's radars," Snead said. "We're bringing awareness back to that and educating parents on the importance of local government."
'How is this good for the students?'
In Spotsylvania, said retired board member Braswell, it is unclear what plans the new majority has for the beleaguered school district — or even why it deposed the former superintendent, Scott Baker.
One of the first actions the group took at its inaugural meeting in January — apart from firing the superintendent — was to appoint as chairman Kirk Twigg, one of the board members who proposed burning books. Serving as vice chair will be April Gillespie, a mother with no prior school board experience who won her seat this fall.
At the Jan. 10 meeting, Twigg refused to give a reason for firing the superintendent, according to The Free Lance-Star. His silence prompted fellow board member Nicole Cole to complain, "You have not stated any justification or ability to fill the position … You're going to terminate a superintendent for no reason. How is this good for the students, the children of Spotsylvania County? How does this make sense?"
About a week later, shortly after the board held an emergency closed session to appoint an acting superintendent, the Spotsylvania Education Association voted that they had "no confidence" in the school board.
Baker could not be reached for comment. Twigg, Gillespie and the two other members of the newly dominant faction — Rabih Abuismail and Lisa Phelps — did not respond to requests for comment.
Baker's ouster is especially noteworthy because he had already announced in December, shortly after the elections in which Twigg and his coterie gained a majority, that he would retire. The firing, in other words, wasn't just superfluous. It was symbolic.
In an interview with The Post in November, a few weeks before he decided to leave his job, Baker said he felt as though he were "under attack" from a group of people, many of them parents, who were speaking regularly at board meetings to advance what seemed to be a "national political movement" to disrupt education. "We find ourselves in a sort of perpetual defensive posture," he said.
Elsewhere, parent takeovers of school boards appear to be proceeding with less drama — although it's early days yet, and most boards are still scheduling or holding initial meetings. In Texas's Houston Independent School District, for example, Kendall Baker — a pastor supported by Scarborough's group, Recover America — attended his first-ever board meeting as a member last week.
"I'm loving it so far," Baker said, "However, there's a lot to learn."
Baker said he ran for school board to represent conservative mothers and fathers whose voices were being "silenced as it relates to the school board," especially around the topics of mask mandates and critical race theory. He was thrilled to receive help from Recover America, he said, whose members prayed for him and held meetings around Houston with pastors to advertise Baker's candidacy.
In the coming months, Baker will prioritize ending pandemic-related school closures, he said. He also wants to "bring the ideas of the people to the table and implement their ideas," he said, to help realize his vision in which parents are "hands-on in every aspect of the child's education" — from helping with homework at home to deciding what gets taught in the classroom.
Meanwhile, parents in other places are looking ahead to the next school board elections.
In Nevada, Deborah Earl, vice president and founding member of parent-advocacy group Power 2 Parent, is targeting the November school board races in the Clark County School District. She said her group is supporting two people who plan to run, and that Power 2 Parent is currently seeking additional "qualified candidates" who believe in parents' rights.
"Parents should have as much control as they wish [over education]," Earl wrote in an email. "Parents generally know what is going to work best for their child and should be able to choose where and how their child is educated."
And in Virginia, Matthew Holbrook, one of the candidates assisted by Snead's Moms for Liberty chapter, said he is relishing the moment. So many times since the pandemic hit, the 39-year-old father of four, who works as a building contractor, had tried and failed to speak at Bedford school board meetings. He was hoping to advocate for "parental rights" — but said he was stymied by rules that limited public comment to 25 minutes total and three minutes per person.
At this year's board's inaugural meeting, on Jan. 13, one of the first things Holbrook said he did was vote for a new policy extending public comment to 40 minutes and allowing four minutes of speaking time per person. The district also ended mask requirements and contact tracing, effective Feb. 1.