Politics
A city that saw a deadly mass shooting last year will force gun owners to have liability insurance
San Jose's move is believed to be the first measure of its kind in the United States.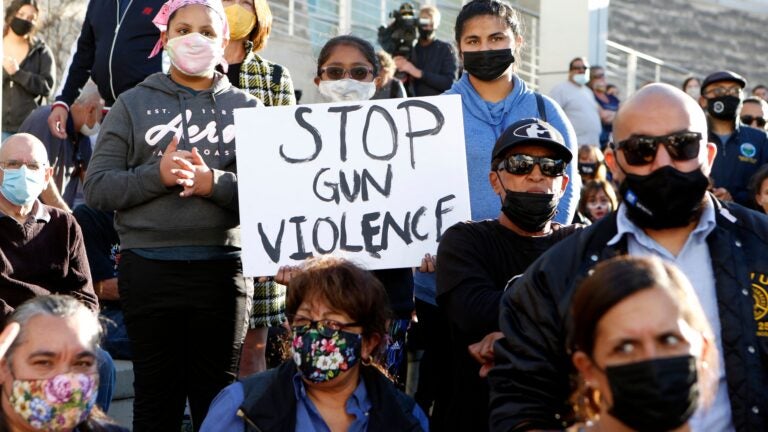 City lawmakers in San Jose, Calif., took a preliminary vote Tuesday to require gun owners to carry liability insurance and pay an annual fee, a step toward adopting what's believed to be the first measure of its kind in the United States aiming to reduce the risk of gun harm by incentivizing safer behavior.
The San Jose City Council overwhelmingly approved the Gun Harm Reduction Ordinances, despite opposition from gun owners who say the law would violated their Second Amendment rights. The push for liability insurance and an annual fee was introduced by San Jose Democratic Mayor Sam Liccardo after a May 2021 shooting at a light-rail facility that killed nine people.
The city council decided in a 10-1 vote that gun owners would be required to purchase liability insurance through their homeowner's or renter's insurance so that the plan would cover everyone in their household. Lawmakers also voted, 8-3, for gun owners to pay an annual fee of about $25 that would go toward a nonprofit organization focusing on gun violence prevention programs in San Jose.
The ordinance must be approved at a final reading next month before it can take effect by August.
Before the vote, Liccardo estimated that city residents incur about $442 million in annual gun-related costs, including "private financial costs to individuals and families" — and that gun violence costs San Jose taxpayers $40 million a year in emergency response services.
"Tonight San Jose became the first city in the United States to enact an ordinance to require gun owners to purchase liability insurance, and to invest funds generated from fees paid by gun owners into evidence-based initiatives to reduce gun violence and gun harm," Liccardo said in a news release. "Thank you to my council colleagues who continue to show their commitment to reducing gun violence and its devastation in our community."
San Jose is the first city to pass such a measure, according to Brady United, a national nonprofit that advocates against gun violence. Gun owners and gun rights groups have promised to sue if it goes into effect.
Dudley Brown, president of the National Association for Gun Rights and executive director of the National Foundation for Gun Rights, did not immediately return a request for comment early Wednesday. Brown told CNN before the vote that there would be legal action if the city passed "this ridiculous tax on the constitutional right to gun ownership."
"Our message is clear and simple: See you in court," Brown said.
Liccardo has contended that while the Second Amendment protects every citizen's right to own a gun, "it does not require taxpayers to subsidize that right."
The vote in San Jose comes weeks after President Joe Biden called on Congress to take action on his gun-control agenda. The president has pushed for the Senate to pass several gun measures, including one that would require licensed firearms dealers to conduct background checks. About $470 billion of the American Rescue Plan — the $1.9 trillion stimulus package Congress passed last year — was earmarked for cities and states to reduce gun violence, among other things.
A Gallup poll in November found that 52% of Americans polled said "laws covering the sales of firearms" should be stricter, the lowest figure since the question was first asked in 2014. A study released last week by Everytown for Gun Safety, a lobby group for firearm restrictions, found a direct correlation between states with weaker gun laws and a higher rate of gun deaths.
The May rampage in Silicon Valley, the deadliest mass shooting recorded in the Bay Area, reverberated across the country. The gunman, a transit system employee, killed himself, authorities said. The mayor proposed the measures the following month.
Liccardo told KTVU this week that the push for stricter legislation in San Jose came, in part, due to inaction from Congress, saying lawmakers have not done enough outside of "thoughts and prayers" to address gun laws. The mayor said the proposals were modeled after the public health approaches to issues such as car-related deaths, tobacco use and teen pregnancy.
In San Jose, 55,000 households legally own at least one registered gun, according to the mayor's office.
The ordinance on liability insurance will require thousands of owners to have gun safes, install trigger locks and take gun safety classes. The liability insurance would cover damages or losses stemming from any accidental use of the gun, such as property damage, injury or death, the ordinance says.
A firearm owner would be considered liable if the gun is stolen or lost until the theft or loss is reported to authorities. But the mayor highlighted that those without gun insurance would not lose their firearms or face criminal charges.
On Tuesday night, the city council held an hours-long meeting to discuss the gun-related measures. Some council members and residents said they supported the ordinances because of their own personal experience with gun violence. One mother spoke about how her daughter was killed because of gun violence in San Jose. Council member Maya Esparza referred to the 2019 shooting at a food festival in nearby Gilroy, Calif., that left three people dead and a dozen others injured.
"My own family has been touched by gun violence, particularly from the Gilroy shooting," said Esparza, according to KPIX.
But some critics argued that the liability and fee requirements would do nothing to stop gun crimes, with one resident saying the city "cannot tax a constitutional right." Others mentioned how the requirements do not address the issues surrounding illegally obtained weapons that are either stolen or purchased without background checks.
"People got killed and you got the audacity to come up in here and act like you're going to be the savior of us all," one resident said, reported KPIX.
Liccardo acknowledged some of those concerns, saying, "This won't stop mass shootings and keep bad people from committing violent crime," according to the Associated Press. He added that most gun deaths nationwide are as a result of suicide, accidental shootings or other causes.
While the vote was denounced by gun rights groups, it was celebrated by gun-control advocates such as Shannon Watts, the founder of Moms Demand Action for Gun Sense in America, a gun prevention nonprofit.
"Following unthinkable tragedies from gun violence, San Jose has taken action that will save lives," Watts said in a statement.
The mayor's office said a private law firm has offered to represent the city at no charge, in case San Jose does face legal pushback from gun rights groups. Liccardo said in a news release that he hopes other cities will replicate the first-in-the-nation gun measure adopted in San Jose.
"I look forward to supporting the efforts of others to replicate these initiatives across the nation," he said.