National
Pittsburgh bridge collapse injures 10 on day Biden to visit city to talk infrastructure
A two-lane bridge collapsed in Pittsburgh early Friday, prompting rescuers to rappel nearly 150 feet while others formed a human chain to help rescue multiple people from a dangling bus.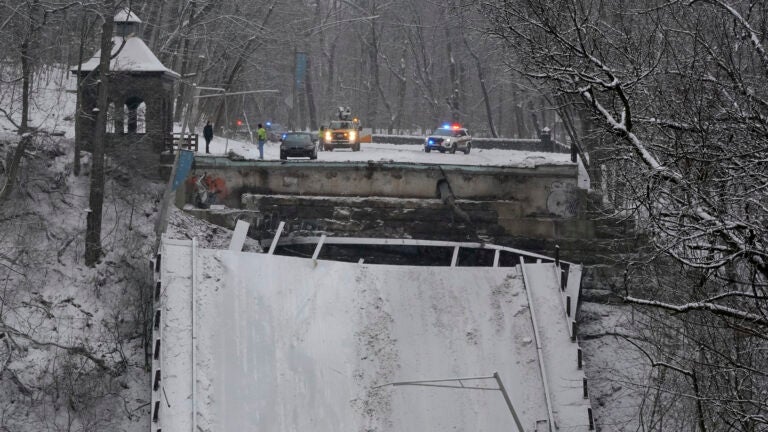 A Pittsburgh bridge collapsed early Friday, according to authorities, injuring 10 people just hours before President Joe Biden was scheduled to visit the city to talk about infrastructure.
Pittsburgh Public Safety acknowledged a "confirmed bridge collapse" at around 6:50 a.m. A photo from KDKA showed at least four vehicles, including a Port Authority bus, on the Fern Hollow Bridge near Forbes and Braddock avenues, which connects the Point Breeze, Regent Square and Squirrel Hill neighborhoods of Pittsburgh. Another vehicle was shown dangling near the edge of the collapsed bridge, located in Frick Park.
Three people were hospitalized, but none of the injuries are life-threatening, said Darryl Jones, the chief of the Pittsburgh Bureau of Fire, at a news conference.
"The good thing at this point is that there are no fatalities and we're gonna pray there are no fatalities," Pittsburgh Mayor Ed Gainey, D, told reporters.
Police, fire and EMS personnel are responding to the collapse.
Port Authority spokesman Adam Brandolph confirmed to The Washington Post that a driver and two passengers were able to escape without injury.
Public Safety said there was "a strong smell of natural gas in the area." The agency confirmed that a gas line has been cut. Nearby homes are being evacuated due to the gas smell, according to KDKA.
"Please avoid if at all possible," the agency tweeted.
The Red Cross has been contacted to assist with victims, according to Public Safety.
A news conference is expected sometime Friday, authorities said. Pittsburgh Mayor Ed Gainey, D, and Pennsylvania Lt. Gov. John Fetterman, D, are on the scene.
The collapse comes the same day that Biden is visiting Pittsburgh to discuss infrastructure. As part of his trip, the president will visit the research and development hub of Mill 19, which was part of the infrastructure deal passed by Congress last year.
The White House did not immediately respond to a request for comment early Friday.
"A lot of work is going to need to be done," Fitzgerald said.