National
Public libraries across the U.S. are taking note of this Richmond branch's parent-and-child-friendly design
"It just made my heart melt. Even if it was only for 15 minutes, I knew I could still get on a computer to do something."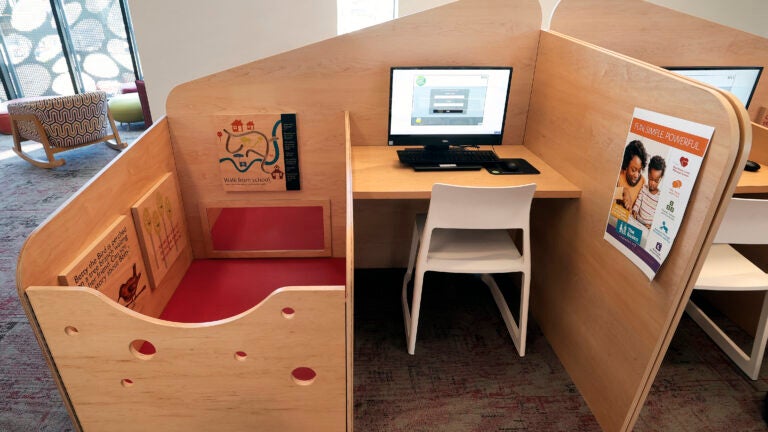 Janelle Witcher thinks of the library as her second home. She's a single mom who lives in Richmond, Virginia, and a few times a week, she drives her four children to Henrico County's Fairfield branch. It's a place where her children can learn and she can use a computer or socialize with other parents. Plus, she said, the books calm her children down.
"I go there just to let them see a different view, a peaceful view," she said.
When Witcher's oldest children were younger, they used to visit a different branch on the other side of town. She'd sign up for one of the computers in the lab, and she'd hold one baby or two as she tried to answer emails or look for job opportunities. Using the computers always felt difficult, though. As soon as Witcher started to type, one of the babies would reach over and mash the keys.
Eventually, multitasking wore Witcher down. She cut back on her visits, but she missed the calming stacks, and her oldest children needed a place to do their virtual schooling. She started going to the new Fairfield branch last year, and the first time she visited, she noticed that someone had fixed her most vexing library problem. They'd installed a second computer lab in the children's section, and this one had adult desks with a playpen attached.
"It was so beautiful," Witcher said. "It just made my heart melt. Even if it was only for 15 minutes, I knew I could still get on a computer to do something."
The Henrico County Public Library system installed the workstations as part of a $29 million rebuild of the Fairfield branch. Voters overwhelmingly supported a bond to pay for the facility, and as library administrators began designing it, they asked families what they wanted to see in the new 44,800-square-foot space.
Immediately, said Barbara Weedman, the library director, one trend emerged: People no longer viewed the library as just a place to pick up a book. The branches were places to gather, and families needed them to be more kid-friendly.
Weedman worked with architects at Quinn Evans, which has offices in Washington, D.C., Baltimore, Detroit, Ann Arbor, Michigan, and Richmond. Together, they designed a children's section with arts-and-crafts rooms, collaboration spaces and furniture short enough to allow parents to see their children across the room. They added rocking chairs and a lactation room, and then, as the architects finalized their plans, they asked Weedman whether community members needed anything else.
Weedman was also once a single mom, and she and other library staff had long noticed mothers like Witcher trying to work on the computers while holding a child.
"It was something I had observed throughout my career," Weedman said. "It's tricky when you are trying to juggle a baby or a toddler and you yourself have to do adult work on an adult computer."
The old computer lab model didn't work for those parents, Weedman told Shannon Wray, a senior interior designer at Quinn Evans. And it didn't work for other patrons, either, who needed a quiet place to work or apply for jobs.
"She told me," Wray said, " 'If we solve this problem, every library in America is going to want one of these.' "
Wray searched, but she couldn't find any ready-made furniture that addressed the need, so she asked a small company in Ann Arbor to build something new.
Blake Ratcliff and his wife Sherri have been designing children's furniture for 25 years. They work with education experts from New York University and Montessori groups to create pieces that facilitate early learning. When Wray called, the Ratcliffs knew they wanted to come up with a new kind of work carrel – one that suited parents, but was also safe and educational for babies and toddlers up to 2 years old.
The result is something they now call the Fairfield Parent+Child Carrel. It has a maple veneer plywood desk with privacy panels on one side and a crib on the other. They built the carrels from nontoxic materials durable enough to sustain the kind of frequent cleanings library workers do now, and in the crib, they installed a soft, vinyl mat made of health-care-grade materials. The inside play space has a mirror and a series of interactive panels that librarians can switch out when babies need new distractions.
"We really tried to make them fun and also practical so that the mom or caregiver could get their work done," Weedman said.
When the library opened in October 2019, mothers "made a beeline" for the four carrels, Weedman said. They're on the second floor – a set of stairs away from the regular computer lab, but close enough to the teen section that a parent with multiple children can keep an eye on everyone.
Ratcliff and Wray hoped other libraries would follow Fairfield's example, and they even presented the design at the Public Library Association conference in late February 2020. But the pandemic shuttered libraries two weeks later, and few followed-up to discuss installing carrels at their own branches, even after they began to reopen.
"It was just crickets," Ratcliff said.
That changed earlier this month after Ali Faruk visited the library with his sons. Faruk works for Families Forward Virginia, a nonprofit dedicated to disrupting the cycles of child abuse, neglect and poverty, and when he saw the carrels, he was struck by how ingenious they seemed. His own sons were elementary school age, but he knew tons of parents who would appreciate the carrels. He snapped a photo, then tweeted it out. Within a few days, his tweet had been liked more than 240,000 times and retweeted another 30,000.
"I think it hit upon the stress and anxiety that parents are feeling," Faruk said. "Most of our spaces are not accessible or welcoming to children. They're usually designed to manage children or to be like, 'Don't bring your children here.' And so to have a space where children and parents are centered is truly rare in America. Parents are so used to everything being hard in this country with no universal child care, no universal health care, lack of affordable housing, not even paid sick leave. It just hit this raw nerve where I think everyone felt like, 'Yes, we're being seen.' "
Librarians in Texas and Colorado called the Ratcliffs to inquire, as did people from the Netherlands and Japan. The Ratcliffs' TMC Furniture sells the carrels for between $19,000 and $26,000, depending on the desired features.
"Part of the reason we think this has resonated is that we are at a time where more than ever, people are juggling lots of things," Weedman said. "They're simultaneously as families trying to work and learn and sometimes from home. Everyone understands the challenge even better now after the pandemic. How do you balance working on your computer if you have a toddler who can't go to day care that day?"
Witcher was overjoyed when she first spotted the carrels last August. Her daughter Delia wasn't yet 1, and her son John had turned 2 a few months earlier. John was old enough to climb out, but Witcher put Delia in the carrel and gave John a book. Soon, their little space was quiet.
Witcher turned on the computer, then started designing a business card. She'd recently begun making a homemade body scrub, and she wanted to create a company that would connect people with healing products and practices. She added a pink watercolor to her business card, then she typed in her name and email address. The babies were still quiet when she finished, so she used the time to educate herself. She loves researching "anything old" – archaeology or fiber optics, century-old wells.
"I felt empowered," Witcher said. "I felt supported. Even if no one was physically there I felt supported, like, 'You can do this. The baby is in there. She can't crawl out. She's fine. She's right here by you.' "