National
At Harvard, Ketanji Brown Jackson fought injustices but kept a steely academic focus
"She's fearless in a world where it's sometimes scary to be fearless."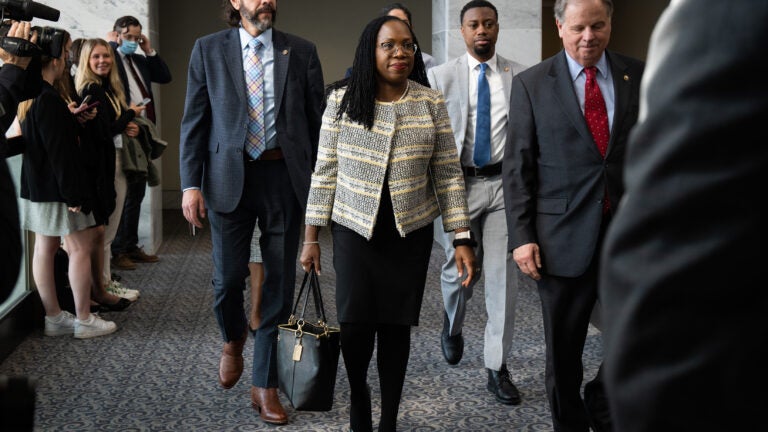 CAMBRIDGE, Mass. — When a Confederate flag was hung from the window of a dormitory at Harvard University more than 30 years ago, members of the Black Students Association saw it as an attempt to tell them they did not belong there.
They sprang into action, "being vocal, agitating, militating, marching, doing all that great stuff," Antoinette Coakley, one of the students, recalled recently. But the voice of another member — Ketanji Brown, a classmate who was soon to become one of Coakley's best friends — cut through the noise.
"Ketanji said: 'Wait a minute, as we're doing this, we're missing out on classes. As we're fighting against this injustice, we're actually doing them a service because we're going to be failing,'" Coakley, now a law professor at Northeastern University, recalled.
"So we protested, but we made sure we were in class," she added. "We were going to show them that by showing up the way that we did — excellently — that they were wrong."
The Confederate flag incident was one of several at Harvard in the late 1980s and early 1990s, when a tense debate about whether it was a justifiable form of free speech roiled the campus. The university administration ultimately decided it could not force students to take down the flag, citing free speech, but encouraged students "to take more account of the feelings and sensitivities of others."
Coakley and other longtime friends from Harvard said the reaction of their classmate, now Judge Ketanji Brown Jackson, was emblematic of how she navigated one of the most elite and white institutions in the country — after being discouraged from even applying. In the end, her experience at Harvard illustrates how Jackson, 51, has long recognized how America's conflicting views of race and justice shape the world around her. She has embraced her identity while refusing to let affronts to it distract her.
Now, that path has taken her where no Black woman has ever gone in American history, to confirmation hearings for an appointment to the Supreme Court. In almost every other way, Jackson is of the mold of justices who came before her — a widely admired, Harvard-educated overachiever with a respected record as a federal judge.
But it is her race and gender — and how they might influence her judicial views — that have dominated discussion of her nomination, in part because of President Joe Biden's campaign promise to appoint a Black woman to the court.
In this sense, at least, it may be familiar territory.
"She's fearless in a world where it's sometimes scary to be fearless," said Lisa Fairfax, who was one of Jackson's college roommates and is now a law professor at the University of Pennsylvania.
In the weeks since her nomination, conservative pundits have overtly attacked her qualifications, and Republicans have cast her nomination as a win for a "radical" ideological agenda. Some Republican senators have subtly suggested that Biden's nomination amounted to reverse discrimination.
Days before the president announced Jackson as his nominee, Sen. Roger Wicker, R-Miss., called it an "irony" that the Supreme Court was hearing cases challenging affirmative action "while adding someone who is the beneficiary of this sort of quota."
Her roots at Harvard, where she spent a total of seven years as an undergraduate and law student, will most likely come under the microscope. So will her role, since 2016, as a member of the university's Board of Overseers. The university describes the board as "critical to the governance of Harvard," with each member "expected to advance the interests of the university as whole." ​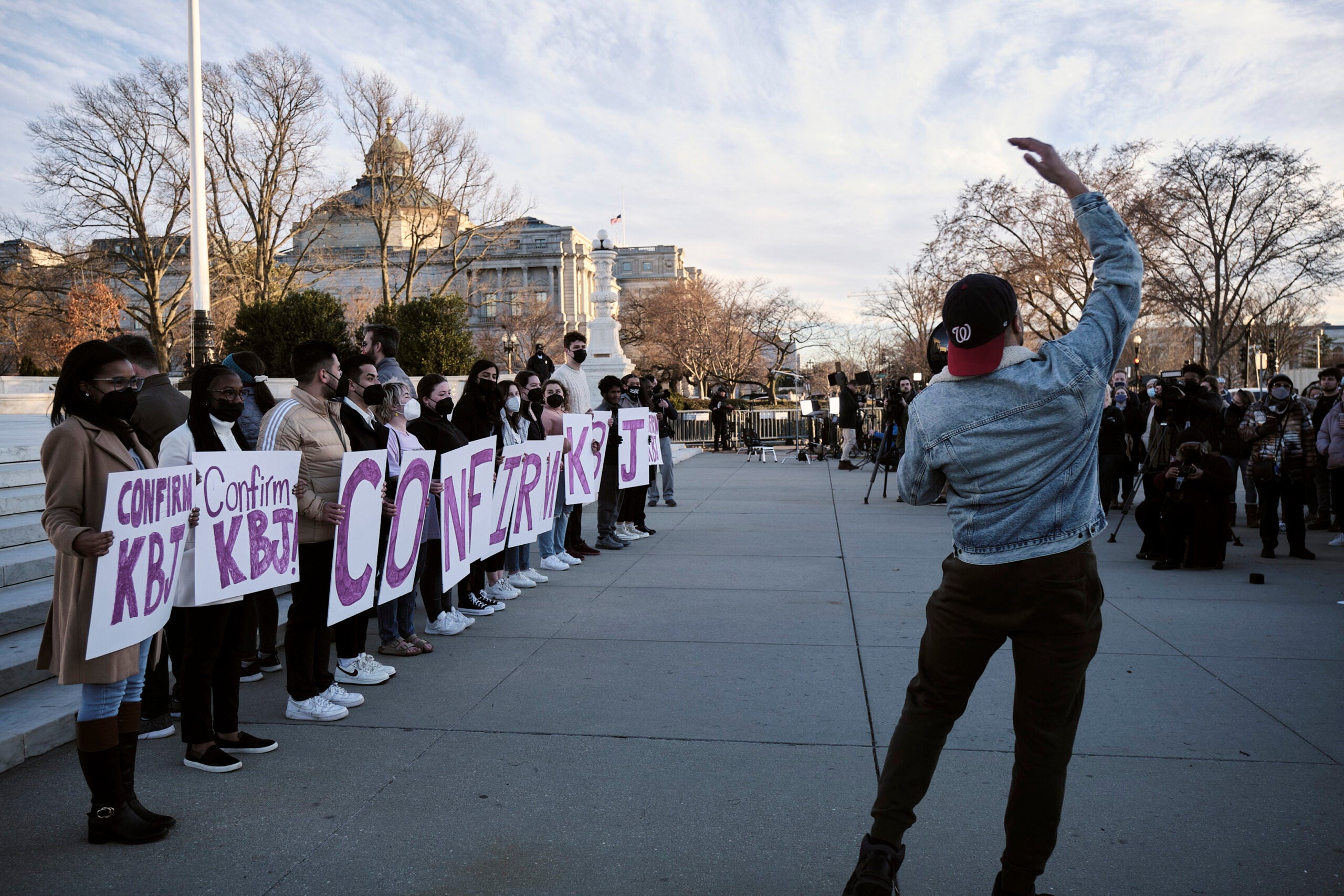 Among other things, conservatives have been quietly building a case to suggest that Jackson would have a conflict of interest in a potentially landmark case challenging Harvard's use of race as a factor in undergraduate admissions.
If confirmed, Jackson would be the eighth justice in the court's history to attend both Harvard College and Harvard Law, and the fifth graduate of the law school to sit on the current court.
But many of her friends and classmates say it is not so much Jackson's degrees from Harvard that have prepared her for history, and potentially historic cases, but how she earned them: by proving herself through hard work and a steely focus, and by navigating exclusive spaces with curiosity and conviction.
Among her core beliefs, they say, is that embracing one's own identity is not antithetical to acknowledging and appreciating the life experiences of others.
Those qualities were on display at Harvard, they say, where she brought diverse groups of people together and lent her voice to a range of activities, from powerhouse musical performances to protesting injustices.
Her class was about 9% Black, according to The Harvard Crimson. By 2020, the university's undergraduate population was about 11% Black.
In a 2019 speech titled "Rising Through the Ranks: A Tale of Hard Work, Big Breaks & Tough Skin," Jackson recounted lessons learned from the Confederate flag incident, which she said took place her freshman year. She called the flag a "huge affront" and the university's response "unacceptably lax." But she implored the Black law students she was addressing, at the University of Chicago, to not let slights, doubts or injustices derail them.
"So what does it take to rise through the ranks despite those who don't think you have it in you, and will remind you of their feelings at every turn?" she said. "It demands that you tune out those voices, block out their little flags and ignore the haters, rather than indulging them."
A rise powered by roots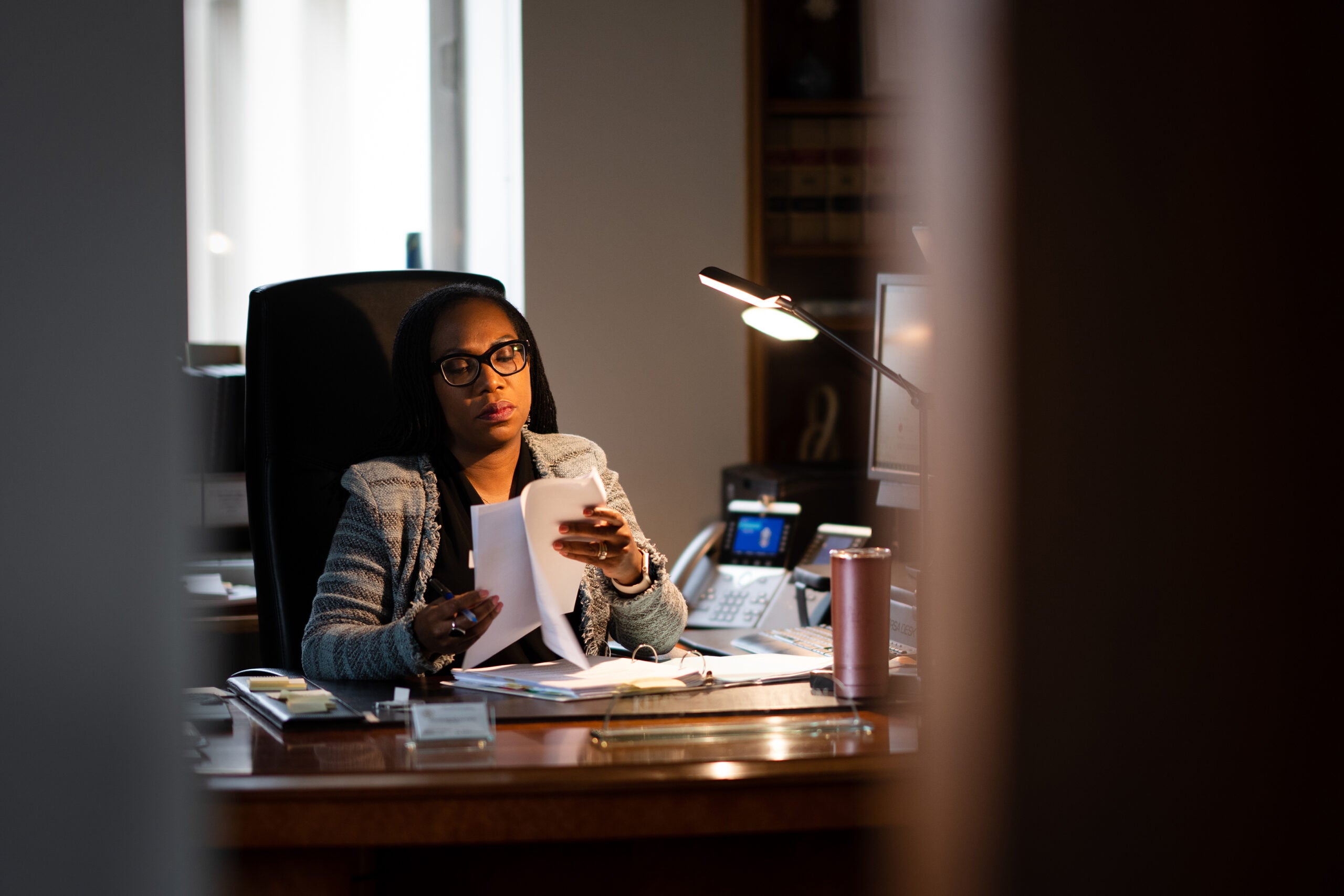 Such thinking helped Jackson get to Harvard in the first place. She excelled at Miami Palmetto Senior High School as a student, a debater, a star performer and the president of her class. But all that was not enough to convince her guidance counselor that she could win admission to the university she fell in love with — she once described it as "majestic"— while attending debate tournaments. She was told, she has said, not to set her sights so high. She did anyway.
When she arrived at Harvard in the fall of 1988, it was not as easy a transition as she had anticipated. In her second week, she sat on the steps of Widener Library, an intimidating, museum-like building that anchors the campus, and wept.
It was her 18th birthday, and she was wrapped in a scarf with a hat pulled over her head, sobbing through her orientation paperwork, she recalled in a speech to high school students in 2011. When she returned to her room, she checked her messages and heard her mother's voice singing to her. It was the encouragement she needed, she told the group, and "even in my loneliness, I thanked God for the opportunity he'd given me, for the firm foundation he had provided and also for how far I had come."
In speeches over the years, Jackson has credited each success to her roots as a Black woman. She has proudly discussed the genesis of her name; her parents chose Ketanji Onyika, meaning "Lovely One," from a list of names sent by an aunt who was serving in the Peace Corps in West Africa.
Jackson has described the year she was born, 1970, on the heels of the civil rights era, as a year of hope for Black Americans like her parents.
"I grew up hearing the stories of what life used to be like for young Black people of my parents' generation, yet my life's circumstances were so different that it is still hard for me to believe that strict racial segregation was the law of the land just a few years before I arrived," she said in a 2020 lecture at the University of Michigan Law School.
She has also spoken of being a proud product of parents who, having persevered through Jim Crow segregation, attended historically Black colleges and universities, worked in the public education system and made it clear from the time she was very young that she was being groomed for greatness.
"As a dark-skinned Black girl who was often the only person of color in my class, club or social environment, my parents knew that it was essential that I develop a sense of my own self-worth that was in no way dependent on what others thought about my abilities," she said in the University of Chicago speech.
She later added: "I cannot recall a single time in my childhood in which I cared about the slights and misperceptions and underestimations that came my way. What I do remember is often thinking, 'Hmm. Well, I'll show them.'"
By her sophomore year, Jackson's parents' influence was felt deeply at Harvard, where their words and presence — they were staples on campus, visiting and attending her performances — guided not only their daughter, but also her friends. Jackson would often deliver advice from her parents to her three roommates, all of whom came from single-parent households.
"They were an example for us of what a powerful Black couple could be," said one of them, Nina Simmons, "and we saw in her the impact of that — the confidence, self-assurance and sass, in these white arenas."
Coakley, who like Jackson was a government major, remembered asking her friend how she was managing to get A's in classes in which she was getting B's.
"My mother told me, 'If anybody is going to get an A in this class, it should be you, and it can be you because you can do it,'" she recalled Jackson saying. "I'll never forget that. That just made me stand up straight."
Engaging with the concept of justice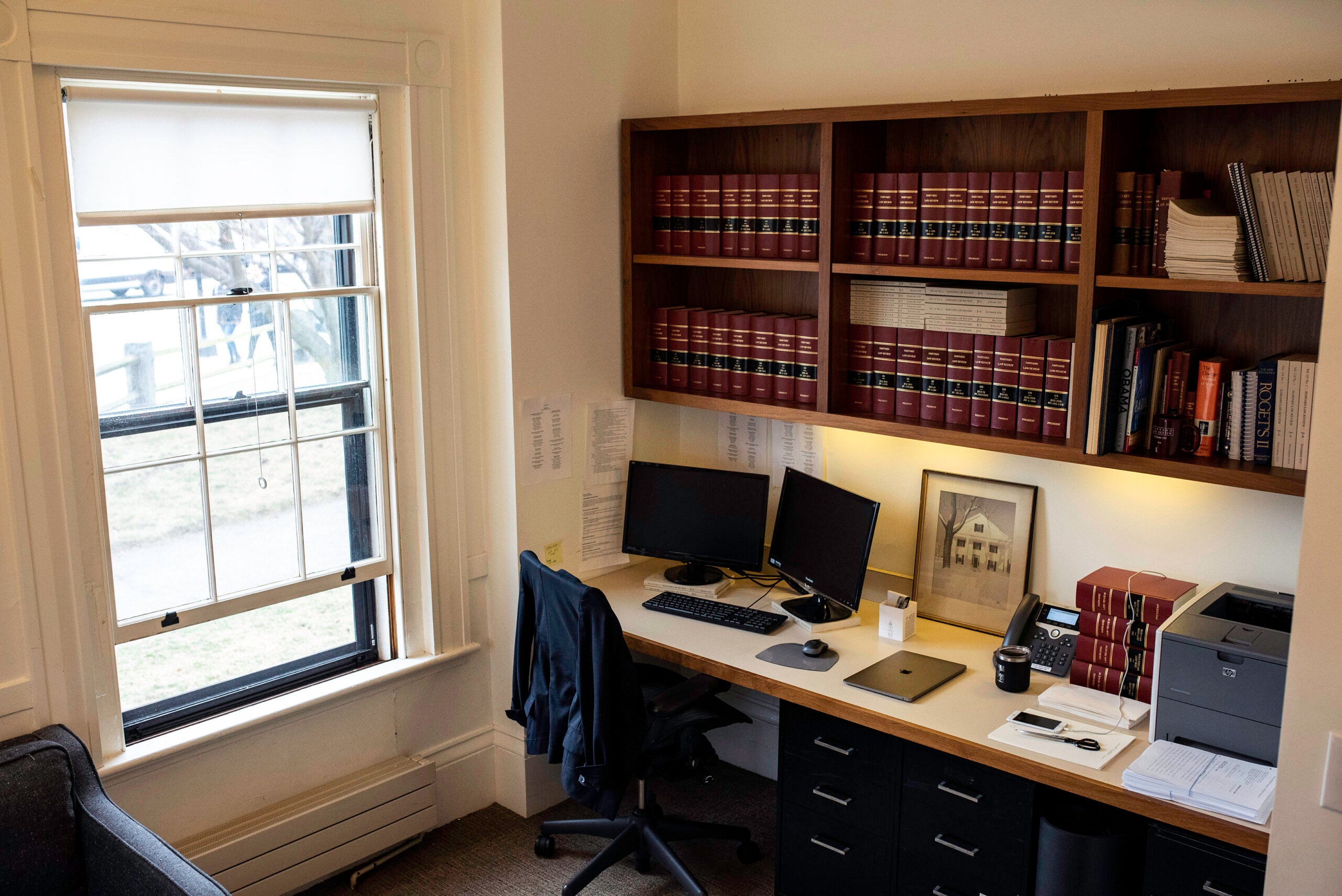 Many former classmates described how Jackson used her time at Harvard to engage in a kind of intellectual Olympics — never merely reading a book, but critiquing and debating it. She would voraciously comb through the course guides and scout out events and lectures to attend.
Jackson has said that a course she took freshman year called "Justice" was among the most influential of her undergraduate career. Taught by political philosopher Michael J. Sandel, it forced students to grapple with moral dilemma. A video preview of the course, which is still available to students online, shows Sandel peppering students with questions such as: "Would it be just to torture a suspect to get the information?" and "Is it all right to steal a drug that your child needs to survive?"
"The kinds of questions that he was asking overlapped with philosophy and law," Jackson recalled in a 2020 interview with The Harvard Gazette. "It was just really, really formative, and I think it set a path for me."
In an email, Sandel described the course as an introduction to political philosophy, where students debated issues such as affirmative action, income inequality, free speech versus hate speech and, back then, same-sex marriage, in a theater-like setting.
Sandel did not know Jackson when she took his class with hundreds of other students, but in 2005, when she was a lawyer, she volunteered to lead one of the discussion groups for an online version of the course. He said he found her "enormously impressive, very much in touch with the philosophical texts and arguments we had explored in the course, now ably convening them to her peers with a gentle but compelling charisma."
"I can easily imagine her reasoning with her colleagues on the Supreme Court with the same qualities of intellect and charisma she brought to bear in our discussions of Aristotle and John Stuart Mill," he added.
Socially, Jackson was a "convener," Fairfax said — the first to invite her to a study group.
"I didn't understand why it was important to study in a collective way, but she taught me that the best learners are those who hear different perspectives," she said.
Jackson went about building a community for herself and other Black students, her friends recalled, but she also moved easily between communities. She had a diverse set of friends and took to activities like an improv group called On Thin Ice.
Fairfax, who grew up in a predominantly Black and Latino community in Compton, California, felt out of place when she got to Harvard. She preferred to stay in the bubble that Jackson helped create. But Jackson showed her that she did not have to. "Through her eyes, I could see that there are people out there who don't look like you, who do share your values and can be supportive," Fairfax said.
Jackson has continued to encourage that view. Fairfax recalled that she and Jackson attended a conference recently where presenters were offering views that Fairfax did not agree with. Frustrated, she wrote on a notepad that she was going to leave, saying, "This is why I don't come to these things." Jackson wrote back: "This is why you have to come to these things."
In her undergraduate years, Jackson also spoke up when she felt the university was not living up to its promise to Black students.
In 1990, when she was a junior, she took part in a sit-in to protest the lack of full-time faculty members in what was then called the Afro-American Studies Department. Harvard's overwhelmingly white faculty was another point of tension on campus at the time; only 1.8% of the tenured faculty was Black when Jackson started there in 1988. It was also another situation in which Jackson advised her fellow classmates that action would speak louder than confrontational words, and she endorsed making a statement by wearing black to the Harvard-Yale football game instead of the school colors of crimson and white. In a Boston Globe article, she was quoted as saying, "We can embarrass the university in front of the alumni."
By her senior year, Jackson's name was known around campus.
Roger A. Fairfax Jr., who was two years behind her, remembers being in awe of her "piercing intellect," which he said came through in her selection of an honors thesis. They took a lot of the same courses, and looking at what topics the upperclassmen were digging into, he was intrigued by Jackson's choice: the plea bargain system.
In her 1992 thesis, in which she argued that plea bargains can be coercive and unacceptable, she concluded: "There is a chance that the very institution which is designed to dispense justice and to protect individual rights could be the most guilty of creating injustices in its effort to make criminal adjudication economical and efficient."
At a time when there was a great deal of focus on the criminal system — it was the tough-on-crime era, and the Rodney King riots, which ravaged Los Angeles for five days, took place shortly before she graduated — Jackson's thesis broke the mold.
"She had the foresight to engage with a topic that would come to dominate the conversation and literature," said Fairfax, the dean of American University's Washington College of Law, who is married to Lisa Fairfax. "In retrospect, it was clear that she was ahead of her time."
Jackson went on to attend Harvard Law, where Njeri Mathis Rutledge, a classmate who is now a professor at South Texas College of Law Houston, recalled her as "tiny but mighty," with a bright smile and a big laugh. It was not uncommon for Black students to be labeled reticent; Rutledge remembers raising her hand one day and hearing a classmate refer to her as "a quiet one."
But Jackson, Rutledge said, "was never the quiet one. She was always saying thoughtful, knowledgeable things."
Jackson beat out a number of students, including Rutledge, in a competition for a spot on the prestigious Harvard Law Review, and then won election to a top position. She was one of the few members of color.
As a writer, she explored provocative topics. In May 1996, she wrote what is called a "note" for the publication, which she submitted as part of her nomination documents, in which she explored the constitutional implications of "preventive" versus "punitive" measures of monitoring released sex offenders.
Jackson was among those who believed the law review should try to make sure that many voices were represented, recalled Richard C. Schragger, who worked alongside her at the review and is also a professor at the University of Virginia School of Law. "She is a principled person but didn't particularly go out of her way to try to foist agendas on anybody, or the institution in any particular direction," he said.
In 1996, the year she graduated from law school, Jackson was at the Chicago wedding of a childhood friend, Denise Lewin Loyd, when she spotted an attendee she recognized — Barack Obama, then a civil rights lawyer with no national profile — and asked to meet him. They had their picture taken together. Loyd was surprised that Jackson knew him, as they had not overlapped in law school. But Jackson knew the face of the law review's first Black president.
The photo later hung in Jackson's chambers after Obama nominated her in 2012 as a judge for the U.S. District Court for the District of Columbia.
Finding a partner, and an ally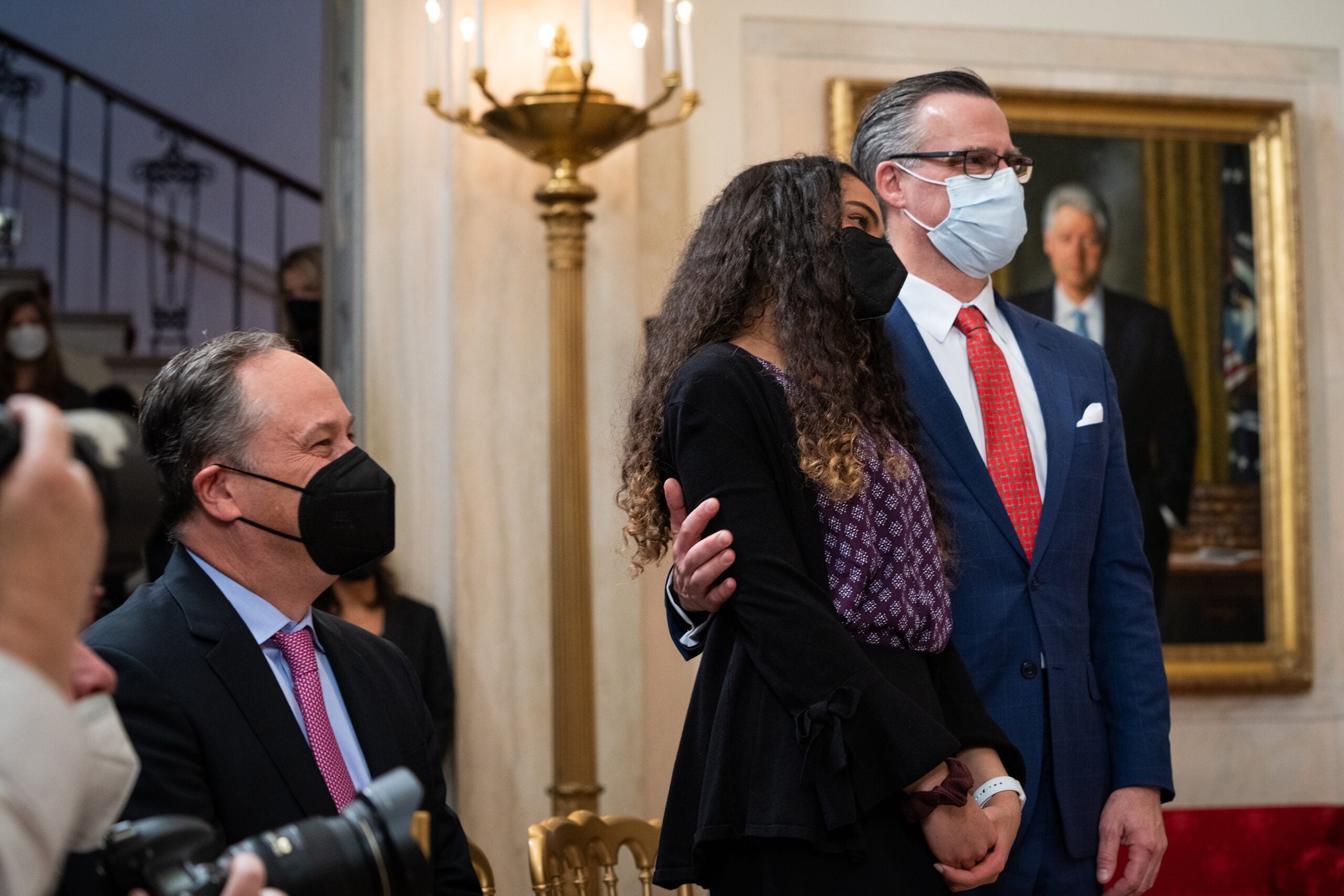 In addition to lifelong friendships and a legacy, Jackson began building a family at Harvard.
She began dating Patrick Jackson, a pre-med and math student, whom she later described in a speech as a "quintessential Boston Brahmin."
He and his twin brother, she said, were the sixth generation of their family to graduate from Harvard. She was the second generation of her family to go to college at all, and the descendant of slaves.
When Ketanji Brown Jackson brought him to meet her roommates her sophomore year, he received the "side-eye" and the "once-over," and a warning that they'd be watching him, they recalled in a Zoom interview, chuckling. They wanted him to prove that he understood what it meant to marry and have children with a Black woman.
He quickly did, her friends said.
"He was the white guy in the Black history class making sure that he got educated," Coakley recalled. "He was the guy in the social justice classes. And when racial issues came up or any issue of injustice, he would stand up as an ally and say 'No, this is wrong.'"
Ketanji Brown Jackson went on to marry Patrick Jackson, who is now a surgeon at MedStar Georgetown University Hospital. They have two daughters, who are 17 and 21.
Ketanji Brown Jackson has talked about the struggles of balancing a legal career and motherhood, highlighting in a 2018 speech how the imbalance disproportionately affected the ability of female lawyers, especially Black ones, to advance in their careers.
Simmons, a senior counsel for a New York-based law firm, said Jackson approached motherhood the same way that she did everything else: by putting in the work and teaching by example.
Her daughters took notice. In a 2018 speech in which she discussed her journey as a mother and as a judge, she described how her daughter Leila came home and told her that she had learned Justice Antonin Scalia had died and there was an opening on the Supreme Court, and that she should apply.
When she learned that judges did not apply for the job, Leila, then 11, hand-wrote a note to President Barack Obama to make her case, Jackson recalled, saying her mother would be "an excellent fit for the position."
Harvard ties raise questions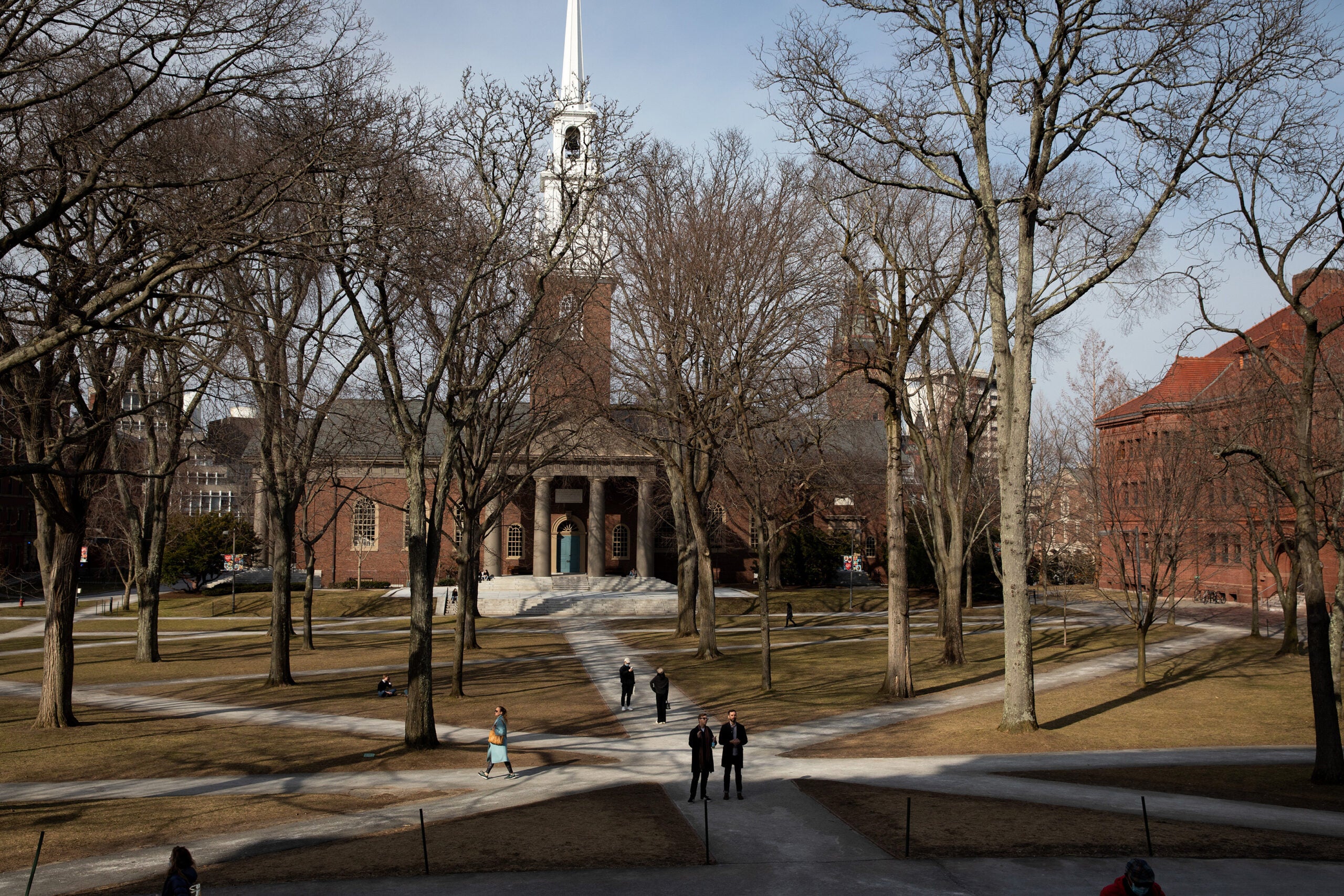 Jackson has remained active as an alumna of Harvard, championing the same causes as when she was a student. She moderated a webinar last year with the university's president, Lawrence S. Bacow, pressing him about efforts to recruit and retain faculty members of color and to increase diversity, equity and inclusion, as well as the decision to drop a Latinx studies course.
Malachi Robinson, a Harvard junior who is a member of the Black Students Association, said he saw the fruits of Jackson's labors every day. He is taking classes in the African and African American Studies Department, for which she once lobbied the university to hire more faculty members, and his first African American literature class was taught by a woman of color.
"Judge Jackson being on the bench would feel like having an auntie on the bench," he said. "Someone I can trust, who believes in justice."
One question that has been raised repeatedly since her nomination is whether Jackson, if confirmed, would recuse herself from the affirmative action case involving Harvard, which the court is slated to hear this fall. She is also likely to face questions about her activism in the Black Students Association. Fox News recently noted that the group had invited a speaker who had previously made antisemitic remarks to give a speech during Jackson's senior year; the White House said she did not attend.
Other conservative media outlets have highlighted her admiration for Derrick Bell, the first Black tenured professor at Harvard Law School, who is credited with founding critical race theory, a body of scholarship that examines systemic racism and recently has become a political lightning rod.
During Jackson's ascent through the federal judiciary, during which she received some Republican support in confirmation votes, she was questioned more than once about the role of race in the justice system. Responding to such a question from Sen. John Cornyn, R-Texas, during her confirmation process to join the U.S. Circuit Court of Appeals for the District of Columbia last year, she said that when she received a case, "I'm methodically and intentionally setting aside personal views, any other inappropriate considerations, and I would think that race would be the kind of thing that would be inappropriate to inject in my evaluation of a case."
She has recused herself from a number of cases to eliminate any suggestion of bias, including ones that could pose conflicts given her role on the Harvard board, according to her Senate questionnaire. One involved a professor who sued the Environmental Protection Agency over a Freedom of Information Act request. Another challenged the Department of Education's campus sexual assault rules, to which Harvard was reviewing its own response.
When Jackson was elected to the board in 2016, she was supported by the Coalition for a Diverse Harvard, a group of alumni that endorsed her as a candidate to help "safeguard campus diversity." The coalition supported the school's policy of making race a consideration in admissions, according to one of its notices at the time, and hoped her slate would defeat one that included candidates who had publicly opposed affirmative action.
At the time, Jackson declined to answer a question on a questionnaire about affirmative action on a survey the coalition gave to candidates, saying that as a sitting federal judge, "I feel duty bound not to express my personal views on matters of significance that have the potential to come before me in court."
In choosing Jackson, Biden followed through on a campaign promise to nominate a Black woman for the Supreme Court. Jonathan Turley, a law professor at George Washington University, is among several legal scholars who have argued that Biden used "exclusionary criteria" in considering only Black women as potential nominees. In an opinion column, Turley asserted that the president's criteria were unfair to whomever he ultimately picked as his nominee, in part because she would then have to hear a case that determined whether those same criteria should be used in college admissions.
But Turley said in an interview that his belief that Jackson should recuse herself has nothing to do with her race. "Most citizens would be taken aback by a judge, let alone a justice, voting on a case on a university on which she sat on a governing board," he said. "It would be akin to a justice ruling on an Exxon lease dispute after being on an Exxon board."
Jackson's supporters say that calls for recusal are premature. They expect the line of questioning will be motivated, at least in some part, by concerns that her race and gender could influence her vote, if she sits for the case, as well as others concerning race and equality.
"I think too often people are trying to paint her as, 'Oh, you're a Black woman, you must go this way or that way,'" Rutledge said. Referring to Justice Clarence Thomas, the court's longest-serving conservative and only Black justice, she added: "And the truth is, we're not a monolithic group. We know that from Justice Thomas."
Ultimately, Rutledge said she believed many of the critiques of Jackson boiled down to this: "I think the notion of Black excellence challenges some people's notion of white supremacy."
No matter the outcome of this week's hearings, Jackson has already made history — and had an impact on her alma mater that will be felt for generations.
On a recent day, Coakley walked through Wasserstein Hall at Harvard Law, browsing walls lined with pictures of notable faculty members. She paused as she got to the more recent photos, which featured more Black and female professors. In the past, she noted, "you would look on this wall and see nothing that looked like you."
"K.," she said of her friend, "helped fight for this."
This article originally appeared in The New York Times.