National News
Woman in viral GoFundMe scam gets 3 years in New Jersey prison
Prosecutors said Katelyn McClure and her boyfriend at the time spun a tale that helped them raise more than $400,000 for a homeless man. All three were eventually charged.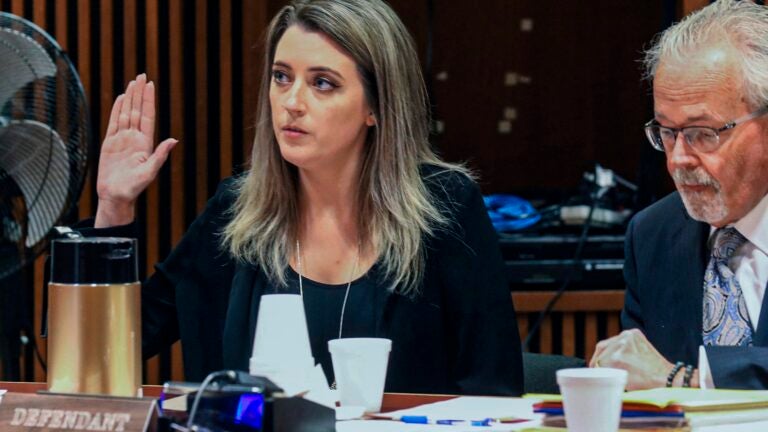 A woman was sentenced Friday to three years in New Jersey state prison for her involvement in a scheme that raised more than $400,000 from a misleading GoFundMe campaign for a homeless man, prosecutors said.
The woman, Katelyn McClure, 32, of Burlington Township, New Jersey, and her boyfriend at the time, Mark D'Amico, created a fundraising campaign on GoFundMe in November 2017 for Johnny Bobbitt, saying he was a homeless veteran in Philadelphia, according to prosecutors.
The couple claimed on GoFundMe that Bobbitt gave McClure his last $20 to help her when she had run out of gas, according to prosecutors, who said the story was a lie. McClure and D'Amico said that they wanted to raise $10,000 so Bobbitt would have enough money for an apartment, a vehicle and living expenses for six months.
Their plea gained widespread attention and raised $402,000. But instead of giving all of the money to Bobbitt, McClure and D'Amico spent the bulk of it on a BMW, gambling, Louis Vuitton handbags, a trip to Las Vegas and a helicopter ride over the Grand Canyon, prosecutors said.
In 2018, Bobbitt sued McClure and D'Amico, saying that he had received just $75,000. Soon after, the scheme fell apart, and all three were charged in the case.
McClure, who pleaded guilty, is already serving a 366-day federal sentence in the case. The state sentence will run concurrently with the federal one, the Burlington County prosecutor's office said in a statement Friday.
As part of her state sentence, McClure, who used to work for the New Jersey Department of Transportation, was permanently barred from being hired as a public worker.
LaChia L. Bradshaw, the Burlington County prosecutor, said in the statement that more than 14,000 people were misled in the scheme, adding that their "decency and compassion for others elicited a tremendously heartwarming response to assist someone they believed was truly in need."
"Our wish," she added, "is that prosecutions like this will serve to deter criminals from such deceitful actions, but not discourage individuals from caring about those who are in crisis as a result of a tragedy, or simply need a helping hand after experiencing a hardship or setback."
A lawyer for McClure did not respond to a request for comment. A GoFundMe spokesperson said in a statement Monday that "we take the misuse of our platform very seriously."
"While the overwhelming majority of people use our platform every day to help others, we are aware that bad actors do exist and will attempt to take advantage of people's generosity," the statement said. In this case, it added, the company "refunded 100% of all donations through our GoFundMe Giving Guarantee and, as we always do, we worked closely with law enforcement to ensure justice was done."
D'Amico also pleaded guilty and is serving a federal sentence of 27 months. He was also sentenced to five years in New Jersey state prison. The sentences are running concurrently.
Bobbitt pleaded guilty in March 2019 to a second-degree charge of conspiracy to commit theft by deception. Authorities said that he had posted a similar story on his Facebook page in 2012, claiming he had given up his supper money to help a woman.
In October, Bobbitt received a federal sentence of three years of probation and was ordered to pay $25,000 in restitution. As part of state sentencing, Bobbitt was admitted into a program that provides treatment to those with addiction issues instead of going to jail, according to prosecutors. If Bobbitt does not adhere to the strict regimen of the treatment and recovery services, he may face a sentence of five years in New Jersey state prison, prosecutors said.
This article originally appeared in The New York Times.