National
Initial police report on Tyre Nichols arrest is contradicted by videos
On Monday, the police department announced that it had suspended two more officers, in addition to the five who have already been fired and charged with murder in the beating.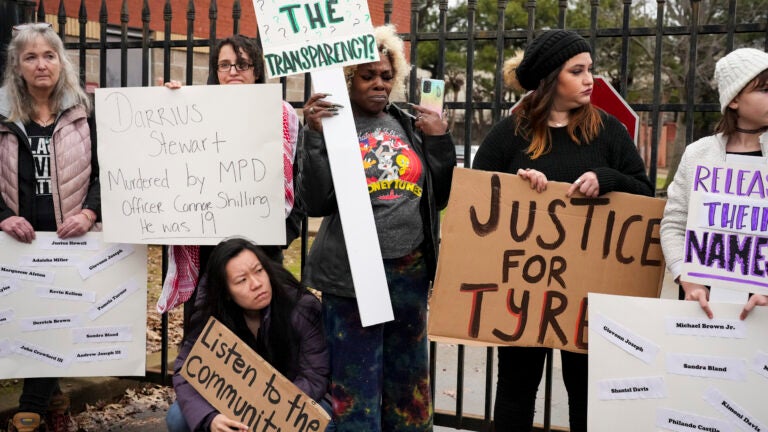 MEMPHIS, Tenn. — A police report written hours after officers beat Tyre Nichols was starkly at odds with what videos have since revealed, making no mention of the powerful kicks and punches unleashed on Nichols and instead claiming that he was violent.
The police report painted Nichols, 29, who died three days after the Jan. 7 beating, as an irate suspect who had "started to fight" with Memphis police officers, even reaching for one of their guns. The videos, which were released last week, showed nothing of the sort.
Instead, they captured police officers yanking Nichols from a car, threatening to hurt him and then — after he ran away — catching up with him and inflicting the deadly beating. All the while, it appears from the videos, Nichols never struck back.
On Monday, the fallout from Nichols' death continued. The Police Department announced that it had suspended two more officers, in addition to the five who have already been fired and charged with murder in the beating.
Meanwhile, the city's fire chief, Gina Sweat, fired two emergency medical technicians and a lieutenant who had responded to the scene, saying that they all had violated a range of policies.
The fire chief said that the EMTs had been responding to a report of a person who had been pepper-sprayed and that they had relied on information given to them at the scene, presumably by some of the police officers who had just kicked, punched and used a baton to pummel Nichols, a FedEx worker and father who had pleaded with the officers to stop.
The official account written by a police officer early the next morning told a much different story in which Nichols was the assailant.
It was the latest instance nationwide in which video evidence — whether from body camera footage or a bystander's cellphone — offered a starkly different account of police violence from what officers had reported themselves.
In Minneapolis, for example, police said in May 2020 that George Floyd had died following a "medical incident," a description that was soon challenged by a teenager's cellphone video, leading to international protests and charges against four officers.
In Nichols' arrest, the officer wrote that police stopped Nichols' car Jan. 7 after seeing him drive quickly and into oncoming traffic, and that, once he was stopped, Nichols had been "refusing a lawful detention" and fought detectives on the scene.
Cerelyn Davis, the Memphis police chief, has said investigators have been unable to determine whether Nichols was driving recklessly. And the videos show that officers had approached his car with their guns drawn, while threatening and cursing at him, before pulling him out and pushing him to the ground.
Nichols, sounding distressed, says "You don't do that, OK?" and then tries to follow officers' contradictory and rapid-fire commands, which included ordering him to get on the ground while he was already lying down. "All right, I'm on the ground," he says, before responding to another demand: "Yes, sir."
But the police continued to be aggressive, with one threatening to fire his Taser at Nichols and another threatening to "break" his hands. Nichols pleaded with them to stop and said at one point, "You guys are really doing a lot right now."
The police report said that, sometime around this period, Nichols had grabbed for a detective's gun, something not shown in any of the videos. The officers then deployed pepper spray into Nichols' face, after which he ran away, toward his mother's house.
A photograph of the police report was first posted online over the weekend by Thaddeus Matthews, a talk-show host in Memphis who is known as The Cussing Pastor and who said he received it from a source. The local district attorney, Steven J. Mulroy, who is leading the prosecution of the officers, said Monday that he had a copy of a police report with the same account.
Both the Shelby County Sheriff's Office and the Memphis Police Department are listed on the photograph of the report published by Matthews, which includes only the last name of the officer who wrote it, making it unclear which agency was responsible for its content. Neither would discuss the document.
When officers caught up with Nichols several minutes after he fled, they tackled him and severely beat him, with one officer delivering a series of blows to Nichols' head while two other officers hold his hands behind his back.
The police report does mention that police had struck Nichols in the arm with a baton and that they had fired pepper spray and a Taser at Nichols, but it includes no further details of the beating that the officers carried out, which took place less than 100 yards from his mother's house.
Despite the fact that Nichols does not appear to strike back, the report lists Nichols as the suspect in an aggravated assault and said he had grabbed officers' belts and one officer's vest. A Memphis police officer is listed on the report as a victim. That police officer is one of five who have since been charged with second-degree murder in Nichols' death.
Only one of the two police officers whose suspensions were announced Monday has been identified. That officer, Preston Hemphill, had fired his Taser at Nichols as he ran away and who also later said, while his body camera was rolling, "I hope they stomp his ass." He was not seen on video from the second location, where police carried out the assault on Nichols.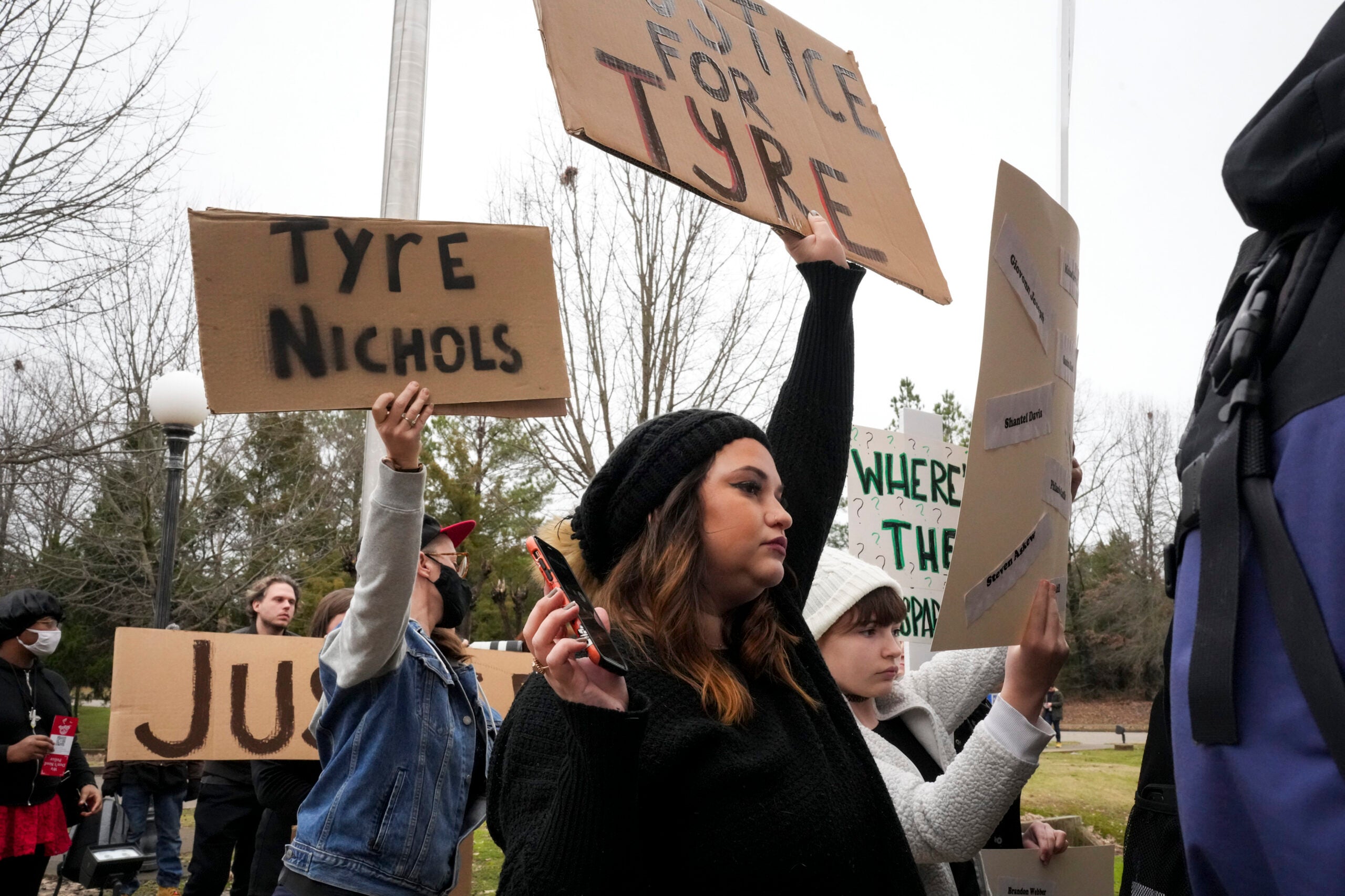 All five of the charged officers are Black, as was Nichols. Hemphill is white.
The district attorney's office said in a statement Monday that prosecutors were still examining whether to bring more charges, including against Hemphill, the Fire Department employees and officials who wrote reports on the episode.
Sweat said Monday that the two EMTs who she fired had "failed to conduct an adequate patient assessment" on Nichols after arriving at the scene. The lieutenant who was fired never got out of the fire engine, the chief said.
A day earlier, The New York Times had reported that the EMTs had largely looked on as Nichols writhed in pain and, at one point, had not touched him or provided any care for nearly seven minutes.
Videos from the scene showed that as the medics were arriving, the police officers who had battered Nichols were laughing about the episode and describing it in detail, with one saying he had hit Nichols with "haymakers." It is unclear whether the medics overheard this or how much the officers told them about the injuries they had inflicted.
They were also insisting that Nichols must be on drugs, something for which no evidence has emerged. And when another officer arrived at the scene, they described events that, if they happened, were not shown on the footage, claiming that Nichols "swung" at one officer and "literally had his hand" on that officer's gun.
The police report is not the only official narrative of the beating that has been challenged by the videos.
The Police Department's first public statement, issued hours after the arrest, described each of the two encounters only as "confrontations" and omitted details of the beating. "Afterward, the suspect complained of having a shortness of breath," it said, noting that state investigators had been called in.
The messaging changed after Nichols died, residents protested and his family pressed authorities for answers. Davis has since condemned the actions of the indicted officers as "a failing of basic humanity."
Those officers — Tadarrius Bean, Demetrius Haley, Emmitt Martin III, Desmond Mills Jr. and Justin Smith — have each been charged with the same seven felonies, which, in addition to the second-degree murder charge, include kidnapping, official misconduct and aggravated assault.
This article originally appeared in The New York Times.