National
Elementary school. High school. Now college. Michigan State students are no stranger to mass shootings.
"We just went through this 14 months ago. What is happening?"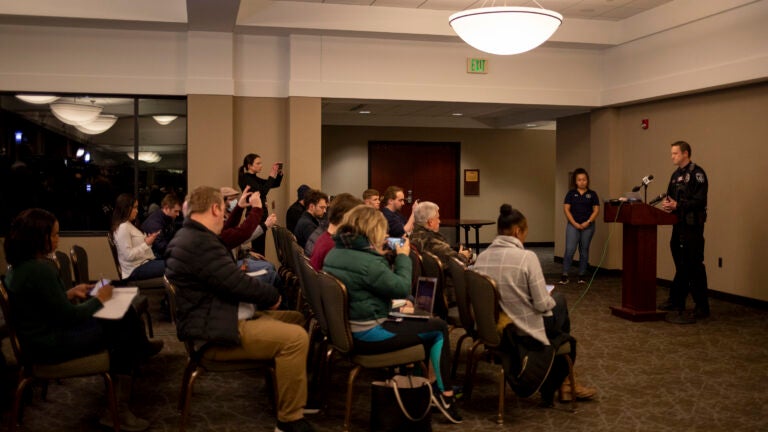 EAST LANSING, Mich. — As gunshots erupted on the vast Michigan State University campus late Monday, killing three students and injuring five others, many on campus felt a chilling sense of familiarity.
They were just children when the shooting at Sandy Hook Elementary School in Newtown, Connecticut, killed 26 students, teachers and staff members in 2012. Nine years later, the Oxford High School shooting in a nearby township outside of Detroit left four teenagers dead.
Now, as young adults, they had made it to college, and it was taking place all over again.
"It's so surreal," said Emma Riddle, an 18-year-old freshman at Michigan State who was on campus Monday and had been a senior at Oxford High during that shooting. "We just went through this 14 months ago. What is happening?"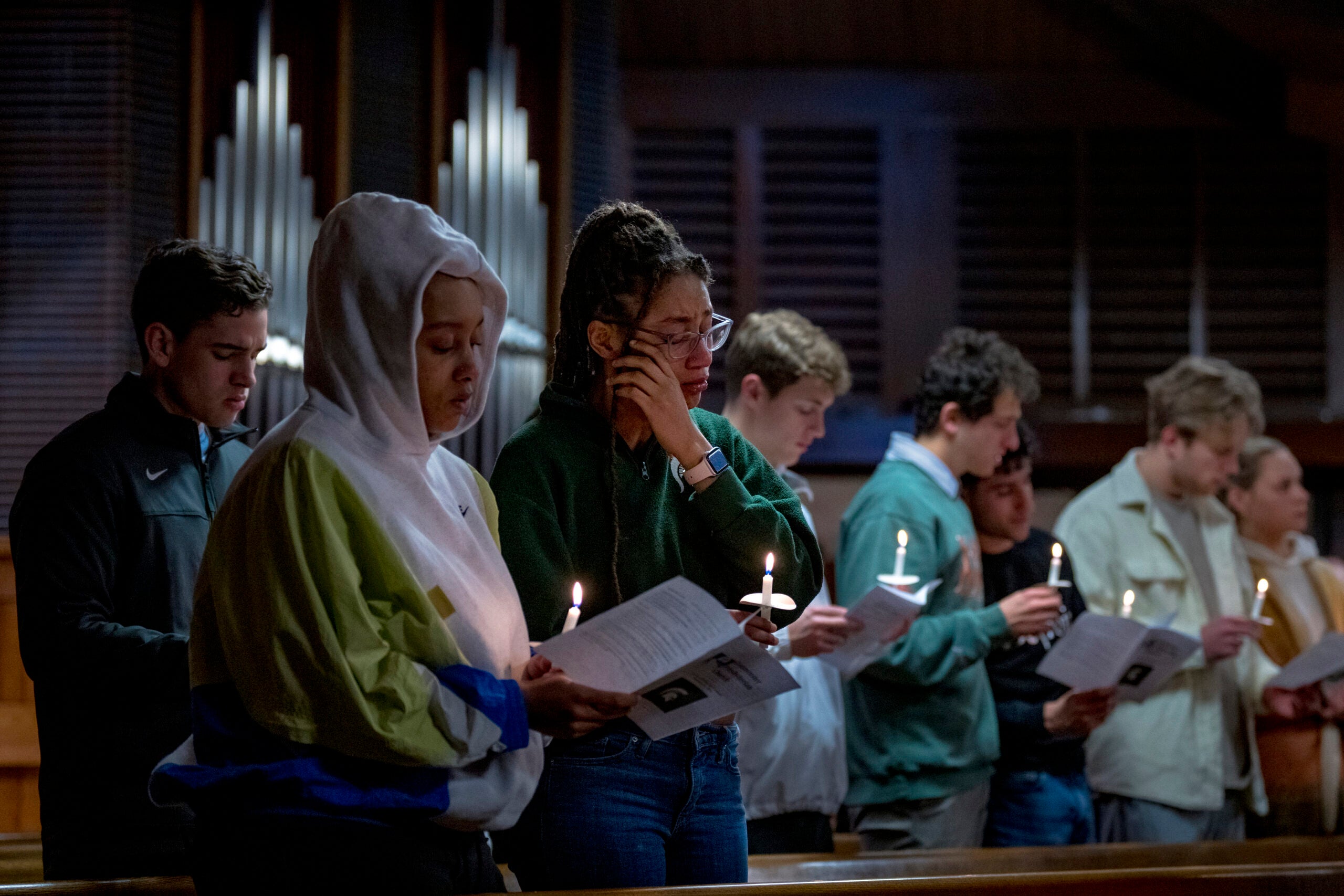 On Tuesday, the fifth anniversary of the shooting at Marjory Stoneman Douglas High School in Parkland, Florida, that left 17 dead and 17 injured, the now-familiar rituals of sorrow, anger and disbelief played out again, a day after the shootings and a three-hour police search on Monday night.
Authorities identified the three victims as Arielle Diamond Anderson, a sophomore from Harper Woods, Michigan; Brian Fraser, a sophomore from Grosse Pointe, Michigan; and Alexandria Verner, a junior from Clawson, Michigan.
Anderson, who loved to roller skate and attend Michigan State basketball games, was studying to become a doctor because she wanted to help others, her grandfather, Dwayne Thomas, said in a telephone interview. "She was a living angel," he said.
Fraser was president of the Michigan State chapter of the Phi Delta Theta fraternity, the organization said in a statement on Tuesday, calling him "a great friend to his Phi Delt brothers, the Greek community at Michigan State, and those he interacted with on campus." Members of his family could not immediately be reached.
Verner went to Clawson High School, where Billy Shellenbarger, the superintendent of Clawson Public Schools, said she was a role model for players on the girls' basketball team. She chose to attend Michigan State — her dream school, Shellenbarger said — to study forensics. "She changed the game if you were friends with her, if you knew her," he said. "She made you better."
The five students who were badly injured in the shooting remained hospitalized in critical condition on Tuesday, officials said.
As of Monday, the Gun Violence Archive had counted 67 mass shootings in the United States this year. The archive, a nonprofit research organization, defines a mass shooting as one in which at least four people were killed or injured.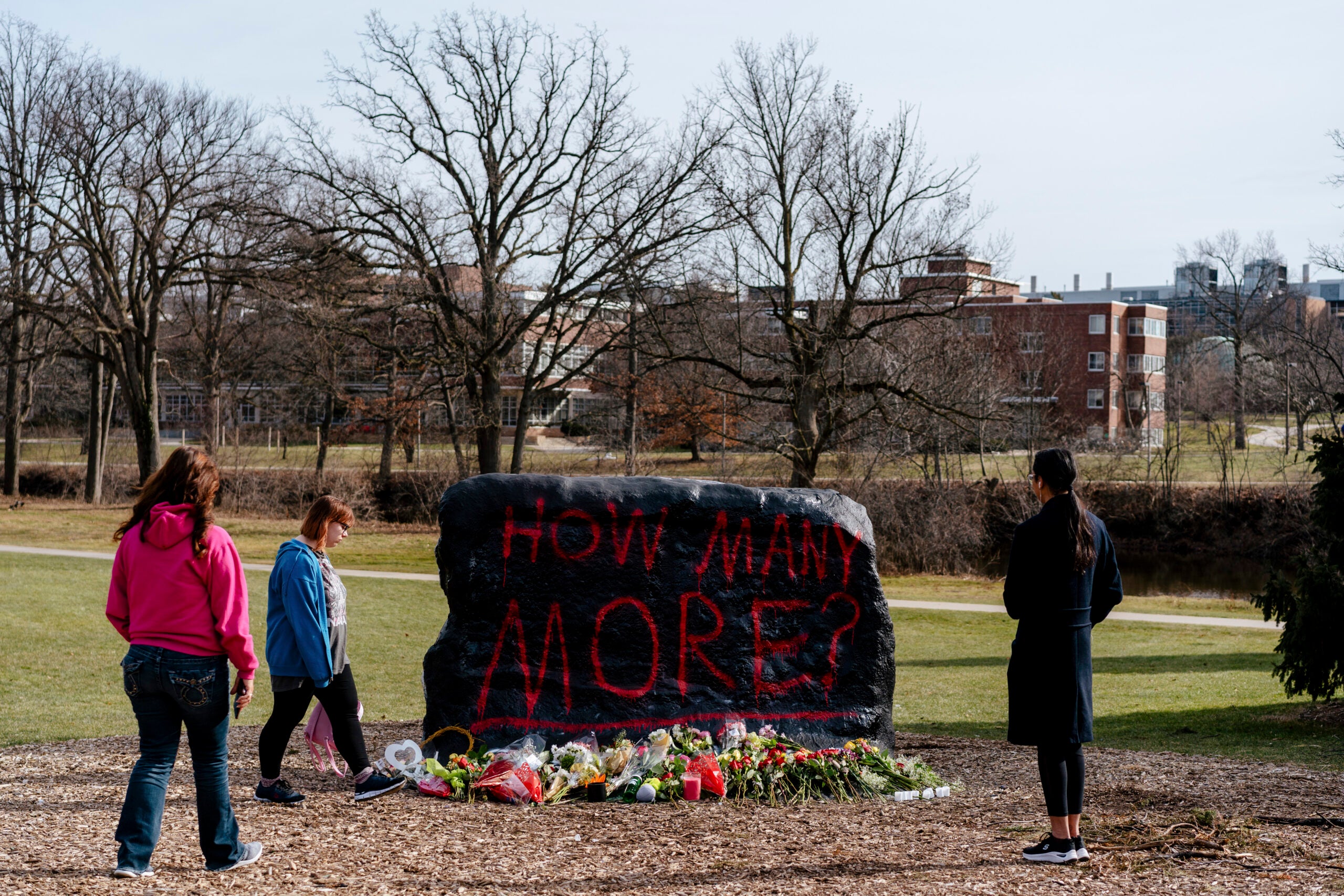 The suspected Michigan State gunman, who died of a self-inflicted gunshot wound, had no apparent connection to the university, police said, and was carrying a note threatening schools in New Jersey.
Officials identified him as Anthony McRae, 43, who lived in nearby Lansing. He was found off campus after a tip from what the university's police chief described as "an alert citizen," just 17 minutes after authorities released photos of the suspect.
"We have no idea why he came to campus," said Chris Rozman, the interim deputy chief of the university's Police Department.
The threatening note found in McRae's pocket led school officials hundreds of miles away in Ewing Township, New Jersey, to cancel classes on Tuesday. McRae had ties to Ewing but had not lived there for several years, the Ewing Township Police Department said in a statement.
McRae's 67-year-old father, Michael, said that his son's demeanor changed drastically after his mother died in 2020. Anthony McRae, his father said, became increasingly unkempt and would rarely leave his bedroom.
He said his son lived briefly in a homeless shelter in Cincinnati. He had never been diagnosed with a mental health disorder and, to his knowledge, was not on medication, he added.
Police, however, had seized several guns from his son, the father said, at some point after he was charged in June 2019 with carrying a concealed weapon without a permit. His son pleaded guilty to a lesser charge and served 18 months probation. But last summer, neighbors near the father's house in Lansing were alarmed when his son fired a gun in the backyard, a neighbor said.
Anthony McRae had moved back in with his parents in Lansing several years ago, before his mother died after a prolonged illness and a heart transplant. His mother's death appeared to greatly affect him, and he increasingly kept to himself.
"He was so secretive, when he goes in that room — he won't let me in there. Video games all day long," his father said. "I would tell him: 'Get out of that room. You're like a turtle. Get out and see the sunshine, look at the stars.'"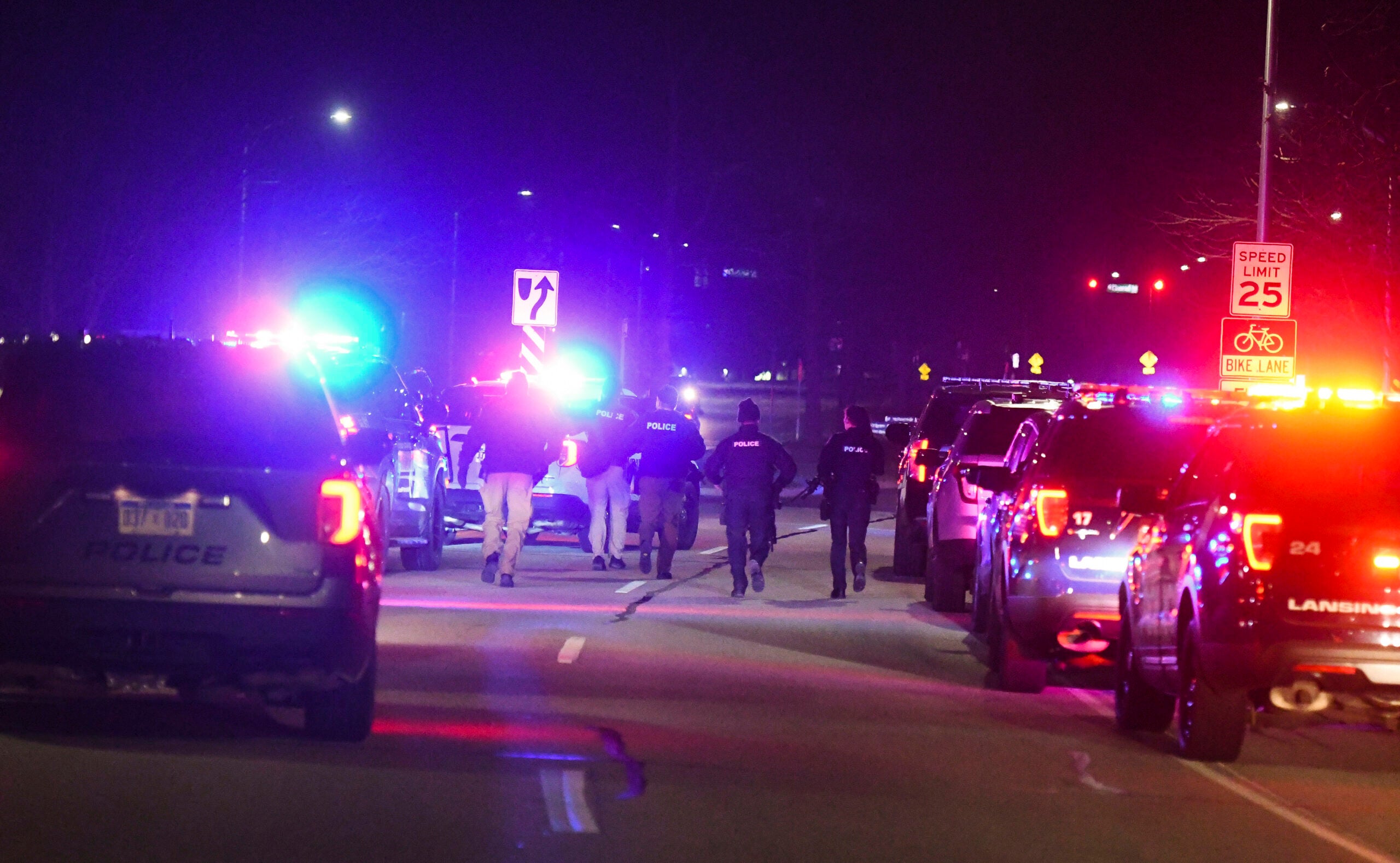 Democratic lawmakers in Michigan, who hold a majority in the state Legislature, vowed on Tuesday to introduce gun control measures. Winnie Brinks, the Senate majority leader, said the Senate would be taking action soon on "common sense" legislation, although details on the proposals were not immediately clear.
Gov. Gretchen Whitmer, a Democrat, said last month in her annual State of the State address that she favored measures to establish gun storage requirements and tighten background checks on firearm purchases.
For a generation of young Americans, mass shootings at schools or colleges once considered sanctuaries for learning have become so painfully routine that some of them have lived through more than one by their early 20s. People a few years older grew up with active shooter drills. Their younger counterparts have become repeat survivors of traumatic violence.
Even those who may not have lived through shootings themselves often know people who have. Being keenly aware of the possibility of gun violence has become a trademark of the generation of adults who grew up after the Columbine High School attack of 1999 that left 12 students and one teacher dead in Colorado and reshaped how Americans viewed mass shootings.
At Michigan State, students, faculty members and neighbors remained shaken the day after the shooting. Teresa K. Woodruff, the school's interim president, said classes would be canceled until Monday morning, and that other operations were on a modified schedule.
Students who had lived through other shootings expressed their disbelief and disgust on social media. In one TikTok video, a student who was at Sandy Hook Elementary on the day of the shooting, said it was "incomprehensible" to have lived through two mass shootings in her 21 years. She declined to be interviewed.
"We can no longer just provide love and prayers," she said in the video. "It needs to be legislation. It needs to be action."
Alyssa Hadley Dunn, an education professor at Michigan State until a month ago, said she had taught another student who had also survived the Sandy Hook shooting. That student had written something for Dunn's book on how educators should handle the days after tragedies on campus.
"The people that I teach have not only lived through active shooter drills and actual mass shootings, but we somehow have to prepare them to be the adults in the room when more inevitable school shootings happen," Dunn, who is now director of teacher education and an associate professor of curriculum and instruction at the University of Connecticut, said in a phone interview, her voice breaking.
"I really do think that the generation growing up since Sandy Hook has had to wrestle with completely different things that we really can't understand unless we're living it," she said.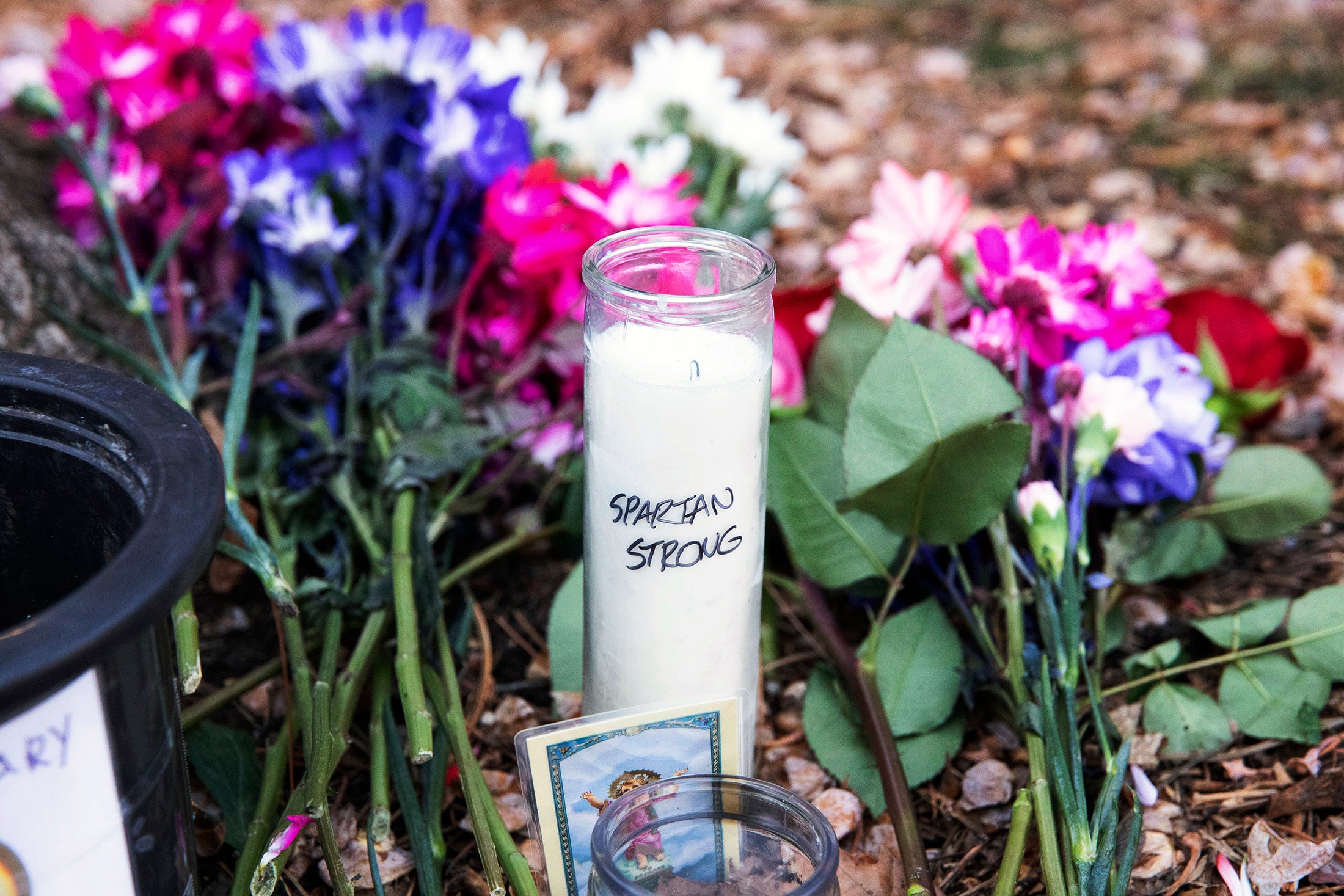 Riddle, the Oxford High graduate who is now at Michigan State, remembered hiding in the band room in high school the day of that 2021 shooting. On Monday night, she and her roommate barricaded their dorm room door with a dresser and their bathroom door with a hamper, and hid under their desks.
"I was trying to make myself as small as possible," she said.
She had just started to feel less overwhelmed by large crowds again, she said, having enjoyed attending Michigan State football games but not yet feeling ready to experience a basketball game indoors.
"I was starting to feel that sense of security there, so having it gone again is not a good feeling," she said. "I never thought I would have to text my loved ones or my friends again to make sure that they were OK."
Spencer Ances, 18, a Michigan State freshman from Southbury, Connecticut, next door to Newtown, remembered being picked up from school after the Sandy Hook massacre. His generation is all too familiar now with what to do in shootings, he said: "Lock the doors. Barricade it. We didn't need advice on that."
On Monday night, his mother asked him if he wanted to fly home, as classes were canceled all week, and the Michigan State campus was emptying out on Tuesday. He said yes. The Sandy Hook shooting, more than 10 years ago, was not far from their minds.
"She was just like, 'Again,'" he said. "The same thing."
This article originally appeared in The New York Times.