National News
EPA chief at Ohio train derailment site: 'Trust the government'
"I have three grandbabies. Are they going to grow up here in five years and have cancer?"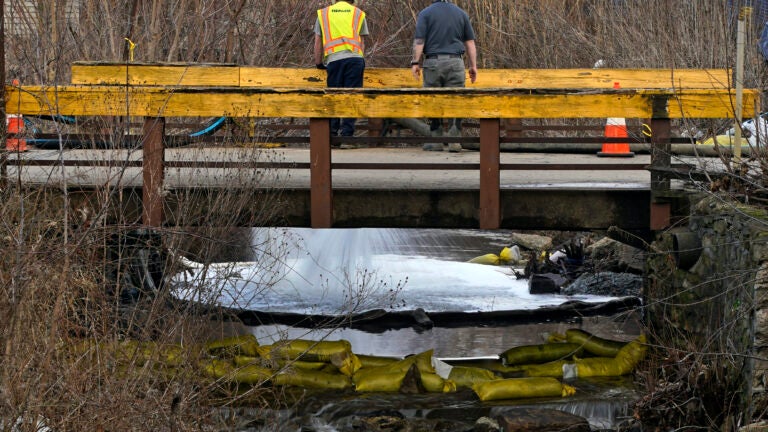 EAST PALESTINE, Ohio (AP) — The head of the U.S. Environmental Protection Agency got a first-hand look Thursday at the toll left by a freight train derailment in Ohio, where toxic chemicals spilled or were burned off, leaving the stench of fresh paint nearly two weeks later.
EPA Administrator Michael Regan, who walked along a creek that still reeks of chemicals, sought to reassure skeptical residents that the water is fit for drinking and the air safe to breathe around East Palestine, where just under 5,000 people live near the Pennsylvania state line.
"I'm asking they trust the government. I know that's hard. We know there's a lack of trust," Regan said. "We're testing for everything that was on that train."
Since the derailment, residents have complained about headaches and irritated eyes and finding their cars and lawns covered in soot. The hazardous chemicals that spilled from the train killed thousands of fish, and residents have talked about finding dying or sick pets and wildlife.
Residents are frustrated by what they say is incomplete and vague information about the lasting effects from the disaster, which prompted evacuations.
"I have three grandbabies," said Kathy Dyke, who came with hundreds of her neighbors to a public meeting Wednesday where representatives of railroad operator Norfolk Southern were conspicuously absent. "Are they going to grow up here in five years and have cancer?"
Regan said Thursday that anyone who is fearful of being in their home should seek testing from the government.
"People have been unnerved. They've been asked to leave their homes," he said, adding that if he lived there, he would be willing to move his family back into the area as long as the testing shows it's safe.
Those attending the previous night's informational session had questions about health hazards and demanded more transparency from Norfolk Southern, which did not attend, citing concerns about its staff safety. Many who had waited in a long line snaking outside the high school gymnasium came away upset that they didn't hear anything new. Some booed or laughed each time they heard the village mayor or state health director assure them that lingering odors aren't dangerous.
"They just danced around the questions a lot," said Danielle Deal, who lives a few miles from the derailment site. "Norfolk needed to be here."
At least five lawsuits have been filed against the railroad, which announced this week that it is creating a $1 million fund to help the community while continuing to remove spilled contaminants from the ground and streams and monitoring air quality.
"We are here and will stay here for as long as it takes to ensure your safety and to help East Palestine recover and thrive," Norfolk Southern President and CEO Alan Shaw said in a letter to the community.
Families who evacuated said they want assistance figuring out how to get the promised financial help. Beyond that, they want to know whether the railroad will be held responsible.
State and federal officials have promised to make sure Norfolk Southern not only pays for the cleanup but also reimburses residents.
The White House said teams from the federal health and emergency response and the Centers for Disease Control and Prevention will go to East Palestine.
"We understand the residents are concerned — as they should be —- and they have questions. That's all understandable," said White House press secretary Karine Jean-Pierre. "And we're going to get to the bottom of this."
No one was injured when about 50 cars derailed in a fiery, mangled mess on the outskirts of East Palestine on Feb. 3. Officials seeking to avoid an uncontrolled blast evacuated the area and opted to release and burn toxic vinyl chloride from five rail cars, sending flames and black smoke billowing into the sky again.
The Ohio EPA said the latest tests show five wells supplying the village's drinking water are free from contaminants.
At least, 3,500 fish, mostly small ones such as minnows and darters, have been found dead along more than 7 miles (11.2 kilometers) of streams, according to the estimates from the Ohio Department of Natural Resources.
Precautions are being taken to ensure contaminants that reached the Ohio River don't make it into drinking water, officials said.
There have been anecdotal reports that pets or livestock have been sickened. No related animal deaths have been confirmed and the risk to livestock is low, Ohio officials said, but the state Agriculture Department is testing samples from a beef calf that died a week after the derailment.
The suspected cause of the derailment is a mechanical issue with a rail car axle. The National Transportation Safety Board said it has video appearing to show a wheel bearing overheating just beforehand. The NTSB expects to issue its preliminary report in about two weeks.
Associated Press reporter John Seewer in Toledo contributed.