National
South Carolina school district sued over handling of student's Pledge of Allegiance protest
A South Carolina high school teacher shoved a student against a wall after the teenager refused to stop for the pledge on her way to class, according to a federal lawsuit.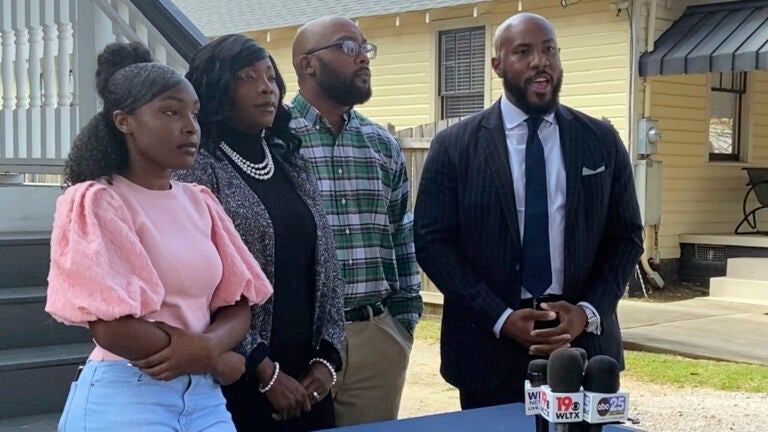 The parents of a South Carolina ninth grader said in a federal lawsuit that a teacher pushed their daughter into a wall after she ignored demands to acknowledge the Pledge of Allegiance as it was broadcast over her high school's intercom.
The 15-year-old student, Marissa Barnwell, and her parents said that the school district did not respond to their inquiries about the episode, prompting them to file a federal lawsuit last month.
"I feel like something should have happened to the teacher, and the teacher should have been handled appropriately, where she is either arrested or fired," Barnwell said in an interview Saturday. "But nothing like that's happened and she still works there."
The family's lawsuit accuses the South Carolina Department of Education, Lexington County School District One and specific district employees of violating Barnwell's constitutional rights.
The teacher, who is identified in the lawsuit as Nicole Livingston, the school district and the State Education Department did not respond to requests for comment on Saturday. Libby Roof, chief communications officer for Lexington School District One, said in an email Saturday that the district's lawyer was working on a response to the suit. "It will be filed in the coming weeks," she said.
Under federal law and South Carolina law, no one can be forced to recite the Pledge of Allegiance.
Barnwell, who is Black, said that she had stopped reciting the Pledge of Allegiance in third grade because she did not believe that its message of "liberty and justice for all" was applied equitably in the United States.
Ryan Julison, a spokesperson for the family's lawyer, Tyler Bailey, said that a fifth grade teacher in the same district once called Barnwell's parents to say that she wasn't reciting the pledge. When the teacher was told that Barnwell would not be forced to say it, nothing further came of it, Julison said.
Barnwell said she was inspired in part by Colin Kaepernick, the former NFL player who protested police brutality and racial injustice by taking a knee during the national anthem at football games. She said she was also moved to activism by the Black Lives Matter protests in 2020, which she said inspired her to be more passionate about "standing up for Black people, the Black community."
Barnwell said that on the morning of Nov. 29 — her birthday — she was walking to class at River Bluff High School in Lexington, South Carolina, as the Pledge of Allegiance was being broadcast over an intercom when Livingston started yelling "stop."
Barnwell said she did not know Livingston and assumed that the orders were not directed at her.
"When she said 'stop' the third time, she grabbed me, she just ambushed me, and she just attacked me and started pushing me toward, against the wall," Barnwell said.
Her family's lawyer shared school security footage that shows other students walking on that day as the pledge was being recited.
"I could tell that this outrage and anger from her was very political, and she targeted me because I was Black," Barnwell said. River Bluff High School is predominantly white.
The teacher took Barnwell to the principal's office, according to the lawsuit. The principal, Jacob Smith, told Barnwell he would review the security footage and sent her back to class, the lawsuit said. Barnwell then called her mother, tearful, and relayed what had happened. Smith could not be reached on Saturday.
Barnwell, an honor roll student who participates in extracurricular activities, including cheerleading, said that it has been "mentally draining" to walk the same hallway since then.
Barnwell's mother, Fynale Barnwell, said that she and Barnwell's father, Shavell Barnwell, repeatedly tried to meet with school, district and city officials to discuss how to address the family's concerns.
She said that on Jan. 10 they went to a school board meeting to discuss "our unhappiness and discomfort with the way the situation was handled and being treated." No one tried to "work with us or speak with us," she said.
She said people had made derogatory comments online about her daughter and family since they held a news conference to discuss the lawsuit on Thursday.
Shavell Barnwell said the principal called Fynale Barnwell on Friday and told her he treated all of his students like his children.
"That call should have been done right after the incident," Shavell Barnwell said.
This article originally appeared in The New York Times.