National News
Rep. Pressley and Sen. Markey are redoubling their efforts to eliminate qualified immunity. Here's what that would mean.
"Police brutality is a crisis plaguing Black and brown communities, and a crisis that will continue to go unchecked until we end the dangerous, unjust, and court-invented doctrine of qualified immunity," Pressley said.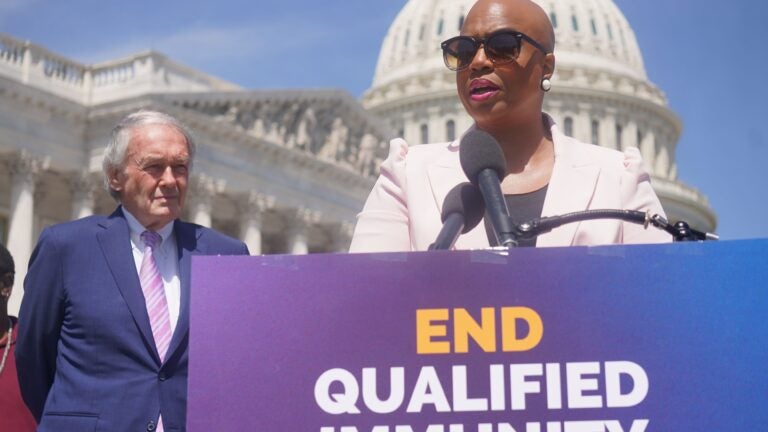 For decades, suing police officers for excessive use of force or infringements of constitutional rights has proven increasingly difficult. Many argue that qualified immunity, a judicial doctrine that provides government officials "breathing room" when making decisions, has long been used to shield officers from facing justice.
But months after a congressional report outlining steps lawmakers could take to address the protection, Rep. Ayanna Pressley and Sen. Ed Markey re-introduced legislation Wednesday afternoon to remove the defense they say has failed to hold officers accountable. Titled the "Ending Qualified Immunity Act," the four-page bill would amend the Civil Rights Act of 1871 section 1983, removing protections for officers who argue they were acting lawfully or in good faith.
"Police brutality is a crisis plaguing Black and brown communities, and a crisis that will continue to go unchecked until we end the dangerous, unjust, and court-invented doctrine of qualified immunity," Rep. Pressley said in a press conference.
"For too long, qualified immunity has prevented accountability and shielded those charged with enforcing the law from any consequences for breaking it. Our bill would restore necessary civil rights protections and is essential to providing the families of those abused by law enforcement with the healing they deserve. Structural change is necessary to address this crisis and save lives, and that must include ending qualified immunity."
And while the act has received support from of over 25 social and racial justice organizations and 40 cosponsors, historically, similar measures have failed to make it through the chamber.
What is qualified immunity?
Qualified immunity stems from the Supreme Court's interpretation of the Civil Rights Act of 1871 section 1983, and provides protection to government officials whose actions do not violate "clearly established statutory or constitutional rights of which a reasonable person would have known." The doctrine aims to balance the ability of the public to hold officials accountable while also providing discretionary "breathing room" for officials to make decisions.
In 1982, the Supreme Court implemented a two-pronged test to determine if an official is permitted qualified immunity. First, the alleged facts must amount to a constitutional violation. And second, the violated constitutional right must have been clearly established at the time of the misconduct.
Social workers, teachers, law enforcement officers, and other public officials are all provided protection under section 1983, which only applies to state law. But the Supreme Court has issued rulings that imply protections under federal law as well.
What does the End Qualified Immunity Act do?
This is the third iteration of the End Qualified Immunity Act, with Pressley working with Rep. Justin Amash, a Michigan Libertarian congressman in 2020, and with Markey and Sen. Elizabeth Warren in 2021.
Over 40 lawmakers in both the House and Senate have co-sponsored the bill, including other members of the Massachusetts delegation Reps. Katherine Clark, Jim McGovern, Seth Moulton, and Warren.
According to a summary of the act, the legislation would specifically amend section 1983 to remove protections for officials "that brutalize or otherwise violate civil rights with defense or immunity from liability for their actions" and "clarify congress' original intent for Section 1983 and note the history and necessity of this protection."
In short, officials who brutalize or violate civil rights would no longer be protected by the argument that they were acting in good faith or that they believed they were acting lawfully.
"There will never be true justice for the victims and family members of police brutality, but qualified immunity deprives Americans of one of their most powerful tools to seek justice in a court of law," Sen. Markey said in a press release.
"Qualified immunity is a dangerous doctrine that protects law enforcement officers from lawsuits and personally liability for their abuses. For decades, law enforcement has relied on qualified immunity to shield officers from accountability for police brutality and excessive force, far too often suffered by Black and Brown Americans. This must end. Victims and their families are due their day in court against those officials who violate their civil rights."
How have courts used qualified immunity?
Over time, the Supreme Court has expanded the scope of qualified immunity, often shielding officers from liability for use of excessive force. According to a Minnesota Law Review, between 2000 and 2016, in 18 cases regarding excessive force, the high court found the officers entitled to qualified immunity in 16.
And in May 2020, a Reuters investigation found that courts have overwhelingly and increasingly sided with officers who use excessive force, granting them qualified immunity.
Police, like in the 2019 case City of Escondido, California v. Emmons, are often shielded by specific reading of state law, where instead of examining if the officers violated someone's constitutional right, the court looks to whether officers violated police guidelines.
"The Court explained that the appropriate inquiry is not whether the officer violated the man's clearly established right to generally be free from excessive force but whether clearly established law 'prohibited the officers from stopping and taking down a man in these circumstances,'" the congressional report said.
Where does the act go from here?
The proposal will likely head to the House and Senate judiciary committees for debate.
And while some states and cities, such as Colorado, New York City, and in Mass. have already placed limitations on qualified immunity, due to Republican opposition and control of the House, some see the proposal as largely symbolic.
Newsletter Signup
Stay up to date on all the latest news from Boston.com