National News
Rep. Pressley and Sen. Markey are working to make buses fare-free. Here's what that would mean.
The members of the Massachusetts delegation announced Monday the "Freedom to Move Act," a federal proposal that would provide billions in fare-free grants.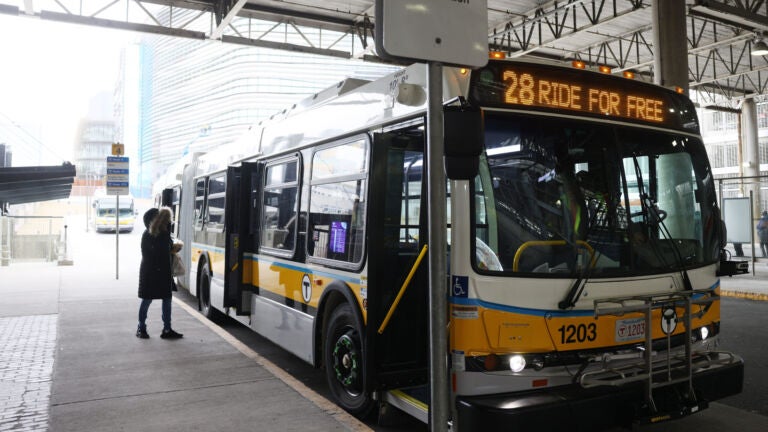 With transit ridership levels struggling to recover to pre-pandemic levels and historically high levels of congestion in their home state, Sen. Ed Markey and Congresswoman Ayanna Pressley reintroduced legislation Monday that would make more buses fare-free nationwide.
The "Freedom to Move Act," also co-sponsored by Sen. Elizabeth Warren, would provide $5 billion per year over five years in competitive grant funding to state and local governments looking to introduce fare-free transit programs. Additionally, the proposal would look to "close equity gaps in current transit systems," investing in the safety and quality of public transportation specifically in low-income and historically underserved communities.
The two members of the Massachusetts delegation proposed the same bill in 2020 and in 2021, but the proposals failed to gain the support needed to push through.
"Public transportation is meant to provide folks with the mobility and freedom to access critical services, but as the past few years have shown us, far too many people in the Massachusetts 7th and across the country lack the safe, reliable, and affordable transit service that they deserve," Rep. Pressley said at a press conference outside Ruggles Station in Roxbury. "We have made real strides in making the case for public transit as a public good, but our work is far from over. At every level of government, we must finally make the robust investments necessary to restore riders' confidence in the T and promote public transit nationwide as the public good that it is."
Fare-free transit in Massachusetts
The introduction of three fare-free bus routes last year has proven to be a bright spot for the otherwise struggling MBTA.
Boston's reimbursements of fares on the 23, 28, and 29 bus routes using pandemic relief funds has shown success since its introduction in 2022. Ridership on all three buses has exceeded pre-pandemic levels, boarding times have decreased roughly 23%, and 42% of riders have saved money, according to a report last month.
"It is an all hands on deck moment to support public transportation in Massachusetts, and in Boston in particular," Mayor Michelle Wu during the Monday press conference. "We know that making the system more accessible to all actually improves its performance and reliability. We know that this works because we have been measuring every bit of it in Boston through these three bus routes that have been fare-free for over a year."
Boston is also working with neighboring towns and neighborhoods to make more routes fare-free, with Wu saying on Monday that the city is in talks with Cambridge to make the Route 1 bus from Harvard to Nubian Square fare-free.
Last week, the Worcester Regional Transit Authority's advisory board voted to maintain its fare-free program until June 2024, and last February, Merrimack Valley voted to remove bus fares for two years.
While the Massachusetts Legislature has not directly passed legislation funding fare-free programs, lawmakers have set aside $6.95 million to fund fare-free bus pilot programs.
Now, as pandemic funds start to dwindle, Markey and Pressley are looking to fund transit programs nationwide.
Why go fare-free?
Nearly 20 organizations from Massachusetts have endorsed the legislation, arguing that free-fare transit increases accessibility, specifically for Black and brown communities, reduces congestion, and mitigates greenhouse gases.
"In order to move our society in a sustainable and equitable way, we need to reduce the barriers to public transportation and improve multi-modal options," Galen Mook, executive director at the Massachusetts Bicycle Coalition, said.
"This bill provides a key element to support those who do not have the ability or privilege of private car ownership, including folks with disabilities, seniors, and those too young to have licenses," he added. "And this bill helps us tackle the existential crises of greenhouse gas emissions and congestion on our roads, which are only worsening with every daily commute. Along with the other tools in our toolkit of walking, biking, and active mobility, we know we need to do all we can to encourage transit ridership in order to keep moving forward."
Supporters argue that free and equitable public transit is essential to reducing greenhouse gases, and the proposal comes on the heels of Markey and New York Rep. Alexandria Ocasio-Cortez's reintroduction of the Green New Deal.
"When we support state and local efforts to embed economic and climate justice into our transit system with fare-free service, we ensure that low-income workers and families, people of color, seniors, and people with disabilities have the freedom to move and fully participate in," Markey said. "I am proud to work with Congresswoman Pressley to fight for a transit system that is safe, reliable, and free — all while addressing climate change."
The Freedom to Move Act is now headed to committee debate, but with Republican control of the House and the filibuster in the Senate, it is uncertain if the proposal has the support it needs to advance.
Newsletter Signup
Stay up to date on all the latest news from Boston.com