National News
Here's why Mass. driver's licenses for undocumented immigrants will still be recognized in Florida
Undocumented Massachusetts residents can now obtain the same standard driver's license as anyone else.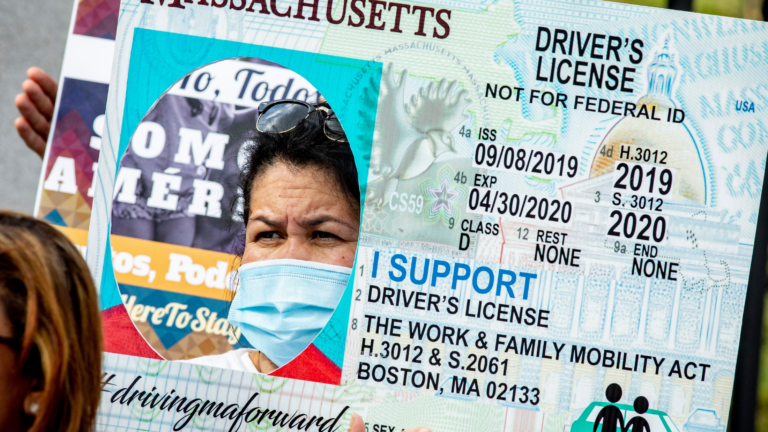 Florida Governor and presidential candidate Ron DeSantis wants to make it harder for undocumented immigrants to drive legally in his state, and he's gone as far as restricting which out-of-state licenses Florida will recognize. But Massachusetts residents won't be impacted for the foreseeable future thanks to the newly-effective Work and Family Mobility Act.
DeSantis, the culture war candidate who signed a six-week abortion ban in April and banned gender-affirming care for trans youth in May, has most recently turned his attention to undocumented immigrants. He announced in July that Florida will stop recognizing out-of-state driver's licenses issued to undocumented immigrants in Connecticut, Delaware, and Hawaii.
Notably absent from the list is Massachusetts, where undocumented immigrants can now obtain standard, non-REAL ID driver's licenses just like anyone else in the state who is otherwise eligible and can pass the test. The Work and Family Mobility Act, which went into effect this month, lifts the "proof of lawful presence" requirement for the standard class of licenses so that undocumented drivers can get the same certificate as everyone else.
Immigrants' rights activists and supporters of the Mass. law say it empowers immigrant families with literal and economic mobility, while improving public safety by lowering the number of unlicensed drivers on the road.
The Work and Family Mobility Act is "really vital to allowing people to live their everyday lives," Sarang Sekhavat, political director at the Massachusetts Immigrant and Refugee Advocacy Coalition, told Boston.com. Everyone should be able to go grocery shopping, take their kids to school, or go to the doctor without the fear of being pulled over and detained, he said.
DeSantis invoked a different kind of public safety argument when he unveiled Florida's new policy.
"Someone who is in our country illegally and has violated our laws should not possess a government-issued ID which allows them access to state-funded services and other privileges afforded to lawful residents," the Florida governor said earlier this month. "Even if the federal government refuses, Florida will act decisively to protect our citizens, our state, and our country."
Before it passed, Massachusetts Republicans advocated to amend the Work and Family Mobility Act so that undocumented drivers would receive a different type of license from other drivers that could be used to tell them apart. That amendment was decisively rejected in the Senate by a vote of 31 to 8.
In his defense of the legislation — which he co-sponsored — back in 2022, Senate Democrat Brendan Chrighton explained that issuing a visually distinctive ID to undocumented immigrants would "lead to stigma, an opportunity for anyone to see the license and to discriminate against the card holder."
Massachusetts residents still need to present proof of their identity, social security status, and state residency to receive a standard driver's license. Unlike a REAL ID, the standard license isn't a recognized form of federal identification.
Former Gov. Charlie Baker refused to sign the Work and Family Mobility Act in May 2022, citing in part the provision to make undocumented driver's licenses identical to other licenses. But the majority-Democratic House and Senate easily overrode his veto.
Like Massachusetts, Rhode Island and Vermont's driver privilege cards for undocumented immigrants look just like any other non-REAL ID license. Both were briefly included on Florida's list of restricted out-of-state licenses, until officials realized that those states don't distinguish between immigrant and non-immigrant drivers.
Sekhavat said the MIRA Coalition worries other states will introduce copycat legislation based on Florida's new policy. The coalition, he says, would support federal legislation blocking future efforts to restrict undocumented immigrants' right to legally drive.
Newsletter Signup
Stay up to date on all the latest news from Boston.com