National News
Graduate student charged with murder in killing of University of North Carolina faculty member
Tailei Qi, 34, is due in court later Tuesday for an initial hearing in the Monday killing of Zijie Yan inside a science building on the Chapel Hill campus.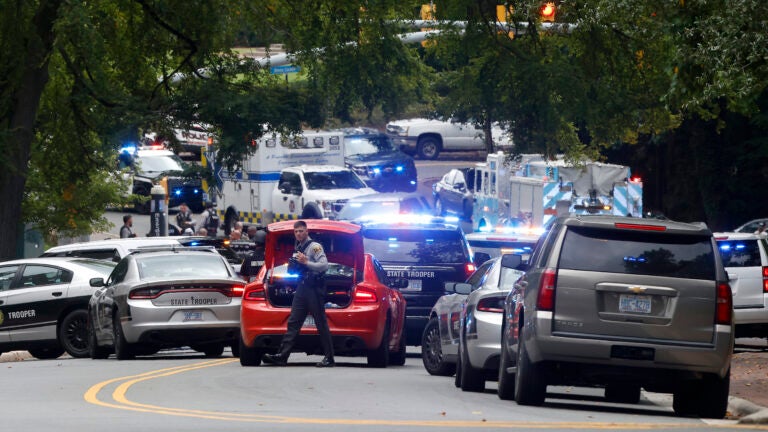 CHAPEL HILL, N.C. (AP) — Police charged a University of North Carolina graduate student Tuesday with first-degree murder in the fatal shooting of a faculty member that caused a campus lockdown amid a search for the gunman.
Tailei Qi, 34, is due in court later Tuesday for an initial hearing in the Monday killing of Zijie Yan inside a science building on the Chapel Hill campus. In addition to the murder count, he is charged with having a gun on educational property.
Yan is listed on the school's website as an associate professor in the Department of Applied Physical Sciences, while Qi is listed as a graduate student in Yan's research group.
Qi, who lives in Chapel Hill, was arrested during a roughly three-hour lockdown that followed the shooting, authorities said at a Monday news conference.
"To actually have the suspect in custody gives us an opportunity to figure out the why and even the how, and also helps us to uncover a motive and really just why this happened today. Why today, why at all?" UNC Police Chief Brian James said. "And we want to learn from this incident and we will certainly work to do our best to ensure that this never happens again on the UNC campus."
Campus police received a 911 call reporting shots fired at Caudill Labs just after 1 p.m. Monday, James said. An emergency alert was issued and sirens sounded two minutes later, starting a lockdown that led frightened students and faculty to barricade themselves inside dorm rooms, bathrooms, classrooms and other school facilities.
Officers arriving at the lab building found a faculty member who had been fatally shot, James said. Based on witness information, police took the suspect into custody just after 2:30 p.m., according to the chief.
Jones declined to elaborate on the arrest, but TV station WRAL reported that it took place in a residential neighborhood near campus.
The lockdown was lifted around 4:15 p.m. No other injuries were reported.
"This loss is devastating, and the shooting damages the trust and safety that we so often take for granted in our campus community," Chancellor Kevin Guskiewicz said.
Yan led the Yan Research Group, which Qi joined last year, according to the group's UNC webpage. Yan earned his PhD in materials engineering from Rensselaer Polytechnic Institute in New York and previously worked as an assistant professor at Clarkson University. He joined the Chapel Hill faculty in 2019.
Qi is a graduate student in the department of applied physical sciences who studies nanopartical synthesis and light-matter interaction. He moved to the U.S. from China after earning a bachelor's degree in physics at Wuhan University, according to the UNC webpage for the Yan Research Group.
The shooting sparked fear at the state's flagship public university, just a week after students returned for the start of the fall semester.
Clayton Ulm, 23, a graduate student, said he was in a class of about 50 to 70 people when they were told to go into lockdown. The alarm system had gone off, but screens in the classroom had also glared with the lockdown order.
"Then there was quite a bit of panic as students were trying to figure out what to do," Ulm said in a LinkedIn message while still in the classroom, heading into his third hour of lockdown. "Then we all started hiding beneath our chairs and under desks. Some students went and locked the doors."
Students started listening to police scanners to try to get information about where the shooter was, Ulm said. The panic eventually subsided. And people were allowed to use the nearby restrooms. Still, he called it "surreal seeing the mass panic."
About two hours after the first alert went out, officers were still arriving in droves, with about 50 police vehicles at the scene and helicopters circling over the school.
It took about an hour and a half to lift the lockdown after the arrest because authorities were making sure they had the right suspect in custody, James said.
Police also had received calls around campus about other potential victims and gunshots that needed to be checked out, he said.
"We had to ensure that the entire campus was safe," James said.
James said it was unclear if the suspect knew the victim. He also said the weapon has not been found.
"We are looking for a firearm. It is too early to determine if the firearm was legally obtained," he said.
The university, with about 20,000 undergraduate students and 12,000 graduate students, canceled Tuesday classes.
___
Robertson reported from Raleigh, North Carolina, and Rankin reported from Richmond, Virginia. Associated Press writers Jonathan Drew in Hillsborough, North Carolina, Sarah Brumfield in Silver Spring, Maryland, and Ben Finley in Norfolk, Virginia, contributed to this report.