National News
FBI says Israel-Hamas war raises potential for attack against Americans
Since the attacks by Hamas, antisemitic threats in the U.S. have reached "historic levels," the agency's director said. Threats against Muslims have also increased.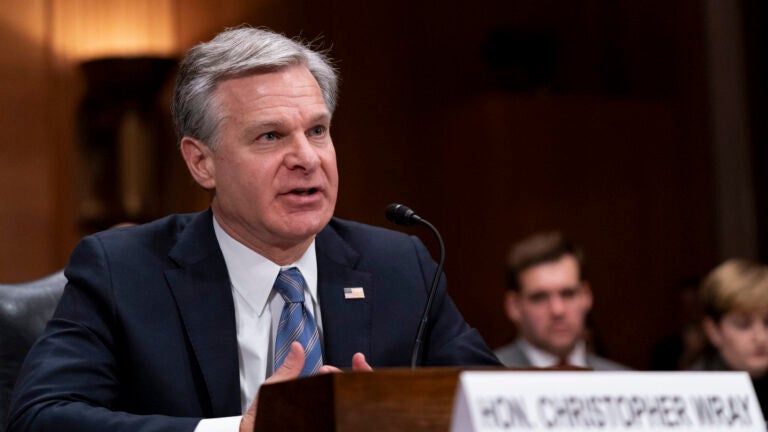 WASHINGTON — FBI Director Christopher Wray warned Tuesday that the Israel-Hamas war had raised the potential for an attack against Americans to a new level and escalated threats against Jews and Muslims in the United States.
Wray said foreign terrorist organizations had called for violence against Jews after the Oct. 7 terrorist attacks by Hamas assailants prompted Israel to besiege and bombard the Gaza Strip, where Hamas is in control.
"We assess that the actions of Hamas and its allies will serve as an inspiration the likes of which we haven't seen since ISIS launched its so-called caliphate several years ago," Wray told senators on the Homeland Security and Governmental Affairs committee during a hearing about worldwide threats to the United States.
"The ongoing war in the Middle East has raised the threat of an attack against Americans in the United States to a whole other level," he added. The biggest concern for the agency is attacks from violent extremists or lone actors in the U.S. inspired by hateful messages and calls to violence.
The number of antisemitic acts in the United States had been on the rise even before the Israel-Hamas war, led in part by white supremacist propaganda and new nationalist groups across the country. But since the attack by Hamas on Oct. 7, the drumbeat of antisemitic threats and acts has drastically increased.
"I will say that this is a threat that is reaching in some way sort of historic levels," Wray said.
"The Jewish community is targeted by terrorists really across the spectrum — homegrown violent extremists; foreign terrorist organizations, both Sunni and Shia; domestic violent extremists," he added.
Wray cited several foreign terrorist groups that have issued calls to attack Americans, and Jews in particular, after the attacks by Hamas. On Oct. 7, Hamas assailants killed more than 1,400 people, including women and children, and abducted more than 200 people.
The Islamic State group has called for attacks on Jewish communities in the United States and Europe, and al-Qaida issued a specific call to attack the United States, Wray said.
The call from al-Qaida urged "Islamic movements" to form sleeper cells and support "operations against the Jews and their interests," according to a person who saw parts of the message and who spoke on condition of anonymity to share sensitive information. Wray said the message from al-Qaida was the most specific call to attack the United States that intelligence officials have seen in five years.
"To have this many foreign terrorist organizations this explicitly calling for attacks," Wray said, significantly elevates the potential terror threats to the United States.
The war has been politically divisive in the United States as well. On some college campuses in the United States, posters of victims kidnapped by Hamas on Oct. 7 are being torn down in protest of Israel's response to the attack and its longtime treatment of Palestinians. Private companies, universities and even the Writers Guild of America have been criticized for statements officials have and have not issued about the new wave of violence in the Middle East.
Homeland Security Secretary Alejandro Mayorkas said that since Oct. 7, federal officials have responded to an increase in threats against "Jewish, Muslim and Arab American communities and institutions across our country."
Jews represent less than 3% of the U.S. population, but even before Oct. 7 they were the target of about 60% of religious-based hate crimes, Wray said, citing statistics from 2022.
Between Oct. 7-23, there were 312 antisemitic acts in the United States, 190 of which were directly linked to the war, according to the Anti-Defamation League. Those include an incident Oct. 15 at Grand Central Terminal in New York when someone reportedly punched a woman in the face because she was Jewish.
Wray pointed to an arrest in Houston on Oct. 19 of a Palestinian asylum-seeker who had been in the United States since June 2019 on a travel visa that expired a few months later. Wray said the man, whom prosecutors identified as Sohaib Abuayyash, 20, had been studying how to build bombs and posted details online about his support for killing Jewish people.
Prosecutors said he was illegally in possession of a firearm and had been in contact with "others who share a radical mindset, has been conducting physical training and has trained with weapons to possibly commit an attack," according to the criminal complaint, which was mostly redacted.
Biden administration officials have been in regular contact with members of Jewish communities nationwide, Wray said, adding that the bureau had previously created an intelligence fusion cell with agents who work on hate crimes and domestic terrorism "to make sure that we're seeing the full landscape and doing our best to be proactive in this space."
In New York, Gov. Kathy Hochul announced Tuesday up to $75 million in grants for local police departments and houses of worship in response to an uptick in reported antisemitic attacks and hate crimes against Palestinians in the wake of the Israel-Hamas war.
Hate-fueled attacks against Muslims and Arabs in the United States have also been on the rise since Oct. 7. The Council on American Islamic Relations, a civil rights organization, said it received more than 700 complaints, including reported bias incidents and threats to shoot and kill American Muslims, between Oct. 7-25. The organization said the number of incidents and threats has not been this high since December 2015, after Donald Trump, then a presidential candidate, said he would ban Muslims from traveling to the United States.
The most prominent of recent attacks is the murder of a 6-year-old Palestinian American in Illinois. The landlord of the residence where the boy and his mother were living was arrested for stabbing them both in what is being treated as a hate crime.
In New York, police arrested two men recently and charged them with hate crimes for allegedly being part of a group that shouted anti-Muslim slurs during an Oct. 11 attack on three men. A 2022 FBI report said nearly 8% of religious-based hate crimes were directed at Muslims, which is similar to 2021 levels.
This article originally appeared in The New York Times.
Extra News Alerts
Get breaking updates as they happen.