National News
A clip of a confrontation on Harvard's campus is going viral. Here's what we know.
Newly surfaced footage shows a tense confrontation between a group of protesters and a Harvard student during a pro-Palestinian demonstration last month.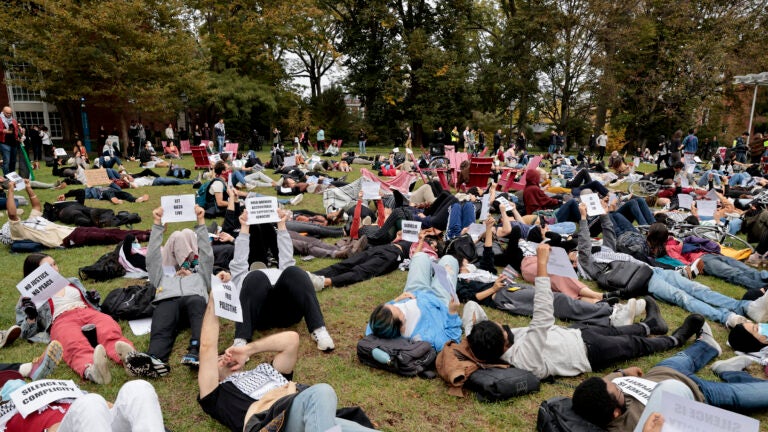 As controversy over the Israel-Hamas war continues to roil Harvard University's campus, newly surfaced videos show a tense confrontation between a group of pro-Palestinian protesters and a Harvard student.
The footage appears to depict an incident that occurred during an Oct. 18 "die-in" held outside of Harvard Business School to condemn the Israeli government's airstrikes and blockade of the Gaza Strip, according to The Boston Globe's coverage of the event.
Multiple videos of the incident were shared to the social media platform X on Wednesday and have since racked up millions of views.
In the clips, several protesters can be seen huddling around a man and holding up Palestinian keffiyehs — traditional scarves — to block his view of the surrounding demonstration. The man attempts to dodge the protesters, some of whom appear to make physical contact with him. The protesters also begin to yell, "Shame! Shame! Shame!"
Voices can eventually be heard saying "Don't touch him" and "Let him go." At one point, a man attempts to intervene and says, "He's a student; he's allowed to walk here."
Aerial footage of the die-in captured by NBC10 Boston appears to show the same man walking around the demonstration with his phone held high as protesters attempt to block him with scarves and yellow safety vests.
A report from The Harvard Crimson explains that a man began to film demonstrators' faces and was escorted out by protest organizers. Posts on X from individuals who allegedly attended the protest confirm this account.
"This student was masked/covered to hide his identity and was taking photos two inches from our faces as we were lying unprotected," one social media user said on X. "He was close to stepping on us, and we were afraid he would."
Another wrote: "A man was weaving across us as we were laying down peacefully mourning lives lost in Gaza, getting close to our faces and taking invasive pics. The safety marshals asked him to leave and escorted him."
Reports filed with police and FBI, dean says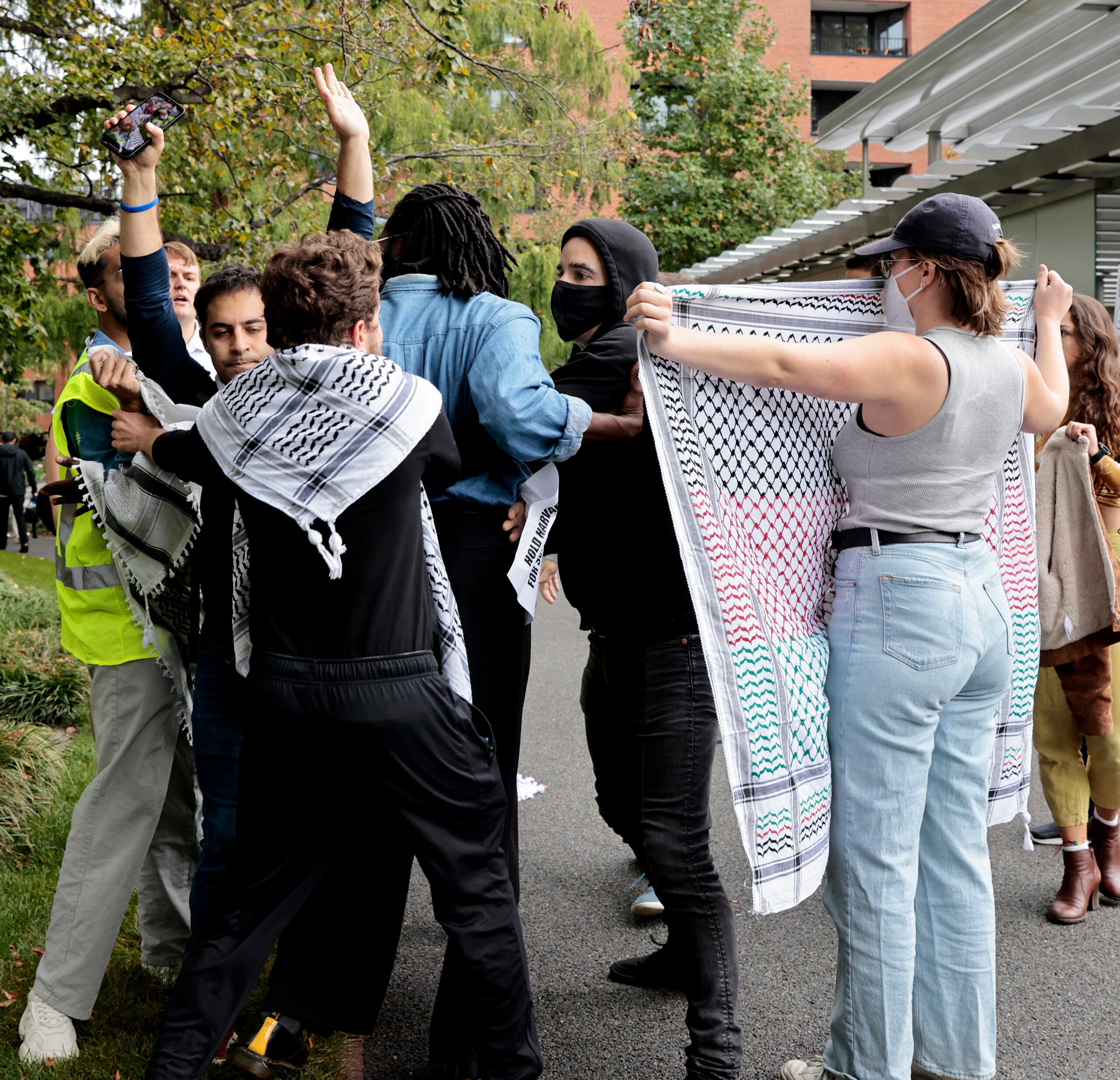 Harvard Business School Dean Srikant Datar seemed to reference the incident in an Oct. 24 statement, describing a "troubling confrontation between one of our MBA students and a subset of the protestors." It was not immediately clear whether the student involved in the confrontation is Jewish or Israeli, as some social media accounts have claimed.
Acknowledging that the moment "left many of our students shaken," Datar noted that reports had been filed with the university's police department and with the FBI, though he did not say by whom.
He added: "The facts are being evaluated, and it will be some time before we learn the results of an investigation."
Harvard declined to comment on the incident, and a spokesperson for the university's police department did not respond to a request for comment Thursday. A spokesperson for the FBI's Boston Division said the FBI is aware of the allegations but could not confirm or deny whether the agency is investigating.
Meanwhile, some social media accounts have sought to identify some of the protesters, calling on the university to hand down disciplinary action.
Harvard under fire
The latest controversy comes as Harvard faces heightened scrutiny over its response to the Israel-Hamas war, as well as a student letter that held Israel solely accountable for the violent conflict.
According to the Associated Press, more than 1,400 people have died on the Israeli side since the start of the war, largely civilians killed during Hamas' initial Oct. 7 surprise attack. The Palestinian death toll surpassed 9,000 Thursday amid Israel's subsequent airstrikes and siege, per the AP.
Signed by dozens of Harvard student groups, the controversial letter asserted that Israel's "apartheid regime is the only one to blame."
Those words quickly drew condemnation from politicians, donors, and prominent Harvard alumni. Students affiliated with groups that co-signed the letter had their personal information leaked online, and an out-of-state conservative group drove trucks through Harvard Square emblazoned with students' names and faces pasted beneath the words "Harvard's Leading Antisemites."
Harvard later announced a task force to support students who had experienced doxxing, harassment, and online security issues following the backlash against the letter, the Crimson reported. On Friday, Harvard President Claudine Gay also announced that she has convened a group of faculty, staff, alumni, and Jewish religious leaders to serve as advisors to help Harvard combat antisemitism on its campus.
"Here at Harvard, I've heard story after story of Jewish students feeling increasingly uneasy or even threatened on campus," she said in her remarks. "We should all be alarmed by this. I am."
In a video message posted last month shortly after the outbreak of the Israel-Hamas war, Gay also emphasized Harvard's commitment to free expression.
"That commitment extends even to views that many of us find objectionable, even outrageous," Gay said. "We do not punish or sanction people for expressing such views. But that is a far cry from endorsing them. It's in the exercise of our freedom to speak that we reveal our characters and we reveal the character of our institution."
Newsletter Signup
Stay up to date on all the latest news from Boston.com