What Bostonians Need to Know
What Bostonians need to know this week
The Olympics aren't the only game in town this week.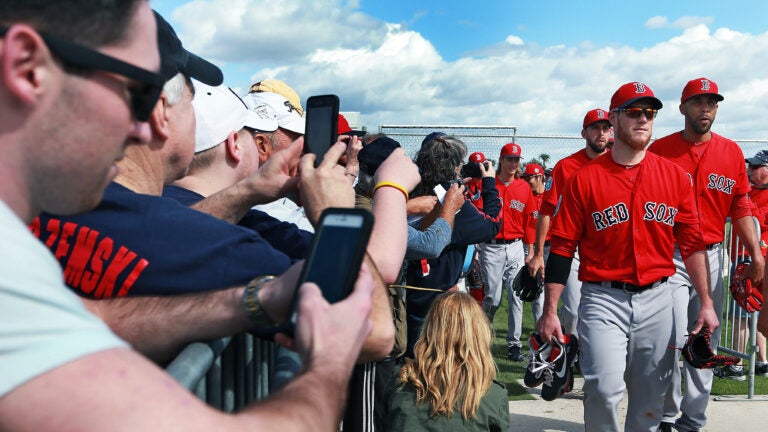 Jump-start your week—find out what you missed this weekend, along with upcoming events, sports, and weather all in one place. Want the "What Bostonians Need to Know" briefing in your inbox every Sunday? Sign up for our weekly newsletter, which launches soon.
What to know this week:
Weather: After a rainy weekend, forecasters say they expect a week of mild temperatures and gradually sunny skies.
On to baseball: Red Sox pitchers and catchers report to spring training Tuesday in Fort Myers, Florida, with workouts beginning the follow day. Here's the team's full spring training schedule.
A totally-not-made-up holiday: Valentine's Day is Wednesday, and in case you forgot, here are eight last-minute local gift ideas. Or for the rare folks who want a really well-done night, consider this North End joint, which is offering a $3,000 burger that comes topped with a diamond-encrusted engagement ring. Seems risky, but hey, it's your money.
More like TaxKings: Massachusetts lawmakers have scheduled a hearing Wednesday on a bill that would, among other kings, impose a 15 percent tax on the gross revenue of daily fantasy sports companies, such as the Boston-based DraftKings.
All blue everything: Take a second to look up on Thursday night, as Boston's landmarks and skyline will be illuminated in blue to show support for Boston's Children's Hospital.
Hey now you're an All-Star: The NBA is taking a break later this week for All-Star weekend festivities in Los Angeles. Kyrie Irving and Al Horford will both play in Sunday night's All-Star Game, while Celtics youngsters Jaylen Brown and Jayson Tatum will compete in Friday night's Rising Stars Challenge. Horford will also compete in Saturday night's Taco Bell Skills Challenge and former Celtic great Paul Pierce will play in the celebrity game Thursday night.
What you missed over the weekend:
Big man on campus: Harvard announced Sunday that Lawrence Bacow, the 66-year-old former Tufts president and son of European refugees, will be the Ivy League university's new president, succeeding outgoing president Drew Faust. Watch Bacow's official introductory video below:
Old man gets his own night: Following the weird drama that unfolded over a since-canceled Isaiah Thomas tribute video, Paul Pierce returned to Boston to have his jersey retired by the Celtics after their game Sunday against the Cavaliers (Thomas, meanwhile, didn't even end up being present, having been traded to the Lakers last week).
Before Sunday's ceremony, Pierce emotionally opened up about what be honored by his former team meant to him:
Paul Pierce on getting his jersey retired: "Words can't even describe it right now." pic.twitter.com/dRU4I98Rrx

— Nicole Yang (@nicolecyang) February 10, 2018
The Sports Guy on Boston sports media: Bill Simmons bashed the state of Boston sports media on Saturday in the aftermath of a erroneous Boston Herald report about Tom Brady. "The sports media has been embarrassing the city for [three] solid decades," Simmons tweeted.
'I love Southie': SMILF creator and star Frankie Shaw responded in a lengthy Facebook post to a Boston city councilor who called her Southie-based show a  "degrading, crude, and inaccurate portrayal" of the neighborhood's women.
Coyotes on the Cape: Animals rights activists and hunters clashed Saturday over a planned coyote hunting contest sponsored by a Hyannis gun shop.
Rising tides: The Boston Globe reported this weekend on how waterfront developers in the city, amid rising sea levels, are trying to flood-proof their buildings with an array of architectural defenses.
Our first gold: The Winter Olympics in South Korea officially kicked off this weekend (though discerning fans have been able to enjoy mixed doubles curling since last Thursday) and 17-year-old snowboarder Red Gerard became the first American to win a gold medal on Sunday.
What's happening in Boston:
Party like a wizard (or witch): The Fairmont Copley Plaza is hosting an all-out Harry Potter-themed party for all ages Friday night, complete with potion cocktails (Butterbeer for adults; pumpkin juice for kids), a Hogwarts-inspired dinner, and the chance to be sorted into a designated house.
A swinging Friday night: Cambridge's Oberon theatre is hosting a Valentine's Day edition of the raucous live-theatre interactive Old School Game Show on Friday Night.
Familiar voices: The singers of two former well-known bands are hitting Boston this weekend. On Friday, former Led Zeppelin lead Robert Plant will stop by the Orpheum Theatre with his band the Sensational Space Shifters to play some classic hits. And on Saturday, Noel Gallagher, the former lead guitarist and co-lead singer of the British indie band Oasis, to perform with his new solo band, the High Flying Birds, at the Boston Opera House.
This week's Celtics schedule:
Wednesday, Feb. 14: 8 p.m. versus the Los Angeles Clippers on NBC Sports Boston and ESPN
This week's Bruins schedule:
Tuesday, Feb. 13: 7 p.m. versus the Calgary Flames on NESN
Saturday, Feb. 17: 10 p.m. at the Vancouver Canucks on NESN