What Bostonians Need to Know
What Bostonians need to know this week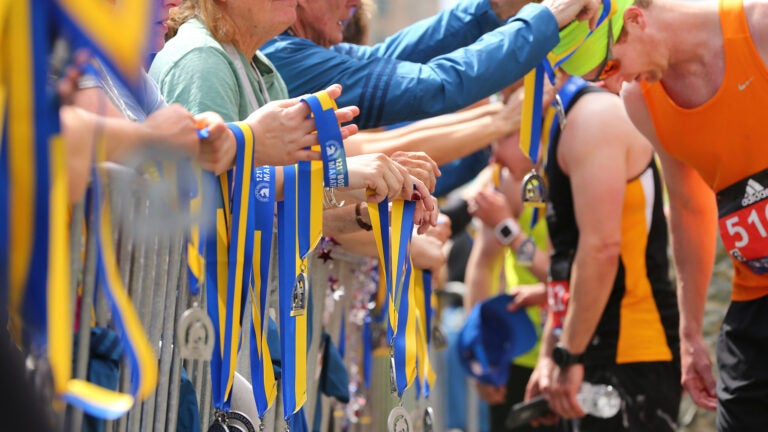 Jump-start your week — find out what you missed this weekend, along with upcoming events, sports, and weather all in one place. Want the "What Bostonians Need to Know" briefing in your inbox every Sunday? Sign up for our weekly newsletter, which launches soon.
What to know this week:
The 2018 Boston Marathon is finally here: It's the biggest day of the year in Boston. On (Marathon) Monday, approximately 30,000 runners will make their way from Hopkinton to Boylston Street, with thousands more cheering them on. Here's everything you need to know about the race, from where to watch to how to track a runner. But if you're headed into Boston for work this Patriot's Day, be advised that your commute may be affected.
But then there's the weather: Unfortunately, the weather doesn't care what day it is. The forecast for Monday is wet and raw, with temperatures only reaching the mid-40s. Experts say it could be "one of those days where every few hours the weather will be a little bit different." The rest of the week is expected to be about average, with temperatures hovering around the low 50s. Thankfully, there is no snow expected.
More Mount Ida drama: Anger from several sides continues to brew over the plan for the University of Massachusetts to buy Mount Ida College in Newton. Several local politicians have begun to speak out over the deal, saying they have asked questions but received few answers.
What you missed over the weekend:
Yarmouth continues to mourn: Officials on the Cape made funeral plans over the weekend for fallen Yarmouth police officer Sean Gannon, who was fatally shot while serving an arrest warrant last week. The community held a vigil Saturday night, and the funeral is scheduled for Wednesday. The man who allegedly shot 32-year-old Gannon has pled not guilty.
Attacks on Syria: President Trump unexpectedly addressed the nation Friday night and announced that the United States, along with allies France and Britain, has launched targeted military strikes in Syria. Trump denounced President Bashar Assad for a suspected chemical attack against Syrian civilians.
Sox are hot: Following last week's emotionally-charged series against the New York Yankees, the Red Sox are officially off to their best start in club history. Although pitcher Joe Kelly has received a six-game suspension, he's still feeling the love from Boston fans—he received his second standing ovation this week. 
What's happening in Boston:
Three locals to sing on "The Voice": A talented slate of Bay Staters will perform in the live playoffs on "The Voice" this week. Brynn Cartelli, a high-schooler from Longmeadow, will perform Monday, which is also her 15th birthday. Kelly Clarkson, Cartelli's "coach" on the show, predicted she could win this season. Taunton native Mia Boostrom and Berklee College of Music student Jackie Foster will also perform in the live shows this week.
Speaking of playoffs: So far, the Bruins are up 2-0 over the Toronto Maple Leafs in Round 1 of Stanley Cup Playoffs. The best-of-seven series continues Monday night. Meanwhile, the Celtics are launching their own playoff bid beginning Sunday, with a series against the Milwaukee Bucks. The Celtics ended the regular season as the No. 2 seed in the Eastern Conference.
Joey Bada$$ in Boston: The star rapper, who also had a role on the television show "Mr. Robot" in 2016, will play Paradise Rock Club on Tuesday. Bada$$ released his latest full-length album last year.
Happy vacation: In honor of Boston Public Schools April vacation week, the Museum of Fine Arts is offering free drop-in activities for kids and families. Tots will be able to make their own art, see performances, listen to stories, and more.
This week's Red Sox schedule:
Monday, April 16: 11:05 a.m. versus the Baltimore Orioles on NESN
Tuesday, April 17: 10:07 p.m. at the Los Angeles Angels on NESN
Wednesday, April 18: 10:07 p.m. at the Los Angeles Angels on NESN
Thursday, April 19: 10:07 p.m. at the Los Angeles Angels on NESN
Friday, April 20: 10:05 p.m. at the Oakland Athletics on NESN
Saturday, April 21: 9:05 p.m. at the Oakland Athletics on NESN
Sunday, April 22: 4:05 p.m. at the Oakland Athletics on NESN
This week's Bruins schedule:
Monday, April 16: 7 p.m. at the Toronto Maple Leafs on NESN
Thursday, April 19: 7 p.m. at the Toronto Maple Leafs on NESN
Saturday, April 21 versus the Toronto Maple Leafs (possible game, depends on series outcome)
This week's Celtics schedule:
Tuesday, April 17: 8 p.m. versus the Milwaukee Bucks on TNT and NBC Sports Boston
Friday, April 20: 9:30 p.m. at the Milwaukee Bucks on ESPN and NBC Sports Boston
Sunday, April 22: 1 p.m. at the Milwaukee Bucks on ABC
This week's Revolution schedule:
Saturday, April 21: 7:30 p.m. at the Columbus Crew SC