What Bostonians Need to Know
What Bostonians need to know this week
Playoffs, spring weather, the Avengers, and more.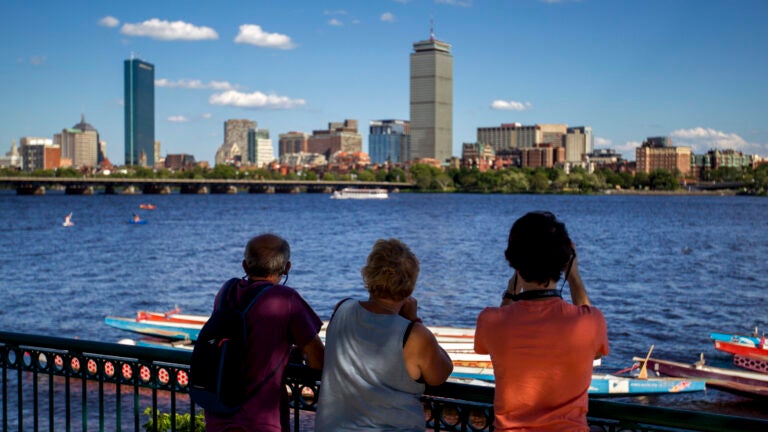 Jump-start your week — find out what you missed this weekend, along with upcoming events, sports, and weather all in one place. Want the "What Bostonians Need to Know" briefing in your inbox every Sunday? Sign up for our weekly newsletter, which launches soon.
What to know this week:
Spring, is that you? Temperatures are forecast to rise this week, so it might finally feel like spring. Highs are expected to be in the 60s on Monday and Tuesday and in the 50s for the rest of the week. Rain is in the forecast for Wednesday and Thursday.
Crunch time: It's another big playoffs week for the Celtics and Bruins. The Bruins lead their series 3-2 and play Game 6 on Monday in Toronto. The Celtics will play at home in Game 5 of their series on Tuesday.
Happy "budget week:" Massachusetts lawmakers will negotiate and wade through 1,400 budget amendments this week that could add an estimated $3.1 billion to the spending bill. However, the legislature will return to work mourning the loss of a longtime colleague, Rep. James Miceli, who died on Saturday.
What you missed over the weekend:
The weekend in Trump: The president was busy on Twitter over the weekend, firing back at a New York Times story about his lawyer Michael Cohen, tweeting that he doesn't expect Cohen to "flip" while under investigation. Trump also announced that he is considering posthumously pardoning boxer Jack Johnson, who was convicted by an all-white jury in 1913 of accompanying a white woman across state lines.
Is Gronk coming back? "Uhh, maybe." That was the response Rob Gronkowski gave to reporters Saturday when asked whether he would return to play for the Patriots next season. Gronk mostly danced around questions regarding his future in football. 
Local brewery heading downtown: Night Shift Brewing, a popular Everett-based beer company, announced plans to open a brewpub on Lovejoy Wharf, adjacent to TD Garden. The new location of the award-winning brewery is scheduled to open later this year.
What's happening in Boston:
The Avengers are back: The highly anticipated "Avengers: Infinity War" opens Friday. It features many of your favorite Marvel superheroes, including Iron Man, Black Panther, and Captain America, played by Sudbury-native Chris Evans.
Michael Brown doc: Almost four years after Michael Brown was killed by police in Ferguson, Missouri, his mother Lezley McSpadden and the family's attorneys will visit Harvard University on Monday for a screening of "Stranger Fruit," a documentary about Brown's death. They will be joined by the film's director, Jason Pollock, for a discussion about race and justice.
Bill Gates is in town: The billionaire and Microsoft founder is scheduled to give a keynote lecture on Friday at a conference hosted by the Massachusetts Medical Society and the New England Journal of Medicine at the Boston Seaport Hotel and World Trade Center. Gates' speech is expected to focus on the challenges researchers and clinicians face when dealing with epidemics. The event is free to live stream.  
This week's Red Sox schedule:
Tuesday, April 24: 7:07 p.m. at the Toronto Blue Jays on NESN
Wednesday, April 25: 7:07 p.m. at the Toronto Blue Jays on NESN
Thursday, April 26: 7:07 p.m. at the Toronto Blue Jays on NESN
Friday, April 27: 7:10 p.m. versus the Tampa Bay Rays on NESN
Saturday, April 28: 4:05 p.m. versus the Tampa Bay Rays on NESN
Sunday, April 29: 1:05 p.m. versus the Tampa Bay Rays on NESN
This week's Bruins schedule:
Monday, April 23: at the Toronto Maple Leafs on NESN, NBC Sports (subject to change)
Wednesday, April 25: versus the Toronto Maple Leafs (if needed, TV information TBD)
This week's Celtics schedule:
Tuesday, April 24: versus the Milwaukee Bucks on NBC Sports Boston
Thursday, April 26: at the Milwaukee Bucks on NBC Sports Boston (if needed)
Saturday, April 28: versus the Milwaukee Bucks on NBC Sports Boston and TNT (if needed) 
This week's Revolution schedule:
Saturday, April 28: 7:30 p.m. versus Sporting Kansas City