Obituaries
Read the obituary for Needham High School student Adrienne Garrido
"Adrienne was a sweet, thoughtful girl, full of life and light; she touched the lives of everyone she met."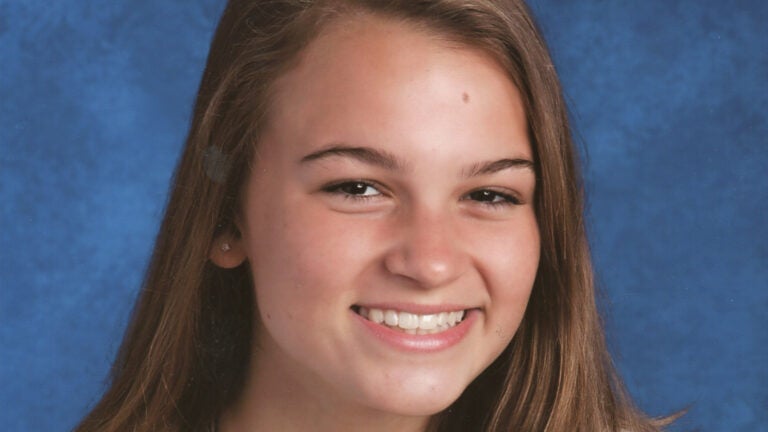 The family of a Needham High School student, who died after being struck by a car near the school, says the 17-year-old will "live forever" in their hearts.
Funeral services for Adrienne Garrido will be held Saturday in Needham, according to her obituary. Her friend, 16-year-old Talia Newfield, was also killed in the crash.
Read the full tribute from her family, shared by Eaton Funeral Home, below:
Adrienne Blair Garrido, age 17, of Needham, MA, passed away on Sun Feb 11, 2018, following a fatal injury in a traffic accident. In response to "Who am I?" posed in a class, she replied: "I am a hardworking student with an optimistic view on life who is half white, half Latina, a cross country and track runner, a friend, a daughter, and a sister." Adrienne was a sweet, thoughtful girl, full of life and light; she touched the lives of everyone she met. Compassionate friend, National Honor Society student, and cross-country co-captain, Adrienne was the adored daughter of Blair Manning-Garrido and Pedro Garrido of Needham, and a loving sister to Gabe. Beloved niece of Joan Hagan, Allison Manning, Jane Fraze, Cristiana (who predeceased her), Eusebio Garrido, Alma Bobadilla, Eugenio Garrido, and Flor Montes de Moca. Cherished cousin to Blair, Jack, Eleanor, Tommy, Charlotte, Erin, Alan, Michelle, Cristiana, Margarita, Gabriela, Danon, Eugenio, Eusebio Jose, Alma Natalia, and Alma Luisa. Adrienne will live forever in our hearts.

Her Mass of Christian Burial will be celebrated on Saturday Feb 17 at 10 AM in St. Joseph's Church 1360 Highland Ave Needham. A Celebration of Life will follow at the First Parish Church in Needham at 23 Dedham Avenue in Needham. Interment private.

In lieu of flowers, please make a donation in Adrienne's name Needham Public Schools "In Memory of Adrienne Blair Garrido" c/o Guidance Office 609 Webster St Needham MA 02492, for a scholarship fund to be established in her name.

For more information or to send condolences, please visit the Adrienne Garrido Facebook memorial page.