Obituaries
Read the obituary for Worcester firefighter Christopher Roy
The 36-year-old father who died in the line of duty is being remembered as "the pillar of his family."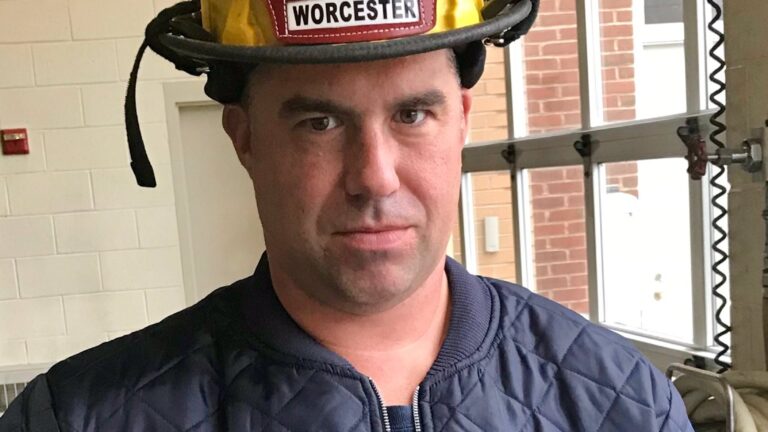 The Worcester firefighter who died Sunday from injuries he sustained while battling a five-alarm blaze is being remembered by his family for his compassion and his dedication to the 9-year-old daughter he leaves behind.
A funeral will be held for Christopher Roy, 36, on Saturday at Saint John's Church in Worcester, according to his obituary.
Funeral Services and Memorial Fund for Firefighter Christopher J. Roy have been announced. pic.twitter.com/oJIKgJzaT9

— Worcester Fire Dept. (@WorcesterFD) December 10, 2018
"Chris was a kind, caring and compassionate friend who was the pillar of his family," his loved ones wrote in their remembrance. "Regardless of what may have been happening in his life, he always made time to be there to help others whenever it was needed."
A memorial fund has been started in the name of Roy's daughter, Ava, who was the "light of his life," according to the family.
A memorial fund for Firefighter Christopher J. Roy has been established by @WorcesterFD1009 in the name of his daughter, Ava Roy. Checks may be made payable to the AVA ROY FUND and mailed directly to the Worcester Fire Department Credit Union. Your generosity is appreciated. pic.twitter.com/Hu544kchmP

— Worcester Fire Dept. (@WorcesterFD) December 10, 2018
Read Roy's full obituary below:
Worcester – Firefighter Christopher J. Roy, 36, a Worcester Firefighter assigned to Webster Square Station Ladder 4, died on Sunday, December 9th from injures that he sustained while fighting a fire in the early morning hours at 7 Lowell Street.

Chris was born in Worcester on August 30, 1982 and is survived by his daughter Ava, who was the light of his life; his parents, Ronald and Michele (Pepin) Roy of Worcester; a brother, Jason Roy and his wife, Jennifer of Shrewsbury; his niece and goddaughter, Ashlynn Roy of Shrewsbury; many aunts, uncles, cousins and his brother and sister firefighters.

Firefighter Roy attended Saint Peter Marian Central Catholic High School through his junior year and then graduated from Burncoat High School. He then went on to further his education by attending and graduating from UMass Amherst with a degree in business management. Chris worked for many years with Consigli Construction before he was appointed as a Firefighter for the City of Worcester in 2016. Firefighter Roy was stationed at the Webster Square Fire Station on Ladder 4.

Chris was a kind, caring and compassionate friend who was the pillar of his family. Regardless of what may have been happening in his life, he always made time to be there to help others whenever it was needed. He had a passion for hunting and fishing, Chris recently purchased a new ATV and was looking forward to using it while on his hunting excursions.

Firefighter Roy loved to cook, especially for his fellow Firefighters at the Webster Square Station. Traveling was always a cherished time with Chris, he could often be found taking trips to Old Orchard Beach with his family or visiting Clearwater, FL, however he was the happiest on trips when he was in Myrtle Beach with his daughter, Ava.

A Funeral Mass to celebrate the life of Firefighter Roy will be held on Saturday, December 15th at 10AM in Saint John's Church 44 Temple Street. Burial will follow in Notre Dame Cemetery. Calling hours will be held on Friday, December 14th from 4 to 8 PM in St. John's Church.

Memorial contributions in memory of Chris may be made to The Ava Roy Fund c/o Worcester Fire Department Credit Union 34 Glennie Street Worcester, MA 01605.

Alfred Roy & Sons Funeral Home 12 Hammond street Worcester is honored to be directing funeral arrangements for Fire Fighter Roy. To share a memory of Chris or to sign the online guestbook, please visit www.Royfuneral.com