Obituaries
Gerard O'Neill, Boston Globe investigative reporter, dies at 76
The Spotlight Team editor helped expose Bulger as an FBI informant.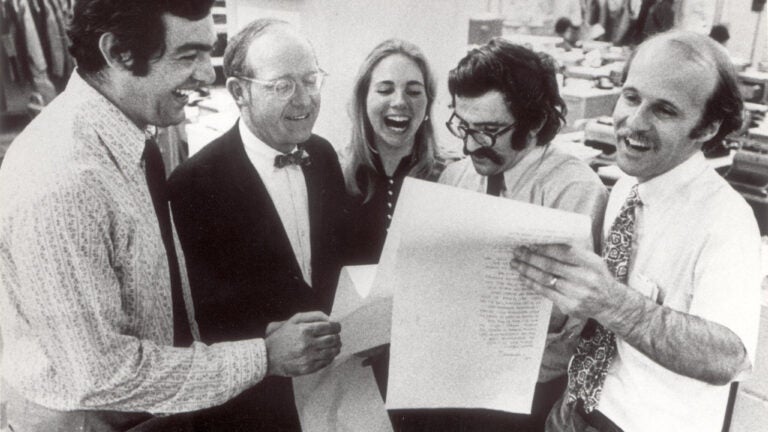 Gerard M. O'Neill, an investigative reporter and editor for The Boston Globe whose exposés included the revelation that James "Whitey" Bulger, Boston's notorious crime boss, was an informant for the FBI, died Thursday at his home in Boston. He was 76.
The cause was interstitial lung disease, his son Shane said.
O'Neill, who spent 35 years at The Globe, was one of three original reporters on the paper's Spotlight Team, the full-time investigative strike force that was modeled after the Insight Team of The Sunday Times of London.
Two years after its founding in 1970, Spotlight — with the 29-year-old O'Neill at the helm — won a Pulitzer Prize for its first major investigation, which uncovered rampant corruption in Somerville, a Boston suburb.
Later, as chief of the unit, O'Neill would help report, write and edit investigations that swept numerous awards, landed multiple Massachusetts officials in jail and led to reforms.
His biggest quarry was Bulger, the murderous mobster who ran the city's underworld while maintaining a Robin Hood image on the streets of South Boston. Bulger, who was killed in prison in October 2018, would mow down adversaries in broad daylight and yet miraculously never be arrested, making it appear that he was a step ahead of the law.
In 1988, O'Neill's Spotlight Team dropped a bombshell: While Bulger was committing his crimes, he was snitching to the FBI, which in turn was protecting him from his enemies.
"That stopped time in Boston," said Stephen A. Kurkjian, another of the original Spotlight reporters, who worked for years with O'Neill and won three Pulitzer Prizes.
Kurkjian said that just before the series was published, the FBI told The Globe's editor, Jack Driscoll, that it was making a big mistake and would be humiliated. Driscoll called in O'Neill and asked him how he knew that Bulger was an informant. O'Neill walked him through the evidence and assured him the articles were accurate. Based on O'Neill's word, the presses rolled.
"It was a nerve-racking moment," said Dick Lehr, a Spotlight reporter who worked on the series with O'Neill. But he and O'Neill both had sources within the FBI who confirmed that Bulger was an informant — a fact that the FBI and the Justice Department took 10 years to acknowledge publicly.
O'Neill and Lehr would go on to write three books together, including two about Bulger: "Black Mass: The Irish Mob, the FBI, and a Devil's Deal" (2000), which was made into a 2015 movie starring Johnny Depp as Bulger, and "Whitey: The Life of America's Most Notorious Mob Boss" (2013).
Through their years of collaboration, Lehr said, O'Neill was calm and steady.
"When you confirm something important, it's exciting, but he knew not to get too high or too low because these things take a long time," he said. "That was a good way to learn how to manage these in-depth projects."
Gerard Michael O'Neill was born on Sept. 1, 1942, in Boston to Richard and Mary Claire (Sweeney) O'Neill. The family soon moved to Stoughton, a Boston suburb, where his father became a postal inspector and his mother worked as an operating-room nurse.
O'Neill graduated from Stoughton High School and attended Stonehill College in Easton, Massachusetts, graduating in 1964 with a degree in English. While there, he met Janet Reardon, a fellow student, whom he married in 1968.
In addition to his son Shane, she survives him, as does another son, Brian; his sister, Maureen Dennis; and two grandchildren.
After college, O'Neill briefly attended George Washington University Law School in Washington. But he was not happy there and returned to Boston, where he got a job as a copy boy at The Globe and earned a master's degree in journalism from Boston University in 1970.
While still working on his degree, O'Neill wrote about the corrupt business dealings of a school committeeman.
"He was a kid reporter, maybe 25, and this landed on the front page and caused a big stir," Kurkjian said. He said the committeeman sued The Globe and put a lien on the O'Neills' house, which upset his wife.
"Gerry told her not to worry about it" because his reporting was solid, Kurkjian said. "Gerry in his bones was a very tough, very confident and very meticulous reporter, and all that blew over."
"This wasn't training he'd gotten at The Globe," he added. "This was something inside him. This was his character. And it showed for the next 40 years."
O'Neill spearheaded numerous investigations and articles that took a lot of digging and a lot of time — sometimes months, sometimes more than a year. They included a five-hour grilling of Sen. Edward M. Kennedy in 1974, on the fifth anniversary of the drowning death of Mary Jo Kopechne at Chappaquiddick, and the meticulous examination of thousands of records at the Portsmouth Naval Shipyard, which showed elevated rates of cancer and leukemia.
Still, O'Neill never brought his work home with him, his son Shane said; he always made time for his family and encouraged his reporters to leave work, too, to rest and recharge their batteries.
"He understood work-life balance before that became a cliché," Shane O'Neill said.
He also served as a mentor to young reporters. When one of them, John A. Farrell, was writing about corrupt judges for Spotlight about 30 years ago, he asked O'Neill for guidance on how tough he should be.
"Write it so it scares you," O'Neill told him.
"After that," Farrell said in an email, "I would have followed him onto any battlefield."