Obituaries
Read the obituary for beloved Saugus basketball coach Mark Bertrand
The 57-year-old died on Friday.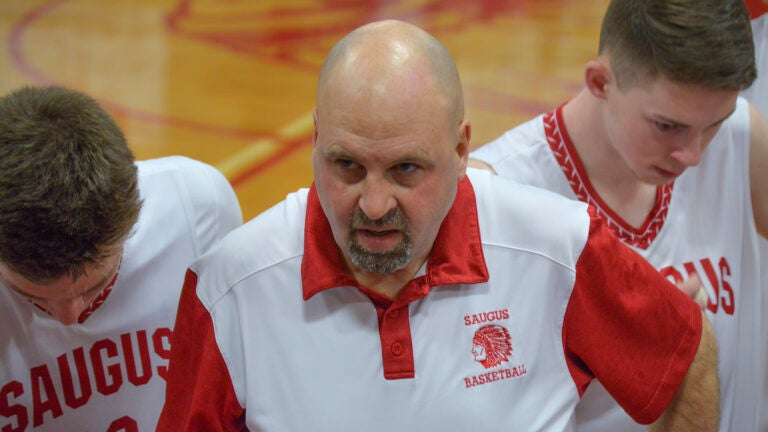 A beloved local high school basketball coach who passed away Friday is being remembered by his loved ones for his dedication to his community. 
Mark Bertrand, 57, died Friday after suffering a heart attack while operating a Bobcat at his Saugus home, The Boston Globe reports. The Saugus High School boys' varsity basketball coach is being hailed as a pillar of his community, as friends, colleagues, and family members mourn his passing. 
"He just cared. Just never stopped caring," his son, Joe Bertrand, told the Globe. "And that's why he was such a great coach." 
The 57-year-old's family is asking that in lieu of flowers, donations be made to the Alzheimer's Association in his name, in memory of his mother. Funeral services will be private, but visiting hours for friends and relatives are being held Wednesday. 
Read the full obituary for Bertrand, shared by the Bisbee-Porcella Funeral Home, below:
Saugus – Mr. Mark J. Bertrand, age 57, died on Friday December 11th at Melrose-Wakefield Hospital. He was the beloved husband of Marybeth (Marino) Bertrand with whom he shared 26 years of marriage.

Born in Melrose and a lifelong resident of Saugus, Mr. Bertrand was the son of the late Earle and Audrey (Spencer) Bertrand. He was a Splice Service Technician for Verizon for over 20 years. Mark was a graduate of both Saugus High School and Worcester State University, playing basketball for both and is a member of the Saugus High Hall of Fame.

Mark was very involved in his community; he was a former coach and board member for the Saugus National Little League and was a former coach for the Saugus Town and Travel basketball programs. He also was a former basketball coach at Our Lady of the Assumption School in Lynnfield. He currently served for the past three years as the head coach of the Saugus High basketball team.

In addition to his wife, Mark is survived by his three sons, Joseph, Daniel and Michael Bertrand, all of Saugus; two sisters, Alicia Brooks and her husband Jerry of Reading and Julie Tanner and her husband Scott of Londonderry, NH; five nieces and nephews, Ryan, Caitlin, Mikas, Andrius and Lukas; two uncles and two aunts, Kerry Bertrand, Paul Bertrand, Nancy Moody and Joyce O'Leary; father-in-law and mother-in-law, Michael and Betty (Dooley) Marino; brother-in-law Peter Marino and his wife Regina; as well as many cousins and friends.

In lieu of flowers, donations in Mark's name (in memory of his mother) may be made to the Alzheimer's Association of MA @ alz.org/manh.

SERVICE INFORMATION

Relatives & friends are invited to attend visiting hours in the Bisbee-Porcella Funeral Home, 549 Lincoln Ave., SAUGUS on Wednesday, 3-7 p.m. Adhering to the mandate of the state and CDC guidelines, face coverings and proper social distancing will be required. Funeral mass and burial will be private.