Off Beat
A Green Line driver sprinkles in anime shoutouts. And T riders are loving it.
Wali Holly says his intercom "shenanigans" are meant to put a smile on passengers' faces after a long day.
A Green Line train emerges from the subterranean belly of Kenmore Station, loaded with passengers as it chugs along the Boston College branch at evening rush hour.
Operator Wali Holly's voice crackles over the intercom, giving the usual reminder to request above-ground stops. Then he adds in something a little extra: A list of anime recommendations.
"…Naruto, My Hero Academia, Demon Slayer, Hunter x Hunter, Attack on Titan…"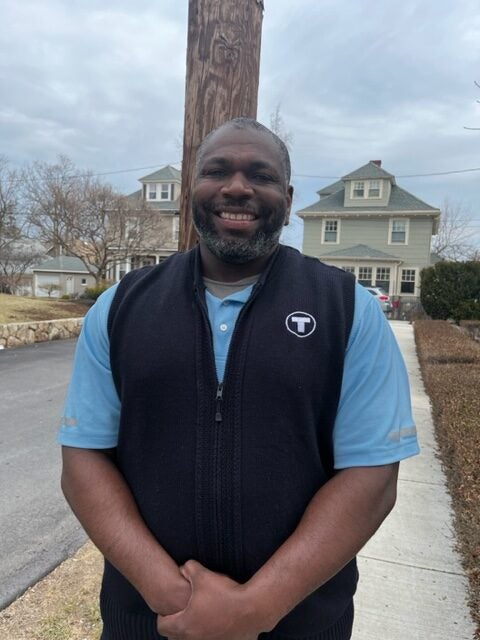 Often, Holly's unusual announcements are met with laughter and cheers from unsuspecting passengers. Sometimes, riders will reach for their phones in disbelief, hoping to record the moment before it's gone.
For the 42-year-old train driver, that's what it's all about: Making an otherwise dull commute a little brighter.
"If you're on a train, you may have had a long day at work, school, class, whatever," Holly told Boston.com in a recent interview. "So I said, 'OK, if I could just make this ride, this trip that they're on — whatever they're going through — and somehow find a way that they can smile, just for that moment…"
Given the abundance of students and young adults who ride the line, the Belmont resident figured anime might be a fun way to connect with his passengers.
"I'm an animated person, so I'll do some shenanigans," Holly explained.
He'll often begin his announcements with shoutouts to baseball, basketball, and football fans — this is the City of Champions, after all — before launching into his list of anime series. (Fans will note one conspicuous absence: ​​"Obviously Dragon Ball Z is like the ultimate; that's why I don't include Dragon Ball Z, because everyone knows that," Holly explained.)
The California native and former special education teacher has worked for the T since 2014. He estimates that he's been doing his anime shoutouts for a couple of months now, and only while driving on the B branch.
So far, feedback has been positive.
"I'll have passengers walk up to me and say, 'You know what? I had a long day, but you made me smile,'" Holly said. "That's what it's for."
Communication from drivers goes a long way toward reassuring T riders who contend with slow zones and other challenges on the regular, according to Scott Page, a former operator who now serves as Green Line delegate for the Boston Carmen's Union Local 589.
"And certainly in Wali's case, he has a way of doing it with humor that I think turns what's an otherwise sort of mundane activity of riding the train into an experience," Page told Boston.com.
He said it's not exactly typical to see drivers who throw a little something extra into their announcements, though there have been a few cases in recent years. Take, for example, Tim Murphy, who would call out bits of local history as he drove on the Green Line. Or Helen Antenucci, whose infectious cheer and New England Aquarium shoutouts made her a fixture on the Blue Line.
When drivers like Holly can make passengers laugh or inspire a quip on social media, "I think for me, it helps show the world the quality of the people that I'm fortunate to represent," Page said. "I don't think that always gets out there."
He added: "To have this little sort of spotlight of attention on somebody who's going above and beyond to make users' experience on the T better, I think shines a light on the whole group."
Holly said fellow drivers have pointed him toward social media, where bemused passengers have gleefully recalled hearing his announcements.
"My B line conductor just gave a Special shoutout to 'All the Anime people on the train' and let us know he reads One Piece. Epic," Twitter user @Vagojo tweeted in February.
"…in this house, the B line T operator who yells anime we should watch into the intercom every day is a hero! End of story!" user @1isan_a1_gaib wrote earlier this month.
But Holly doesn't spend much time thinking about the limelight.
"I don't really put too much into it," he admitted. "If they can smile on their trip and if they say some positive things about the MBTA, I'm all for it."
Wali Holly's recommendations:
One Piece
Naruto
My Hero Academia
Demon Slayer
Hunter x Hunter
Attack on Titan
JoJo's Bizarre Adventure
Sword Art Online
Bleach
Dragon Quest
Newsletter Signup
Stay up to date on all the latest news from Boston.com