Off Beat
Cheaper to take the ticket than pay to park? Reddit post has Boston drivers debating
"Nice try, but the math doesn't work."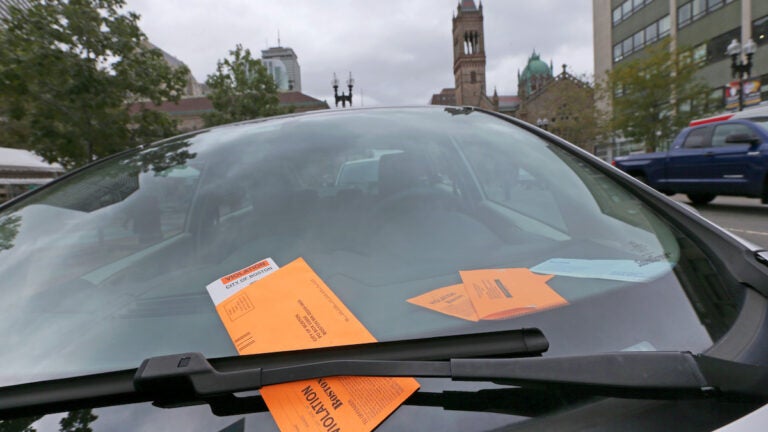 It's long been said that crime doesn't pay, but when it comes to parking in downtown Boston, some Reddit users claim that skipping out on parking fees and risking a ticket could save drivers a big chunk of change.
Last week, u/Adorableviolet shared an anecdote about forgetting to pay the meter while parked in the Financial District. The resulting parking ticket was $4 less than it would have cost them to park in their office garage, the Reddit user said.
The post sparked a lively discussion about parking in Boston on the cheap. Strategies ranged from the ingenious (using an old, already-paid parking ticket as a decoy) to the outright illegal (jamming the meter's coin slot to avoid paying).
Boston Parking Clerk Stephen Maguire did not respond to several messages seeking comment. So we crunched the numbers ourselves.
Does the math work out?
Boston fines drivers $40 for parking in metered spots without paying, while Parkopedia and SpotHero show downtown garage costs hovering around $30 to $45 for a weekday. With the city's meter rates ranging from $2 to $3.75 per hour for cars, you'd have to be parked for a while for the cost of a single ticket to be cheaper than simply feeding the meter.
But according to the Reddit thread, some drivers wager that they'll get away with parking for free more often than not.
"Back in the early '90s when I was in college, my friend with a car would just drive into Boston and park without filling the meter," one user commented. "When I asked/offered to pay, he said that he got a ticket infrequently enough that he saved money doing this."
Another user said they'd "given up" on paying for parking, noting they targeted permitted parking spots, as opposed to meters: "If I park in permit parking, as long as I average 50% or better at not getting ticketed, it works out cheaper than paying for parking in every neighborhood."
It's essentially a question of odds, and perhaps one better suited for a mathematician. Luckily, the late American economist Gary Becker weighed in on the matter in 1992 upon receiving the Nobel Memorial Prize in Economic Sciences.
Becker recalled facing a parking dilemma after driving to Columbia University for a student's oral examination in the 1960s.
"I was late and had to decide quickly whether to put the car in a parking lot or risk getting a ticket for parking illegally on the street," he said in his lecture. "I calculated the likelihood of getting a ticket, the size of the penalty, and the cost of putting the car in a lot. I decided it paid to take the risk and park on the street. (I did not get a ticket.)"
What about the risk of multiple tickets? According to Boston's traffic rules and regulations, a car that's already been issued a parking ticket and has not moved in the meantime cannot be ticketed again for six hours. However, there are several exceptions — most notably, parking beyond the time limit indicated on the meter.
The verdict
So, is it actually cheaper to take the ticket than pay to park?
Boston.com previously tackled this question in 2015 — a few years before the city hiked up its parking ticket fines — and a city Department of Transportation worker was dubious at the time, citing the (costly) risk of racking up multiple tickets.
The author's verdict? "Nice try, but the math doesn't work."
For what it's worth, the Boston parking clerk's website offers resources about the city's meter fees and ticket fines, as well as some tips to avoid getting one of those telltale orange slips on your windshield.
Sorry. This form is no longer available.
Newsletter Signup
Stay up to date on all the latest news from Boston.com