Off Beat
Would you eat a kangaroo? New Hampshire bills would allow iconic marsupials to be farmed, kept as pets.
Proponents of a New Hampshire kangaroo farming bill say the animals offer a more sustainable option than traditional livestock.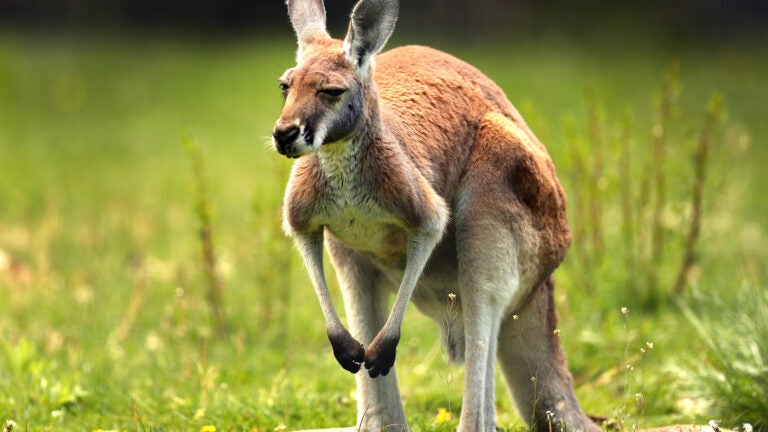 The Granite State may soon bear some resemblance to the Land Down Under as proposed bills seek to legalize kangaroo farming and allow New Hampshire residents to own the marsupials as pets.
One bill, filed by state Rep. Tom Mannion, would allow private ownership of not only red kangaroos, but also small tailed monkeys, raccoons, foxes, otters, and skunks — no permit necessary. On his website, the Pelham Republican explains that he pursued the proposal after a New Hampshire resident tagged him in a thread on X about legalizing monkeys as pets.
The animals listed in the bill are mostly from that original social media thread, plus skunks — an additional request made in-person, according to Mannion.
"A few commenters added other animals, but I only took requests from those I knew were New Hampshire residents," he said in an email interview. "If you want this level of interaction with your elected representation, you got to move to the freest state in the nation!"
If the bill passes, New Hampshire would join 13 other states in permitting kangaroos as pets (Maine is currently the only New England state to allow it). But owning a kangaroo isn't quite the same thing as owning a dog, according to Kangaroo Creek Farm in British Columbia, Canada.
"Roos are not house pets, they don't ride in cars, walk on leashes or do tricks," the farm notes on its website, adding that kangaroos can be shy and need to be kept in a secure environment.
The other animals listed in Mannion's bill are also subject to a patchwork of state laws permitting, restricting, or barring them as pets.
Public health officials, meanwhile, have raised concerns about possible disease transmission between humans and certain exotic pets, such as monkeys. And while New Hampshire law requires pet dogs, cats, and ferrets to be vaccinated against rabies, Mannion's proposed bill doesn't touch on possible vaccination or public health requirements.
Rather, the lawmaker asserted that good pet owners will care for their animals regardless of state regulations.
"Managing weight, taking health supplements, non-mandated immunizations/treatments are all voluntarily handled by owners that care about their pets, and those that are irresponsible already don't comply to existing laws," he explained. "Societal pressure to do the right thing is a powerful force, especially when it is coupled with love of a pet, so I saw no need to request a redraft to add any mandates."
However, Mannion said he's willing to compromise with the bill's provisions "if it means we make strides towards liberty."
New Hampshire's next livestock frontier?
Separately, another proposed bill from state Rep. Michael Granger would allow the farming of kangaroos and caribou, as well as the sale of their meat. (For the record, kangaroo meat supposedly tastes like a super lean "sweet filet mignon," according to this 2010 Esquire interview.)
The bill is the product of the Free State Food Network, a trade association representing New Hampshire's "freedom loving food industry," according to its website. Boston.com has reached out to founder Stephen Nass for comment.
"The future for kangaroo ownership and farming in New Hampshire is brimming with promise, offering a unique path to economic growth, local food production, and a vibrant, sustainable future for the Granite State," Free State Food Network states on its website.
The group argues that because kangaroos are not herding animals, they're better suited to small farms that contribute to local food production. Kangaroos also produce less methane than cows, which are a major source of climate emissions.
Granger said Nass — a resident of his legislative district — approached him with a request to sponsor the kangaroo and caribou farming bill, as well as another proposal regarding regulations on the sale of raw milk.
"If I am requested to submit legislation by a constituent, I have a policy of either explaining to them why I won't, or actually submitting it," Granger explained in an email interview. "In this case, I could think of no legitimate reason why kangaroo and caribou shouldn't be legal to farm. It was surprising to me that this was not allowed in the first place."
According to Granger, the proposal is far from a trivial matter; he said he's already heard from several people in New Hampshire who have attempted to import caribou for farming and who would see a serious impact if the law were to change.
"From my perspective, not every bill needs to be the most critically important bill in the world, they don't all need to have the fate of the world in the balance," he said. "This bill is important to my constituents, therefore it is important."
Next steps
Mannion said the most common complaint he's heard about his bill is, "Don't they have anything better to work on in Concord?"
Although the kangaroo bills have been in the spotlight recently, Mannion noted that the state Legislature is still hard at work on housing, health care, taxes, and more. For example, he and Granger both emphasized the importance of another bill, the Defend the Guard Act, which would require an official declaration of war for the New Hampshire National Guard to be activated.
As both lawmakers explained, there are several steps that have to happen before New Hampshire residents could farm kangaroos or own a pet monkey. The bills will be assigned to a committee and subject to public testimony, and they'll eventually need to clear both the House and Senate before landing on the governor's desk for approval.
Though it's still early on in the process, Mannion and Granger both said they've already seen promising signs.
"The feedback so far is either amusement or support," Granger said. "No one who has spoken to me about it has said they oppose the bill, they usually support it."
Newsletter Signup
Stay up to date on all the latest news from Boston.com